Bringing Good Luck to your Husband in the '70s - Chapter 31
Back at Han's house, Su Yue found an opportunity to secretly tell old lady Han about the wholesale of cakes and her plan to find someone to help. She wanted to teach old lady Han to make cakes. Then later she could ask old lady Han to help make them when she went to work.
When the old lady Han heard it, she hurriedly waved her hand, "No, no, this is your exclusive craft, how can you teach it to me so casually."
As the old lady said this, Su Yue trusted her more in her heart. In fact, she did not regard this method of making cakes as an exclusive craft at all. Actually, Many people can make them in modern times, but the ones she makes are more delicious than most people. In addition, people in this era have never eaten or seen these pastries, so it makes the pastries she made seem extraordinarily delicious.
Su Yue felt that the old lady Han was very suitable for making pastries. The old lady had been busy in the kitchen all her life. Her cooking skills were not bad. In addition, the old lady loves cleanliness and pays special attention to hygiene, which makes her(Su Yue) feel at ease when making pastries. The most important thing is that the old lady has a good character and she can trust her.
Su Yue said: "Auntie, in a few days, when the weather is sunny, I will have to go to work. I won't have time to make pastry/cake then. Now that I wholesale pastries to the city, I'll need more people. I can't do it alone/all by myself, I'll be too busy with work. Besides, if the educated youth point is repaired, I will have to move back. It will be even more inconvenient to make cakes at that time. If you don't help me, no one will help me. "
The old lady was still a little hesitant.
"Madam, if you don't help me, I'll have to find someone else, but what if they're unreliable and report me/but if other people are unreliable, what should I do if they report it to me."
Hearing what Su Yue said, the old lady was startled and hurriedly said: "You can't find other people, auntie will do it for you. Auntie won't tell anyone, and promises not to let it leak out. You can rest assured that you won't be reported."
The goal was achieved. Su Yue smiled sweetly, "Well aunt, I will trouble you from now on. You will learn to make pastries with me starting tomorrow."
Seeing that Su Yue trusted her so much, Old lady Han was also very happy. She was determined to learn well and help her when the time came.
The next day, when Su Yue was making the cakes again, in addition to calling Han Aiguo to start the fire, she also called the Old lady Han into the kitchen.
Seeing this, the third daughter-in-law of Han's eyes flashed, she rubbed the second daughter-in-law of Han with her elbow, and muttered, "I heard that Su Zhiqing wants to teach mother how to make cakes, to ask her to help her in the future."
Han's second daughter-in-law also knew about this, so she nodded, and couldn't help but glance in the direction of the kitchen.
The third daughter-in-law of Han was a little dissatisfied, "You said Su Zhiqing wanted someone to help her. Then, why didn't she ask us? We are young anyway, so we can work harder than mother. At least we have better eyes than the old lady. It's okay for someone to ask for help from us" Anyway, it's better than the old lady, what was Su Zhiqing thinking?
Han's second daughter-in-law paused and said, "Maybe because we have to go to work, and don't have time to make cakes. mother is so old that she doesn't have to go to work, so she has time at home."
The third daughter-in-law of Han was even more unhappy when she heard that she(Old lady Han) didn't have to go to work. "Then we don't have to work too. We can earn a lot more from making cakes than working. If I can make cakes, why would I go to work? It's only a few cents a day, and it's not enough to eat."
Han's second daughter-in-law felt the same way, and she really wanted to learn how to make cakes with Su Yue. If she mastered this skill, she would not have to worry about it for the rest of her life. But the old lady didn't let them approach the kitchen or help. They don't even have a chance.
The second daughter-in-law Han glanced at the third daughter-in-law Han, and said in a low voice, "How would I know this, you have to ask Su Zhiqing."
The third daughter-in-law Han looked towards the kitchen and fell into contemplation.
Su Yue was now teaching old lady Han how to make pastries. Because there were too many kinds of cakes she made before, it would be tedious and tiring to make so many kinds. Su Yue herself was not afraid of getting tired, but she doesn't want to torment the old lady like this. So she mainly taught her a few delicious and simple dishes that are not easy to imitate. She plans to sell these dishes to make money in the future when she has time. Then develop some new varieties and bring them to sell, so as not to delay neither earning points(from the system) nor making money(by selling them).
Although the points are very important, making money is equally important. When the points reach 800, the system will give her a prescription for treating legs, but it will only give her a prescription. She doesn't know if it's expensive or not. If it costs a lot of money, it would be a waste of money to buy medicinal materials at that time, so the money should be prepared beforehand.
Old lady Han has been dealing with the kitchen for decades. Steaming Mantou and Baozi or something like that was not a problem. So learning to make cakes was very fast. Su Yue taught her for a morning and she basically knew it. And then, she helped Su Yue to make cakes together.
(T/N – Mantou, often referred to as Chinese steamed bun, is a white and soft type of steamed bread or bun popular in Northern China.)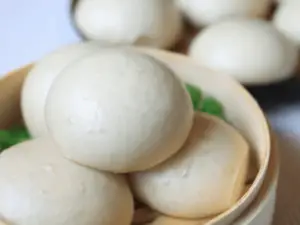 (T/N- Baozi, or bao, is a type of yeast-leavened filled bun in various Chinese cuisines. There are many variations in fillings and preparations, though the buns are most often steamed. They are a variation of mantou from Northern China. )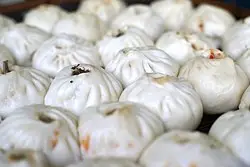 Su Yue calculated in her mind that she would make at least 300 cakes a day in the future. If the sales in the city were good, she might have to make more. At this time, there was no machine. Relying on all the work with both hands, even she was tired. She was a little worried that the old lady would be too busy, so she asked, "Auntie, I don't think you will be able to do it alone. It's too tiring. Because of your age, You will be exhausted a lot. How about you asking someone to help you?"
Su Yue actually thought about asking the second Han's wife and the third Han's wife to help. Although they both had all kinds of minor problems, at least they wouldn't talk about it, and so it would be okay to help.
But Old lady Han didn't think about these two daughters-in-law, because she knew them well. Once they learned this craft, their parents' family would know about it and a lot of people will be mixed in. At that time, it was uncertain how it would be, not to mention stealing business, she could be reported, which would implicate the whole family. That was why she didn't let her two daughters-in-law come near the kitchen.
Old lady  Han said, "It's not good for too many people to learn. I'll be able to do it myself. I don't think I'm tired. I'll be fine with all this work."
Su Yue hesitated a bit and looked at Han Aiguo.
Seeing this, Han Aiguo thought about it and said: "Or else/if not/how about I'll help my mother."
Su Yue and Old lady Han were stunned.
Han Aiguo: "I can't work with my legs, but I can help at home. Although I am not good at cooking, but I have the strength to help with making noodles, washing beans, doing chores, etc. That way mother can be busy, and you don't have to worry about who to ask for help."
Su Yue thought about it and really thought there was no need to find someone else to help them. She looked at him, "do you really want to?"
During this time period There were not many men like Han Aiguo who were willing to enter the kitchen. The men in the village would work in the fields, but they were mostly reluctant to enter the kitchen. As soon as they go home and wait for the meal, they feel that it should be a woman's business to work in the kitchen. For example, Han Lao Er and Han Lao San had never been in the kitchen. But Han Aiguo was willing to go into the kitchen to help start the fire, and now he was willing to help make cakes. She was really surprised.
The man she was seeking didn't have the style of other big men, who were far away from the kitchen. He was a gentleman. She was so happy.
Han Aiguo looked at her with extremely gentle eyes, "So long as you don't dislike me, of course I will."
Su Yue gave him an annoyed look. What would she despise him for? She was happy. Haha.
The old lady Han looked at the two young people, and she was happy. Although she also felt that men didn't need to go into the kitchen, the eldest son was willing to help him, and she, an old lady, would do whatever the young people wanted. And if the eldest son can fight, she can manage being busy.
But who will start the fire?
Old lady Han asked this question.
Su Yue thought about it and said, "I think it's better to call Hehua to start the fire. Hehua is very good, and the work is easy. Anyway, as a child, she can get only three work points when she goes to work. It's not good for anything. Might as well as light the fire for cooking at home, I'll give her 1 qian a day."
(T/N- 钱 – qián/jiǎn means money, currency or coin)
After thinking about it, Old lady. Han also felt that the eldest granddaughter was fine, but she felt that the eldest granddaughter didn't need any money from Su Yue to stay at home to help. Anyway, the whole family depended on Su Yue to make money, so it was right to help. But she remembered about the second daughter-in-law, and in the end swallowed the words that she(Su Yue) didn't need to give money. If she didn't give her eldest granddaughter some benefits, the second daughter-in-law might not be willing to let her eldest granddaughter not go to work. At that time she(2nd Daughter-in-Law) would say something peculiar and it wouldn't be nice to Su Yue.
The old lady Han wiped her hands on the apron, and immediately went to call Hehua into the kitchen. She told her that Su Yue had asked her to start the fire for her.
When Hehua heard this, she nodded without thinking, "Aunt Su Yue, I'm willing, I don't want your money, I'll start the fire for you for free."
Hehua knew that Su Yue depended on/trusted her family to make money. So she was grateful to her, and since Aunt Su Yue came to their house, the food became better, and there was often delicious food at home. She was very happy, she even hoped Aunt Su Yue could live in their house for the rest of her life and not leave. Now Aunt Su Yue needs help. She doesn't want money if she(Su Yue) was willing to do so.
Su Yue touched the little girl's head and said with a smile, "Auntie Su Yue can't permit you to work for nothing, you must take the money."
Hehua didn't know what to do, so she looked towards her grandma.
The old lady Han nodded to her, "You can take it when your aunt Su Yue gives it to you. The money you get in the future, Half of it grandma will keep it for you, and save the dowry for you and you will give the other half to your mother. " If you don't give a little to the second daughter-in-law, the second daughter-in-law will still be unhappy.
Hearing what her grandma said, Hehua agreed and promised to make a good fire in the future.
The old lady Han raised this matter at the dinner table, when the Han's second daughter-in-law heard that her eldest girl could get a dollar and handed in 50 cents a day, she immediately smiled brightly, and kept telling Hehua, "You should know, You have to make a good fire. In the future, you can't be sloppy,"
Hehua nodded quickly, turning her head into a rattle drum.
(T/N- For those of who didn't know… This is a rattle drum)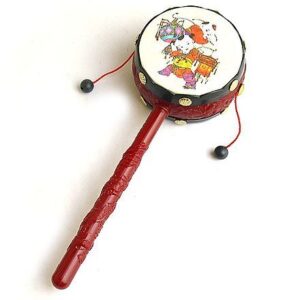 The Han's third daughter-in-law did not feel it was balanced (fair?), she looked at Su Yue and said: "Meizi, if you want someone to set fire for you, why don't you come to me? I can set fire for you. I am good at lighting it. It would be better than a little girl like Hehua .
Han's second daughter-in-law smiled, but her complexion was not very good.
Su Yue chose not to speak, because the old lady Han had already reprimanded her, "Why is everything up to you! You don't need to go to work? What will the family eat if you don't go to work?"
The Han's third daughter-in-law said, "Mother, wouldn't Su Yue meizi give me money? I only have seven or eight work points. I can't even make a qian. Might as well light the fire for Su Yue girl. "
The old lady Han spat at her, "Even if you make a qian, you have to hand it over to me. Only the children in our family can keep half of the money, and the adults have to turn it in. How about you, are you still willing to light the fire?"
When the Han's third daughter-in-law heard this, she immediately stopped talking. If she had to turn in all the money she made, why would she be so busy? She might as well go to work and be lazy.
Seeing that she didn't speak anymore, Old lady Han looked around at everyone and said, "When the weather is clear, except for the fourth one who stays to work and runs errands, everyone else should go to work, don't think about good things all day long."
No one else dared to dispute the old lady's words. After all, food is the most important thing these days. If there is no centimeter, there is no ration. You can't rely on money to buy food. No amount of money is enough to buy it.
Seeing that no one had anything to say, Su Yue spoke in front of everyone about the remuneration in the future.
Asking the Old Lady Han to help make pastries, Su Yue decided to give the old lady three shares of profit and Han Aimin two shares. If Han Lao Er and Han Lao San also help during special periods, they will give another one.
In this way, the Han family and her are tantamount to 50-50 profit share. As for Han Aiguo, Sorry but, no.
Su Yue explained this to Han Aiguo when no one was there, "I'm your partner/girlfriend, shouldn't you help me? Are you not embarrassed to ask me for money?"
Han Aiguo shook his head benevolent/graciously, "I'm sorry, I'll work for you and never ask for money, you just need to order me."
Oh, This man is to give her a lifetime of free work? So good.
Satisfied in her heart, Su Yue stealthily looked outside the kitchen door and saw that there was no one outside the door, and everyone else had gone to bed. So she stood up on her tiptoes and quickly kissed his cheek. She then looked at him with her arms behind her back and smiled, "I'm not a black-hearted boss. Everyone who works for me is paid. Are you satisfied with your pay?"
Han Aiguo froze immediately, and touched the cheek he was kissed on. A few seconds later/In just a few second, his cheeks suddenly turned red to the base of his ears, but his eyes became deeper and tensed, "Yue'er…"
Su Yue blinked, "What did you call me?"
Han Aiguo pursed his lips, tentatively stretched out his hand, slowly touched her waist, and placed his hands lightly on either side of her waist. Seeing that she just smiled but did not object, his heart felt so sweet/pleasant that he slowly wrapped his arms around her. He hugged her waist, felt the soft touch, and completely embraced her in his arms.
"Yue'er…" He looked at her, his eyes shining like stars, "Can I call you Yue'er in the future?"
Yue'er… Su Yue thought about this address carefully. From these two characters, she could taste the strong love and affection, like a treasure protected by him in his heart. She couldn't help but feel sweet in her heart.
She nodded lightly, tacitly accepting the address.
The corners of Han Aiguo's mouth were pulled up. Calling her the name over and over again in his heart. At this moment, he suddenly felt that life had a different meaning.
* * * *
Soon came the day of the appointment with Jiang Haishan to wholesale cakes. Su Yue brought the cakes made by Old lady Han and Han Aiguo together, and spent three days making a total of 1,500 cakes, of which 500 were taken to the town to be sold, and the other 1,000 would be directly wholesaled to Jiang Haishan.
This time, when Han Lao Er and Han Aimin went together to the town, Han Aimin sent a thousand pieces of cakes to Sister Jiang's house, and then went to other places to sell cakes with Han Er.
When people were busy with pastries, Su Yue devoted herself to cooking her own delicacies. She was going to make some baozi and Shumai. She could eat porridge after steaming it in the pot every morning. She consumed enough by eating bāomǐ (corn/maize) pancakes and wōwotóu. But the baozi that Han Aiguo bought for her last time in town immediately aroused her greed.
(T/N- Shumai (烧卖) is a type of traditional Chinese dumpling. In Cantonese cuisine, it is usually served as a dim sum snack. In addition to accompanying the Chinese diaspora, a variation of shao mai also appears in Japan and various southeast Asian countries. It's Main ingredients include seasoned ground pork, whole and chopped mutton, Chinese black mushroom, and lye water dough)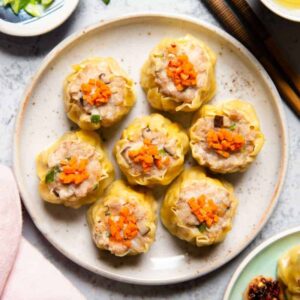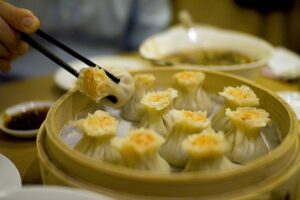 (T/N- Wotou or wowotou, also called Chinese cornbread, is a type of steamed bread made from cornmeal in Northern China. )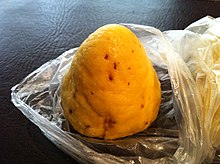 As she said she would, she took out the flour, pushed it directly to Han Aiguo, winked at him playfully, "Free Worker Comrade, it's time for you to work!"
With smiling eyes Han Aiguo benevolently took the flour and kneaded the dough. He was kneading the dough together excellently. In addition, he has a lot of strength in his hands, and so he is better at mixing dough than Su Yue and old lady Han. He was able to knead the dough making it smooth in no time. Therefore, Su Yue became lazy, and she always looked for him as long as she needed to knead dough.
Of course, Han Aiguo was also very willing/happy.
Su Yue prepared the xian (stuffing/filling) for the baozi. She got garlic chives (aka Chinese chives; jiǔcài) from the vegetable garden, and then took out the fensi and soaked them in hot water, intending to make a jiucai fensi bao (Chinese Chive glass noodle bun – couldn't find the image just imagine it with all the other given data).
[T/N- Cellophane noodles, or fěnsī (粉丝), sometimes called glass noodles, are a type of transparent noodle made from starch and water.]
In addition, she also bought meat to make meat buns. Then use hongdou (azuki bean/red bean) to make some dousha xian (sweetened bean paste filling) and add this to doushabao. Three flavours should be enough
[T/N- Pic of Dòushābāo (豆沙包) i.e. steamed bun with red bean paste filling]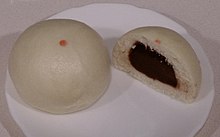 As for Shumai, she planned to use pork granules/diced pork mixed with cooked rice, which is also very fragrant.
Su Yue's movements were very quick. After an hour, she made all the baozi and Shumai, put them on the zhēnglóng, and steamed them for half an hour.
(Bamboo steamers, called zhēnglóng (蒸笼) in Chinese, it originated in Han Dynasty.)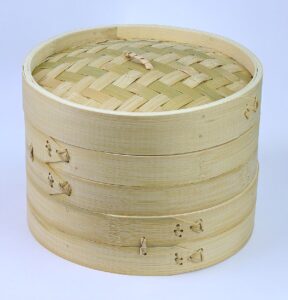 Su Yue thought for a moment, wiped her hands and ran out of the kitchen, and saw the bright sun that had been behind the dark clouds in the past few days, illuminating the ground with golden light.
The rain had stopped, a sign that the weather was starting to clear.
It has been raining for so many days in a row, making the commune members' homes damp and mouldy, mud and water all over their bodies when they go out. And many people's homes have become caves with a waterfall at its mouth these days, which was extremely inconvenient. Everyone had been impatient for a long time, and they were very happy to see the sun coming out at this moment. They ran to the door to see, and shouted: "The sun is out, the sky is finally clear."
Su Yue was not so happy, instead she was sullen. The sun came out, which meant that the educated youth could repair the building. Once it was repaired by the educated youth, it meant that she had to leave the Han family and move back.
Su Yue suddenly felt a little sad and couldn't help but look at Han Aiguo, and he had the same reluctance in his eyes.
Translator Endnote- Thanks for the support on the last chapter and sorry for the delay. I had a heavy load of assignments and exam preparations. Although my exams are still going on, I found some time to translate this chapter. Since it's done in a rush there could be mistakes so point them out if you find some… Also do you prefer a single chapter that takes longer time or it being split into parts and taking shorter time?
Comments for chapter "Chapter 31"
MANGA DISCUSSION
Support Fan's Translations
Your donations will go towards site costs and management.
Note: Individual translators usually have their own ko-fi buttons.