Bringing Good Luck to your Husband in the '70s - Chapter 32.3
Although Wu Xiaoxiao didn't know what that was, it didn't prevent her from knowing that it must be a very, very delicious dish. After all, with Su Yue's cooking skills it would be impossible to make unpalatable dishes.
Su Yue put the flour-coated crabs into the frying pan, and fry them until golden brown. Then scoop out the excess oil in the pot, sauté the onion, ginger and garlic until fragrant add the deep fried crab, Pour in a little wine to get rid of the earthy smell of the crab, then add the sauce prepared in advance, bring to a boil over high heat until the juice is collected, finally, add a proper amount of salt and white sugar, and the dish is ready.
The air was suddenly filled with a gluttonous fragrance, and even Su Yue couldn't hold back her saliva.
The brown jiàng juice had gloss packaged the outstanding crab meat, lining the crab meat with reddish-brown oil, and with the fragrance wafting in the air all around, it is simply an otherworldly commodity in the world. Merely a bunch of people were staring it blankly, dumbfounded.
Li Xiaoqing didn't even care about burning the fire, she stood up on the stovetop and kept smelling it, saying that it was so delicious and fragrant.
Su Yue saw that everyone was greedy, so she gave each person a pair of chopsticks to let everyone taste them in advance. Each of them took a bite of the crab, blew on it and stuffed it into their mouths. Immediately, the deliciousness of the crab meat and the strong fragrance of the sauce melted in their mouths at the same time, which was simply more delicious than any other meat.
Several people's eyes lit up at once, Mao Lin even slurped on his chopsticks, "I've eaten steamed crabs once before, but it's not delicious at all. It smells earthy, but Su Yue's crabs don't have any of that smell at all. I wonder if I used to eat fake crabs before."
At this moment, the familiar voice of the system rang: congratulations to the host, this quick fried crab was rated A by the system, and the host got 50 points!
Fifty points! Su Yue dug out her ears to make sure she heard it right, jumped three feet high with joy, and even shouted, "Amazing! A-level! Hahaha!"
Li Xiaoqing and the four were startled by her. Looking at her in astonishment she said, "Su Yue, what's wrong with you?"
Only then did Su Yue realize that she had expressed her inner excitement. She coughed, and quickly explained: "I think the crab meat is so delicious. Later, we will make steamed pork spare ribs and red braised pork, as well as shredded pork in Jīng sauce, and then cook some white rice, it will be great."
[ Chinese steamed spareribs –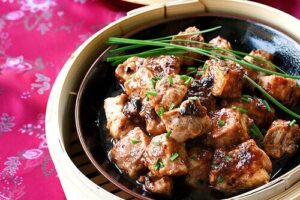 Red braised pork –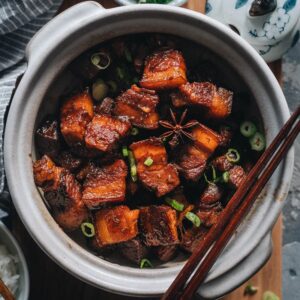 Shredded pork in Jīng sauce –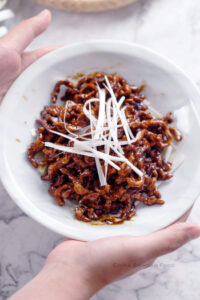 ]
When everyone heard it heard it, they also thought it was great. It was just something that they could never dream of.
Su Yue bit her lip secretly, desperately suppressing her inner excitement in order not to let herself be too complacent. This is 50 points. It was the first time that her dish was grade A, and she got 50 points all at once. It was comparable to when she cooked a few dishes. How could she not be excited?
Originally, her points were about to reach 800 points. She thought that she would work hard to cook more delicious food in these two days, and she would be able to get the prescription (of the medicine). How could she have been given such a big surprise tonight, she actually got a basket of crabs, and because of the crabs, she got 50 points all at once. With these 50 points, plus a few other dishes later, she would have enough points!
Aaah, That's extremely wonderful!
At this moment, the little melancholy brought about by leaving the Han family has all disappeared, replaced by power rising in her body, victory is in front of her, she is finally going to climb to the top and touch the first stage, Victory!
Su Yue threw herself into cooking with all her energy. After cooking all the dishes, and listening to the enjoyable sound of the system prompting her receiving points. The whole person was happy.
That night, the five of them had a great time, all of them had a rounded stomach, and finally had to walk in the yard to digest, lest they be too stuffed to fall asleep. Seeing that, Zhao Fang and Han Xiaoru nearly vomited blood.
The two of them were starving here. They could only nibble on wowotou(Chinese cornbread) and drink porridge, but these five people ate and drank hot (spicy) delicacies. And in the end, their stomachs were so round that they couldn't sleep.
At night, after everyone fell asleep, Su Yue opened the scoreboard in her mind and was pleasantly surprised to find that the number on it was exactly eight hundred. She just earned eight hundred points.
Su Yue wanted to cry a little bit. From the moment she came here, she has been working hard for the points. Every day she only has points on her mind. In order to earn points, she cooks food endlessly every day, trying her best to get ingredients to make food, like a spinning top that can't stop. At this moment, all her hard work has finally paid off, and she can finally catch her breath.
Su Yue smiled like a fool, "System, I have 800 points, can I exchange it for the prescription formula now?"
The system sensed her happiness, and seemed to speak with a hint of lightness: congratulations to the host, are you sure you want to exchange the item immediately?
Su Yue said without hesitation, "Yes."
System: Okay, I'll make the exchange for you now, please wait.
Three seconds later, with a "ding" sound, the number on the integral panel returned to zero, and Su Yue had a prescription in her mind. Now she can see the text on the formula. The Chinese herbal medicines and their brewing methods are written in very beautiful block letters.
At this time, the system reminded: "Host, all the products you buy with points belong to you personally. You can look at the products in your mind or take them out. As long as you close your eyes and silently recite the name of the product, the product will arrive automatically, in your hands."
As soon as Su Yue heard it, she felt very novel. She immediately followed the method told by the system, and read the formula in her heart. Then, in the next second, a piece of fine writing paper fell into her hand.
Fortunately, it was night, and with the lights turned off, nobody could see her fingers, so no one noticed that Su Yue suddenly had a prescription in her hand.
Su Yue held back her excitement and didn't get up to light the lamp to take a look. Instead, she carefully folded the paper and stuffed it under the pillow, making sure not to lose it. Then she closed her eyes and went to sleep contentedly.
Tomorrow, she is going to surprise him in advance!
Comments for chapter "Chapter 32.3"
MANGA DISCUSSION
Support Fan's Translations
Your donations will go towards site costs and management.
Note: Individual translators usually have their own ko-fi buttons.