Quick Transmigration with Female Lead Aura - Chapter 101
Qin Yue was right. Wu Jiang's days among the livings were numbered, because Boss Chen was totally inhuman, massacring and imprisoning innocent people, while the ones who managed to live were sent as a bait, and when they were used up, they were made into dried meat for storage. Whenever he was brought up, everyone gritted their teeth, hating to be unable to kill him right then and there.
Boss Chen incurred a lot of hatred, and now his team was surrounded from all directions and suppressed by elite fighters selected from the three major bases, in order to capture Boss Chen and his followers.
Xining Prison was surrounded from all sides. Before the apocalypse, it was difficult for prisoners to run away because of the security. After the outbreak of the zombie virus, because of the fear of zombies and mutant animals barging in, naturally the prison was fortified. Whether someone wanted to go out from the inside or come in from the outside, the difficulty was pretty high, and more importantly, the materials in Xining Prison were all one-time consumables. There were no production line and no land for planting. After the food depleted, Boss Chen's team would be forced to go out of the prison.
In this way, Boss Chen and the others became like a turtle in a shell, and couldn't escape even if they wanted to.
The two teams staying inside and outside respectively were in a stalemate for about half a month. The people in Xining Prison panicked and gradually became more and more chaotic. Seeing that the situation was getting out of hand, Mr. Chen became anxious for the first time. He was also puzzled and feeling tragic. Now that the world was in chaos, the government was like a fake one and the law was no longer, who could survive without killing anyone? If the law punished every murder with death sentence, then everyone must die!
"Brothers, now we are living a good life. We have enough food, dressed warmly, and have countless women warming up the bed. We don't need to be afraid of being caught by the police. No one imagined that we would have such good days! But today, someone is going to destroy our home. They want to seize our territory, loot our food, and take our women. They are shameless and unrighteous people who come to destroy our good days! Brothers, are you willing to go out with me to defend our homeland!"
Old Chen's loud and affectionate words aroused the fighting spirit of countless people: "Yes! Yes!!! Yes!!!"
"Brothers, follow me to go out and kill all the shameless rats who want to destroy our homeland!"
"Kill! Kill!!! Kill!!!"
Wu Jiang looked at the surrounding crowd who were getting ready for battle, and even Chen Li carried a big knife and led her new little white face, roaring loud! The murderous spirit was shocking!
He couldn't help but sneer in his heart. These people were whimsical, or it had been a long time since they met a powerful opponent, so they were so blind and arrogant, actually thinking that they, a bunch of smelly mice living in prison, could compete with the powerful elite of the country. If he joined them, he would die without a burial place.
He must find an opportunity to escape.
Although Boss Chen is powerful and was considered to be somewhat smart, he had been praised to the heavens and revered for too long, so he thought that he really was invincible in the whole world. Now, he had no self-knowledge, overestimated himsef, and became so ridiculous as to want to hit the stone with a mere pebble.
Wu Jiang decided to find a chance to escape after Boss Chen and others rushed out. He hadn't lived enough yet, so he didn't want to get caught up in a pot. He calculated meticulously, but Chen Li didn't give him a chance to enact his plans. Chen Li liked Wu Jiang's face at first, but after a long time she got tired of it. But Wu Jiang's wind ability was really powerful, so how could they fare without him?
At this moment, she grabbed Wu Jiang who wanted to take the opportunity to walk to the back of the team, and said: "Husband, you are my husband, don't be the same bird that flies separately in the disaster. As long as my dad wins this time, the whole world will be ours! Husband, as long as you work hard, I will give you a big credit, and reward you for the future!"
Wu Jiang thus stood the front row like a little chicken, thanks to Chen Li's blessing, behind Boss Chen, as if he was his beloved minister.
Wu Jiang:………
However, facing Boss Chen's fierce and complimenting eyes, he did not dare to utter a word, so he could only look for another opportunity.
Wu Jiang followed Boss Chen out, lowered his head cautiously, and tried his best to reduce his sense of existence. It is now in the early morning, and the sky was not bright yet, like a gray curtain hiding the lurking of a ferocious beast.
This time is usually when people are the sleepiest and it's easy for them to relax and be distracted. Old Chen started enacting his plan around this time. It could be seen that he previously studied some war tactics.
…
In the end of the night night, Boss Chen suddenly launched an attack. First, he dispatched the earth ability users to bury all the temporary residential areas of the three base's teams, which resulted in burying some people alive. Then, he ordered the fire ability users to create fireballs in order to ignite all the temporary tents and earthen houses and burn them to the ground; the fire was still not extinguished, and then the water ability users superseded to shoot rain arrows, mixed with the power of thunder and lightning that could scorch people to death.
In mere minutes, the temporary base of the said elites became a total mess. Old Chen was overjoyed. He thought that all the teams surrounding them were camping in the same place. Seeing that victory was in sight, he laughed heartily, shouted to kill, took people with him and rushed up to finish them off.
However, after a while, Boss Chen also discovered the problem. How could there be so few people in the team sent by the three major bases? As he was wondering, countless ice arrows shot from the darkness and hit him, causing Boss Chen to howl and fall to the ground!
"No, we fell into a trap!"
"Brother Chen, what should we do now?"
Dawn was approaching, and the sky was shrouded in the dim light of the first rays of the rising sun.
With the help of this light, Wu Jiang perceived many remaining opponents, who were originally hidden in the darkness, surrounding Boss Chen's team from all directions. They had weapons in their hands and extremely powerful abilities, and now that they were exposed, they rushed over menacingly!
It's over, they are dead meat!  (T/N: hhh finally some self-awareness)
Wu Jiang had the ability to survive strongly even in harsh conditions, as well as to judge the situation accurately. Observing the nuances of the words and the subtle changes of expressions is what he was best at. He was able to push Qin Yue down the ten-story building without hesitation, because he knew if he really followed him, he would certainly die! His death or Qin Yue's death? He only considered this question for a second then had his answer almost immediately.
Qin Yue would fall to his death, while he would be lucky to survive.
The last days were cruel, and appropriate choices should be made in order to live. He did rely on this method to survive all the way until now… Was he going to die here today?
No, he will do meritorious service and atone for his past deeds, not to mention that he was compelled to stay by Boss Chen's side.
At this moment, Wu Jiang's guard has changed from the three-base joint team to Chen Boss and his daughter Chen Li. He believed that no matter which team won in the end, he would be able to save his skin. At most, he would fabricate a moving story and a reason for his previous actions. Why make a big deal out of it?
When the first ray of sunlight shone in the morning, Captain Li said loudly for the opponents to hear: "Boss Chen has done a lot of evil, and it's not a pity for him to die, but I believe that many of you were forced to obey his orders. As long as you put down your weapons and surrender immediately, we deal with you leniently. Otherwise, for those who won't surrender, we will kill them without mercy!"
Of course, the statement was false; it was just a stopgap measure.
Boss Chen was afraid that his subordinates would be tempted, and he immediately roared: "Originally, we lived well in Xining, without worrying about food and clothing, and there was no threat of zombies. It's you who don't want us to live a good life! You killed how many of ours brothers? And now you still shamelessly pretend to be a saint and say you will spare our lives, do you really think we are fools? Brothers, such treacherous people can't be believed! Kill them, so we can continue to live our good lives!"
This Boss Chen was indeed a master of scheming. In just a few words, he portrayed himself as a victim, and said such moving words, as if he really was defending his family and the country.
Captain Li smiled and said: "Do you think that living like this in the Xining Prison is good? To tell you the truth, now that the three major bases formed an alliance, after the restoration of communications, we have made basic contacts with major bases around the world. Survivors around the world will unite to fight against zombies and research a vaccine against the zombie virus! Now the world is in chaos, and the environment has also undergone drastic changes. Soil pollution and water pollution have destroyed the growth of countless crops, and some materials will also face due to the arrival of the expiration date. Corruption, deterioration… Do you think you can live a stable life by stealing and looting? Everyone listens, whoever surrenders, I swear on my life not to kill him! Not only I promise to not kill him, I'll also take him back with us to the safe zone."
As soon as these words came out, the people around Boss Chen were really ready to switch sides. Several timid people had already thrown weapons and raised their hands: "…I, I surrender!"
Boss Chen smashed a fireball to explode one of the surrendering people's head, but the other person reacted quickly, rolled on the spot and evaded the attack.
"You betrayed all the brothers of our Xining base, how can I be worthy of so many brothers if I don't kill you today?"
"Boss Chen, I'm sorry, I don't want to die with you, and I am not betraying all the brothers of Xining base. I just want to survive. What they want is your head. Only if you die can we be saved."
This was the truth.
As long as Boss Chen and his cronies die, the others will be able to escape the calamity.
Wu Jiang thought the same way, so when more and more people began to betray Boss Chen, he condensed his wind ability and aimed at Chen Li.
Boss Chen didn't dare to move, so it would be more than enough to kill a Chen Li.
And he killed Chen Li, naturally, to show his intentions to the three bases.
Qin Yue and Li Ming stood far away, watching the changes in Wu Jiang's eyes, and observing the movements in his hands and the undisguised murderous intent under his calm face.
Li Ming gritted his teeth and sneered, "Wu Jiang really hasn't changed at all. I really was blind before."
Qin Yue raised his eyebrows indifferently: "He's too smart for his own good*. Sooner or later, Wu Jiang will capsize in the gutter and kill others as well as himself ."
"Brother Yue, don't you hate him?"
"Hate? I want to thank him. If it weren't for Wu Jiang, how could I awaken my Space ability ?"
Qin Yue previously hated Wu Jiang, and even held a grudge against him. He also couldn't understand. They were brothers for more than ten years, even if he doesn't help, how can he push him to his demise? But when he saw Jiang Nian, when he knew that Jiang Nian was pushed by her dearest friend, this kind of resentment and incomprehension became indifference instead. But being indifferent did not mean he was willing to forgive and forget. While he understands Wu Jiang's thought process, but he completely regards Wu Jiang as a scheming passerby who must be guarded against. If he ever encounters him, he will kill him without hesitation or abandon him. For him, Wu Jiang has become dispensable and insignificant.
For Jiang Nian, Yao Xiaoyue has also become a stranger who needs to be vigilant of and guarded against. The trust and genuine feelings that were between them once dissipated into nothingness as early as the moment she was betrayed.
As expected, Wu Jiang couldn't bear it, and attacked Chen Li first! Chen Li was caught off guard, a wind blade cut her neck while dodging, blood splashed like a fountain! She covered her neck with her hand in panic, but couldn't stop the blood flowing out…
Wu Jiang succeeded in his move, and immediately stepped back. Although Boss Chen was inhuman and cruel, he really loved Chen Li, his only daughter. So when he saw his beloved daughter falling to the ground, he immediately attacked Wu Jiang with a roar!
"Back then, I was kind enough to save you, and even betrothed my daughter to you. You actually killed my daughter! Today I'm going to end you!"
Wu Jiang replied, "You saved me back then, but your daughter didn't. I didn't marry voluntarily, but forcefully. What's more, Chen Li's private life is chaotic. There are nine or ten men around her! Over the past few years, I have advised you to stop doing bad deeds, but not only did you not listen, but also forced me along. So I am embarrassed, I have long seen you unpleasing to your eyes, if I was not forced, how could I stay in Xining?"
Boss Chen immediately ordered his men to kill him!
Captain Li immediately seized the opportunity and his team swarmed to fight them!
…
This battle lasted almost a day. The forest outside Xining Prison now had parts of it either burnt, transformed into a pit, scorched black, or frozen with ice blades, and the ground was blood-stained, with corpses all over the field!
When Jiang Nian brought Wangcai to pick up valuables (big gold), it happened to be the time when Boss Chen chose to blew himself up, unwilling to be humiliated!
Boss Chen was already a level five dual ability user, he shouldn't have desperately blown himself up, but his daughter died, and his dearest brothers also died. Being coerced was no good. Instead, it's better to bring a few more to accompany him to meet King Yama… The explosive energy fluctuated hugely, the wind ctreated could bring down boulders, and the fallen leaves became as sharp as flying knives.
Those around him all reacted and cried out, "No, Boss Chen wants to blow himself up, run!"
A level five ability user self-destructing was no joke.
When the word "run" was just uttered out, it was too late to do anything, and they could only helplessly hear the huge sound of the explosion "boom – !!!"
……
……
Everything was plunged into deathly silence!
……
……
Jiang Nan blinked, the air around her seemed to stand still, a space materialized around her, in a shape of a square-shaped glass bottle. Wangcai laid calmly on the glass, staring with his big black eyes at everything that happened outside.
He saw the broken stones and fallen leaves flying in the air, the torn-off limbs were mixed with blood, and even the ears seemed to be tinnitus. The boss Chen was fragmented in an instant, leaving only a big patch of blood.
Suddenly, Jian Nan could not see, a hand covered her eyes, while the other held her waist tightly, a hot breath that was a little unstable sprayed over her ears, she heard a low voice saying, "Rushing over so recklessly, do you want me to be a widower even before I get married?"
Jiang Nian immediately replied: "No, I can't bear it darling." (T/N: she actually calls him Baobei, which means treasure/baby/darling.)
Qin Yue paused, hummed softly, and softened as soon as he heard it by a lot.
Standing behind the two of them, Li Ming still had no time to express his amazement at the perfect use of the space ability just now, he shook his head and swore to himself that the unique cold-faced elder brother of his was actually a henpecked husband.
……
Xining Prison was in its prime for a while, but it all ended with the self-detonation of Boss Chen, not even causing ripples anymore. Li Ming saw Wu Jiang, whose limbs were mutilated, falling into a pool of blood, twitching, flailing about, struggling to grab his trouser legs, seeming to beg him to save his life, but when he clearly saw that the man in front of him was Li Ming, he opened his eyes in horror.
Li Ming looked down at him with no expression whatsoever, and on his face was neither pleasure nor sadness, he just shook of his arm, a little helpless: "Brother Yue didn't die, why did you bother in the first place?"
Wu Jiang widened his eyes and died without peace of mind.
Before Jiang Nian stepped into Xining Prison, she was stopped by Qin Yue.
The man appeared serious on the outside, having a cold, abstinent temperament, but his kiss was extremely intense, from light touch to heavy kiss. He, bit by bit, broke into her mouth and sucked hard, holding her tightly and firmly.
Jiang Nian's cheeks were red, and her breathing became short.
The tighter he hugged her, the deeper the kiss became.
Qin Yue was afraid. If he didn't find Jiang Nian in time just now, if he didn't arrive in time, if Jiang Nian was injured by Boss Chen's self-destruction, he would not be able to solve his hatred even by bringing Boss Chen from hell and torturing him all over.
Even beating one hundred or even ten thousand Boss Chen couldn't compare to losing Jiang Nian!
Jiang Nian patted him and comforted: "Okay, I'm fine, don't be angry."
Qin Yue's breath is a bit heavy, his mouth is sweet, like candy, "Today, my whole life was almost ruined."
"…Huh?"
" Niannian , you promised to marry me and spend the rest of your life with me. If you don't abide by your promise, my life will be gone."
Jiang Nian smiled. "Don't be afraid. I said I will be responsible for you, so I'm also responsible for your life. I will not make you lonely."
Qin Yue's heart throbbed and he stared at Jiang Nian.
Jiang Nian looked at him, then bent over a little and kissed the back of his hand: "My dear." (T/N: AAAAAAAAAA)
Qin Yue: "…"
Qin Yue: "Then we go back and get married."
Jiang Nian: "En."
Qin Yue pulled Jiang Nian into his arms again, his thin lips pressing against her small earlobes.
"Jiang Nian, I've noted it down." (T/N: he basically says he'll remember her words all his life. *cough* cute*cough*)
*聪明反被聪明误 : an idiom, literally "a clever person may become the victim of his own ingenuity".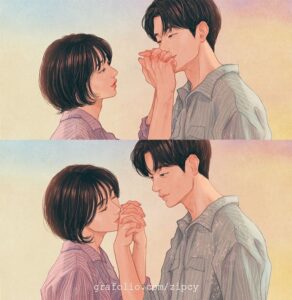 Ahem….
This is Jian Nan straight from my imagination…And the scene if the roles were reversed.. They's soooo cuuute I can't-
So I decided to post earlier than scheduled for you to choke on dog food. Like I did. Hope you enjoy the chapter y'all!
Support me on Ko-fi for more updates UwU