Reincarnated Princess Wishes To Avoid Death - Chapter 250
The Last Friends
Let's go back to Saint-Noel Academy for a change of pace. What do you think Miabel was doing while Grandmother Mia, Mother Anne, and even Mr. Ludwig were fighting their own brave battles?
"Aaah… It's exactly what I expected. This is an illusion. It must be. I'm so happy here that it makes me a little nervous…"
She couldn't have been happier. Taking full advantage of the day, so to speak. How much was she enjoying, you might ask?
Well, about enough for a sweet pancake in the morning and a cup of hot chocolate in the evening each day, every day.
Plus everything in between.
Of course, school was more than just pancakes and hot chocolate, and she was a little more responsible than Mia, so she also got a lot of exercise every day by taking long walks through the beautiful campus, short runs along the lakeshore, and sometimes even jumping in for a swim.
In fact, it was the perfect example of a healthy, well-balanced student life.
All of this was because she had to stay at school over the summer, which was because she did so poorly in school. Because of this, she is not the best example of how a student should act.
But because Lynsha kept a close eye on her, she didn't become a complete waste of time.
After all, Mia's family was known for "being able to do a pretty good job as long as they worked hard."
Even though their steps were often slow and sometimes didn't seem to go in the right direction, they kept moving steadily forward.
So, like she had done every other day, Bel went to the library today. Summer break was in full swing, so the inside was almost empty. Only Bel, Lynsha, and the librarian were there.
After sitting down in her favourite seat by the window, Bel pushed her arms up into the air and stretched. Then, like a leaking balloon, she sagged onto the desk.
As soon as she closed her eyes, her breathing fell into the slow rhythm of sleep.
"Milady, I thought you came here to study."
Lynsha was not very amused as she sat across from her mistress. She gave Bel a stern look as she took one of the books she had brought for herself. Lynsha had planned to study on her own while Bel did her homework. She was actually very eager to. Since her brother was the way he was, someone else in the family had to be more respectable.
"Ha ha, Miss Lynsha, I was just joking around. You don't need to look at me that way. It's a little bit scary."
Bel smiled and waved her hands to say that she was just joking. Lynsha didn't bite.
"You'll finish all your homework before you leave today, right? Also, don't try to escape. I'm looking at you."
Bel flopped down on the desk again with a groan. She looked at the small mountain of homework through her closed eyes.
"Aaah… I'm…so happy here…"
Her lips smiled in a small way, but it was real.
After studying hard for about an hour, Bel started to look around the library. They had agreed that she could read the rest of the time after she finished her work.
Bel grew up with a writer as a parent, so being around books made her feel at home. She had spent most of her life in a place where people burned books all the time, so seeing so many books in Saint-library Noel's was amazing. She felt like she was in heaven as she walked through the stacks.
"There are so many… I don't know what to read today. I really like animal books with pictures. I might pick up one of those. Oh, and the ones with pictures of plants that look cute are also good."
"Hey, you. Are you that girl who hangs out with Princess Mia?"
She was looking at the spines of books on a shelf when she heard a voice. When she turned around, she was surprised to see a girl staring at her.
The girl was the same age as her. She looked like a doll because she had soft, wavy hair that shone gold and beautiful grey eyes. She waited for Bel to answer with a sweet smile that looked like a flower.
"Um… I think yes?"
Bel replied by tilting her head in a strange way.
"Grand—I mean, Miss Mia is someone I look up to and respect a lot."
"Hm? What happened? Grand?"
The girl frowned, put her finger on her chin, and turned her head to the side.
As she moved, her hair fluttered, releasing a scent of flowers that quickly reached Bel's nose. It smelled great, so good that Bel felt like she was losing her mind.
"Oh well. Whatever. You've been always studying in this library as of late. You're not going home for the summer, are you?"
"Mm hm. It's embarrassing to say, but I didn't do well on the test before the break, so I have to stay…"
"Huh. Really? You're really care in all of that?"
She made a funny face.
"It's doesn't actually matter, you should know. But do what makes you happy."
Bel scratched her head, not sure what to think of this answer.
She asked with a cute smile and big, round eyes, "Anyway, would you like to be Rina's friend?"
"Who?"
"Hm? Oh, I mean me. My name is. I'm Rina."
She moved back one step, held her skirt, and curtsied.
During the process, Bel got a quick but striking look at the skin on her legs. It was a shocking shade of white. Even worse than that. Almost too bad.
"Citrina Etoile Yellowmoon. It's a pleasure to meet you."
"Likewise. I'm Miabel, I'm in my first year as well."
She smiled again with that sweet smile.
"But all of my best friends call me Rina, so it would be great if you did too."
"I see. Okay, Rina. You can call me Bel if that's the case."
Bel curtsied back in the same way.
"Tee hee, wonderful."
She asked Bel, "Please be nice to Rina, okay?"
Bel noticed the girl's smile more than anything else about her. She really did have the most beautiful smile.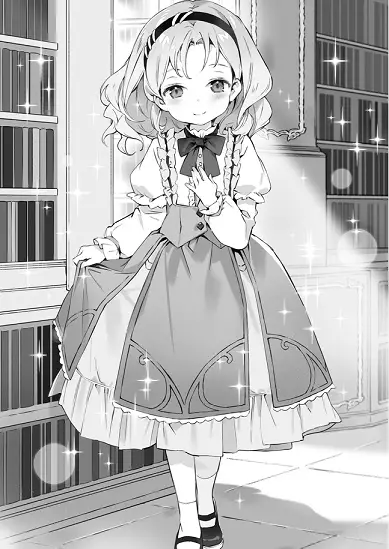 —
Author's Note:
Thus, the last daughter of the Four Great Dukes has finally appeared. I will continue next time when the Princess of Yellow Moon appears.
—
Translator's Note:
Finally! After about 250 Chapters, the four Children of the Great Dukes have appeared.
---
Support "Reincarnated Princess Wishes To Avoid Death"
---
Comments for chapter "Chapter 250"
MANGA DISCUSSION
Support Fan's Translations
Your donations will go towards site costs and management.
Note: Individual translators usually have their own ko-fi buttons.