First Outer World Story Series: The Black Mist that Devours - Chapter 25
Translator: MadHatter Editor: MadHatter
---
New monsters are appearing one after another.
---
(Kurokiri POV)
"Now, before creating the third level, I have a question for you, Help-kun."
[What is it?]
"What will be the consequences of a dungeon that loses its master?"
To be honest, I didn't give it much thought during the briefing, but subsequently, I was interested to ascertain what had occurred to the "Ogre's Fortress," so I dispatched a Fog to the labyrinth, only to be faced by the apparent fact that nothing had changed. There was a saying, to ask may be a moment's shame, but not to ask and to remain ignorant is an everlasting shame. That was why I called Help-kun.
[Well, let's see.]
And here was a summary of what I had learned:
・When a labyrinth's master dies, it loses its indestructibility.
・The labyrinth after losing its master randomly generates demons and traps based on the square root of the former Demon King's level indefinitely.
・The demons that spawned following their master's demise will not leave the dungeon voluntarily.
"What a hassle…"
[That's the way it works.]
They were a nuisance whether they were living or dead, as one would expect from a Demon King.
"Oh well, l should create the third level. ≪Dungeon Create≫."
Thus, the creation of the third level has begun.
However, the third level that I was working on this time was deliberately designed to be less challenging. This was done in order to lure more people to my labyrinth and to deliberately develop the humans. To be more precise, once a person had reached around the third level, I planned to dispatch monsters that were evidently out of their appropriate level to turn the tables on them.
In addition, the entire "White Mist and Black Swamp Forest" will be refurbished during the construction of the third level. The existing main entrance will be modified to a one-way door from the inside to the outside, with the first level centering on the more formidable demons among his own subordinates. There will be no significant changes on the second level, but the mist and muddy environment will be added. Also, on the third level, an airlock will be set up with a limit of 20 people at a time, which will be served as the main entrance.
To put it another way, the third level will be my dungeon's first floor, followed by the second level, the first level, and so on in reverse sequence.
The third level's main concept was a clear stream with an average depth of 10 cm and a moderate current flowing from the entrance to the depths. Since this was my own dungeon, I set up a mist (but with a visibility limit of about 15 meters). As for objects, reeds and rocks were situated here and there, and the devouring black swamp was installed in places where the flow was sluggish.
The dungeon's connection to the second level was directly opposite the first and second connecting points, where the black swamp waterfall was located, and the dungeon was constructed in such a way that it could extend horizontally by any means. The entrance was in the middle of a paddy field.
Eh? You think it's a nuisance? I don't hear you.
I intended to set up the new Bullet Tadpole and Rifle Frog in addition to Fog, Thin Mist Wolf, and other monsters that would emerge, as well as the Disarray Devil's Darning Needle to contend with overleveled opponents. It will almost undoubtedly be a genocide party since it continued to defy my commands.
・Bullet Tadpole
Amphibian-type tadpole-shaped demons measuring roughly 10 cm in length.
While each unit is feeble in strength, they plunge into the adversary's body with great vigor like rifle bullets, burrowing into the body and subsequently devouring the opponent's body from the inside. As they grow, they evolve into Rifle Frog.
Summoning cost: 5 HP and SP each per unit.
Prerequisite for creation: existence of a watering-place or a similar environment.
・Rifle Frog
Amphibian-type frog-shaped demons, approximately 1.5 m in length. A higher species of Bullet Tadpole.
Their tongues are like rifles, and they utilize water pressure to send Bullet Tadpole and pebbles flying like rifle bullets. When members of the same species are in close proximity, it has the property of timing its attacks.
Summoning cost: 300 HP and SP each per unit.
Prerequisite for creation: Bullet Tadpole presence is required.
And now, continuing on to the second level, I would like to introduce some monsters that have not been introduced until now.
・Minotamist
About 4m tall, spirit-based, bull-headed demon.
A cloud of smoke in the form of a minotaur. This is the demon that most represents its visage. Although it is stronger than Smoke in terms of physical attack power, it is less intelligent. When you think of a labyrinth, the minotaur is what counts! For this reason, Kurokiri summoned it.
Summoning cost: 500 each for HP, MP, and SP per unit.
・Mud Puppet
A 1.7m height magical creature of humanoid type.
A puppet demon created from mud. It is a stereotypical golem that dutifully complies with the orders it is issued, but will not commit to anything beyond the assigned commands. Unless its core is destroyed, it can spontaneously recover from an out-of-combat state with its minor self-regeneration ability. It does not perform any dance like the mysterious dance[i].
Summoning cost: 100 MP per unit.
So, on the first level, a new monster like this shall be produced.
・Cuelebre
Roughly 10m long, dragon-like serpent-type demon.
This dragon is distinguished by its scales, which harden with each attack, and its venomous breath. Despite belonging to the lower class of dragons, its potency is still terrific.
Summoning cost: 1800 each for HP, MP, and SP per unit.
・Mud Soldier
A 1.7m tall magical creature of humanoid form. A higher species of Mud Puppet.
Mud Puppets[ii] are equipped with weapons and armor. Apart from faithfully abiding by the commands issued to them, they may also act on their own initiative to some extent. As long as the core is not destroyed, they will automatically recover, including their weapons and armor.
Weapons and armor can be customized.
Summoning cost: MP250 per unit.
Yup. It was a challenge to summon Cuelebre. After all, with my current status, things were fairly rough. For your information, although its ability was comparable to that of Devil's Darning Needle, it obeyed my commands perhaps because it can be summoned as often as I desire.
Well, I guess the introduction of monsters ended here.
So, it had cost me about a month to prepare the dungeon and to summon the monsters. During this period, there was barely any contact from Ryo, but it seemed that things were heating up around the globe.
Ah, I'm reverting back to being a poorly informed guy again… I'll have to inquire about these with those fellows…
————–
T/N:
[i] The image of the mysterious dance in games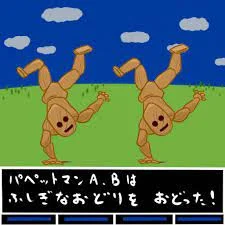 [ii] I think the author mistyped that. It should be Mud Soldier… or maybe not?
╳
Check out other Outer World Story series in order: Outer World Story: The Black Mist that Devours (First series), Outer World Story: Pumpkin Sorcerer (Third series), Outer World Story: Basilisk of Ice Sculpture (Fourth series)
---
Support "First Outer World Story Series: The Black Mist that Devours"
---
Comments for chapter "Chapter 25"
MANGA DISCUSSION
Support Fan's Translations
Your donations will go towards site costs and management.
Note: Individual translators usually have their own ko-fi buttons.