A Former Child Soldier Who Uses a Magic Sword Wants to Live with an Older Sister of a Former Enemy Executive - Chapter 1
Chapter 1 : To the Hero's party, I'm nothing but a slaughterer.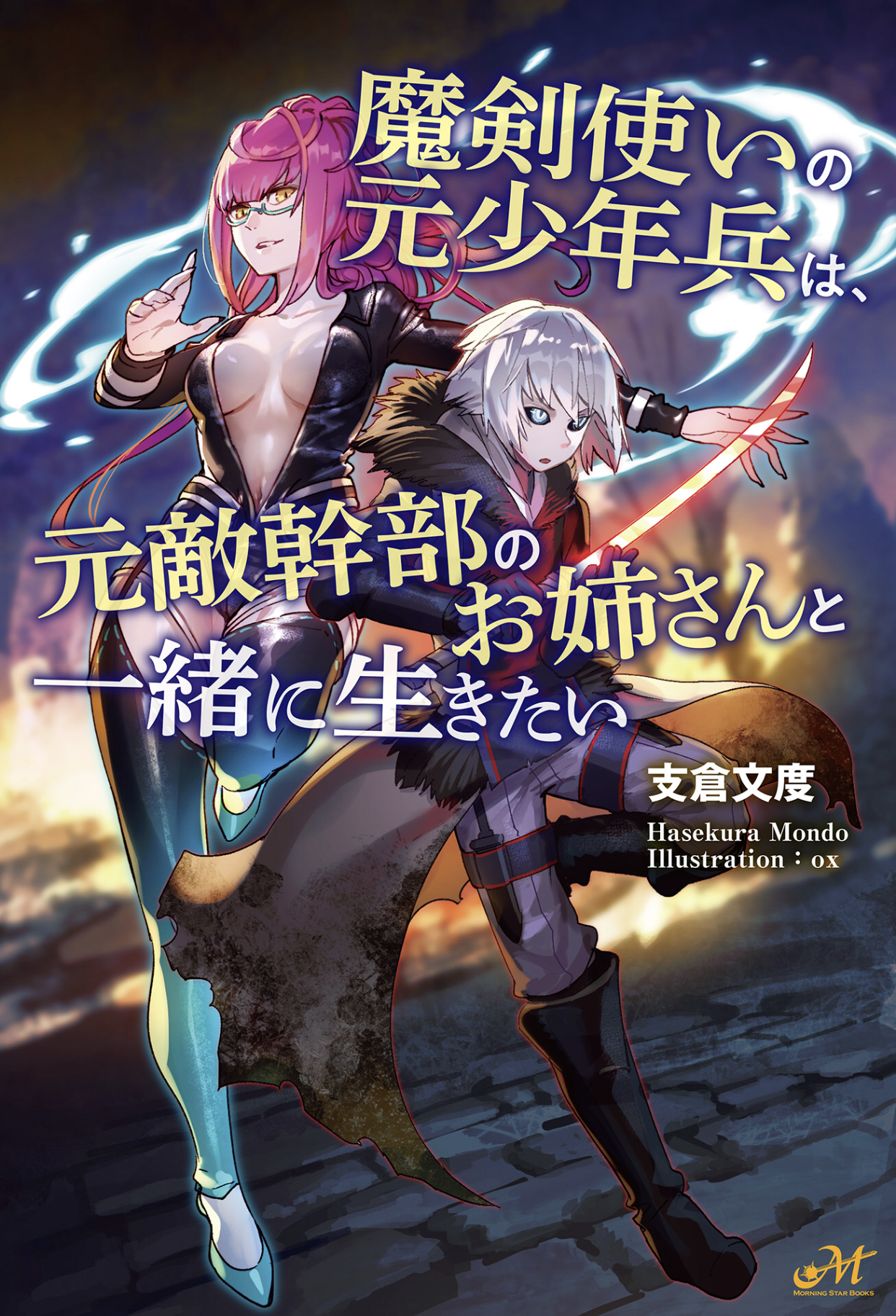 He was a boy soldier without a single relative, who had been forced to carry a weapon since he was 5 years old.
His fighting prowess was so tremendous that by the time he turned 12, he was known as Seto, which meant "Destruction and Storm".
This epithet was the name by which he had come to be known.
Among all the boy soldiers, he was the only one with an aptitude for magic swords, and his swordsmanship alone put all the adults to shame.
He literally brought destruction and storm to the battlefield.
That was all Seto could do.
When the adult soldiers told him to "charge", he would charge, and when they told him to "cover their backs", he would do as he was ordered.
That was all Seto could do.
Most of the chores and odd jobs on the battlefield were the responsibility of boy soldiers, but Seto was too clumsy for anything but fighting.
Normally, he would be persecuted by the adults for that, but because of his magic sword aptitude, he was given a certain degree of special treatment, and was entrusted with the care of weapons.
Indeed. As far as Seto was concerned, the only "human contact" he had ever had was mostly with the adult soldiers, and on the battlefield.
He behaved bravely and looked his age, but continued to survive on the battlefield among adults and other boy soldiers.
────That was all Seto could do.
One day, in the Kingdom where he lived, he was elected to be a member of the Hero's party.
Just recently, the monsters had become more active and were threatening the lives of people.
Seto's martial abilities had caught the eye of the young Hero, who consequently chose him.
The king had no objection to the decision of the Hero, and gladly allowed the boy to accompany him.
────However, Seto was suddenly banished from the group during their journey.
[Seto, recruiting you into our party was a mistake.] (Hero)
[Why is that? I'll admit that I can't do chores or any regular tasks… But I can still be useful in battle!] (Seto)
It happened one morning, by the shore of a lake.
While the other party members were gearing up, the Hero took him aside to speak in private.
At that time, he voiced his disappointment in the boy.
It was when they were halfway through their journey, had already defeated all sorts of enemies, and were getting close to the Demon King's domain.
[You're an exceptional fighter. And frankly, I find that surprising. But fighting is all you can do. Killing is all you ever do. You're hopeless at everything else. It's as if you completely lack human dignity and cooperativeness altogether.] (Hero)
[…Aren't we on our way to kill the Demon King? What else is there to do but fight?] (Seto)
[That may be true. But you're incapable of cooking or carrying our luggage. Right now… you're just a slaughterer who attacks people and monsters alike!] (Hero)
[I'm sorry that I'm so clumsy I can't do chores properly, but fighting means killing, right? Our enemies are out to kill us… So we have to kill them before they do!] (Seto)
The enemies they met on their journey were not always monsters.
Sometimes, they were humans.
Various kinds of people, ranging from bandits to soldiers from enemy nations, with their own purposes and duties, raided the Hero's party, and they all unconsciously gasped at Seto's brutality.
Without batting an eye, he slashed them all to death with the magic sword in his hand.
He killed those who begged for their lives and those who ran away in fear equally, without hesitation.
There were numerous instances where, in the heat of the moment, he reduced his enemies to lumps of flesh.
The other party members who witnessed such an inhuman spectacle regarded Seto as a creature far more repulsive than any monster.
[We're on a journey to save humanity! Not on a killing spree!] (Hero)
[What's the difference?!] (Seto)
[…Enough. I didn't think you were this cruel. As of today, you're expelled from our party.] (Hero)
[Hold on! How am I supposed to get home from here…?!] (Seto)
[You can figure that out on your own. Try to think and act by yourself without relying on others for a change. Although in your case, you'll probably end up as a bandit since you don't seem to have any talent except for killing. …And if that ever happens, we'll crush you with everything we've got!] (Hero)
He glared at him and quickly walked away.
Seto could do nothing but stand there, dumbfounded.
Time passed, and when it was almost noon, Seto finally moved.
He aimlessly wandered around in a land he was not familiar with.
[I'm starving… What should I do? I haven't even had breakfast yet.] (Seto)
I know. I should go into the forest. The forest is a treasure trove of food. But the only cooking method I know is grilling. Still, it should be enough to fill my stomach. I only have so much experience in survival, but if I don't put it into practice anyway, I'll starve to death. (Seto)
With that in mind, he went into the forest.
The dense silence of the area made him feel completely isolated from the outside world.
The chilly air caressed Seto's cheeks, making his limbs more tense as he walked cautiously and maintained a low position.
[I can hear birds and the sound of plants swaying in the wind… Along with… something else. Is it an animal? It sounds… not as large?] (Seto)
With that in mind, he pulled out the knife attached to his thigh, and held it in his other hand.
Sure enough, he heard a noise coming from a nearby bush.
But what emerged from it was someone he never expected.
[Ah! You're…!] (Seto)
It was Satis, the leader of the Demon King's army, and his first opponent among them.
She was a tall, slender female demon with shoulder-length pink hair tied back, and charming glasses.
Looking like a human in her twenties, she was wearing a lascivious leotard-like combat suit, and her open cleavage exuded feminine confidence and charm.
She was a master of magic and schemes, not to mention honey traps.
He fought her off many times, but her strength still made her incredibly tough to deal with.
However, there was no sign of that fearsome opponent in the way she looked right now.
Her suit was torn and tattered all over.
She was bearing marks, as if she had been punched and kicked in every place.
Her white skin, which used to be as unblemished as a jewel, was now stained with blood and mud, and bruised in places.
Her glasses were cracked, and the once-lively look on her face was now as gloomy as an inorganic object.
Her hair, which used to be tied together, was now hanging down to her shoulders in a disheveled manner.
Her eyes, which used to be so full of disdain for others, had lost their shine, and her lips, which used to casually fire off so many mild insults, were slightly open and rubbing her hair.
[Satis!] (Seto)
Thinking that she must have set some kind of trap, Seto summoned his magic sword out of thin air.
He switched his knife to his left hand for a dual-sword technique.
He cautiously kept his eyes on her while maintaining a certain distance from her, but she didn't do anything.
She just stood there staring at Seto the whole time, with the light fading from her eyes.
[……?] (Satis)
Satis, who did not sneer at him like she normally would have, or even start firing her magic attacks at him, only gave Seto a dubious look.
[Hey… Are you…] (Seto)
[……] (Satis)
She did not respond when he addressed her.
She simply stared at him helplessly, looking confused.
And finally, she fell forward on the spot.
[H-Hey!!] (Seto)
He carefully approached Satis, who was lying there, exhausted.
She had lost consciousness.
Seto, a boy soldier who was a former member of the Hero's party, and a magic swordsman.
And Satis, the female leader of the Demon King's army.
At that time, no one knew that it was in this forest that the two of them had their fateful encounter.
---
Support "A Former Child Soldier Who Uses a Magic Sword Wants to Live with an Older Sister of a Former Enemy Executive"
---
Comments for chapter "Chapter 1"
MANGA DISCUSSION
Support Fan's Translations
Your donations will go towards site costs and management.
Note: Individual translators usually have their own ko-fi buttons.