A Former Child Soldier Who Uses a Magic Sword Wants to Live with an Older Sister of a Former Enemy Executive - Chapter 6
Chapter 6 : We're gonna live in the future! And for that, we need a bath first! …Apparently.
[Hey, Seto.] (Satis)
[Hmm? What is it?] (Seto)
[Weren't you… shocked? From being denied everything… and expelled from the Hero's party, I mean.] (Satis)
[Of course I was shocked. Even now, I feel like crying because of it.] (Seto)
However, Satis could only smile wryly at Seto, who was moving briskly for whatever reason.
As they walked through the forest, he was maintaining a low posture, and paying close attention to their surroundings.
He had been unable to relax all along, probably because of the battle that just took place.
[That's not what it looks like to me, though. …Wait, now you're crawling on the ground…?] (Satis)
[We're still close to the Demon King's domain, so there could be snipers stationed in the area… Come on, you should get down too, Satis.] (Seto)
[There aren't any snipers here. In fact, there aren't any snipers in the Demon King's army to begin with.] (Satis)
"I see!" said Seto before continuing to crawl ahead.
Perhaps it was due to his nature as a former child soldier, but Seto was a cautious boy.
[Oh geez! Just walk normally, please!] (Satis)
[Mmrgh… Well, if you say the area is safe, then I'll comply.] (Seto)
He stood up and brushed off the mud on him.
[Say… If other monsters show up again…] (Satis)
[You won't be able to move, right? I'll deal with them.] (Seto)
He answered without hesitation.
Satis felt relieved, but she also had slightly mixed feelings.
[I'm sorry. I'll work on myself to be ready to fight immediately.] (Satis)
[You don't have to fight if you don't want to. A soldier is more than enough for this job.] (Seto)
[But you're not a soldier anymore, are you?] (Satis)
[…Right. I forgot.] (Seto)
His reply was short.
They took a break a little further ahead.
They were almost out of the forest.
They are the fruits they picked up this morning.
[Satis, you're really good at peeling fruits.] (Seto)
She borrowed a knife from Seto and used it to peel the fruits.
The latter watched her with sparkling eyes.
[I'm quite skillful with my hands. Now I just need to cut them up into neat little slices… Done. Here you go.] (Satis)
She handed out the sliced fruits on a plate she borrowed from the cabin.
Seto immediately took a bite.
[Yummy!] (Seto)
[Don't exaggerate, it's only one slice of fruit. I'm sure you had much better food back when you were with the Hero's party.] (Satis)
[No, I never got to eat much. …They always shunned me.] (Seto)
[Eh…?] (Satis)
[Fighting was all I could do, I was no good for pretty much every other task. Because I'm clumsy. So the others gradually distanced themselves from me, and I was the only one who didn't get much to eat under the pretext of saving food, they said. I always ate in the dark, out of their sight.] (Seto)
[So, back then too…] (Satis)
She mentioned an old memory.
During one of her attempts to get back at the Hero's party, Seto was looking pale and unsteady on his feet.
[Ahh, yeah. That did happen. Back then, Angelica the mage and McLean the monk healed me afterwards, so…] (Seto)
[And before they did, you were fighting me on an empty stomach and in a daze!? And even then, I mocked you so much…] (Satis)
[…I got used to it on the battlefield, don't mind it.] (Seto)
Following that, he began munching on fruits again.
After all the hell he went through, he then saved his former enemy, and asked her to travel with him.
Normally, anyone would be thinking about revenge, or capturing said former enemy to get even with her.
That would be a normal reaction. However, this boy had no such thoughts at all, and tried to live on in spite of the unbearable sadness in him.
Satis felt an unfamiliar pain in her chest.
For some reason, upon seeing the boy from behind as he ate the fruits with such relish, she felt her chest tighten.
Satis placed her own share of the fruits near him.
[You don't want them? *Nom* *Nom*…] (Seto)
[No, I don't have much of an appetite. Please help yourself.] (Satis)
[…Are you sure? You won't get them back even if you ask for them later, you know? *Nom*…] (Seto)
[Please finish what's in your mouth first, okay? Also, don't talk with your mouth full.] (Satis)
After swallowing everything in his mouth, Seto took her portion of the fruits without hesitation, and began eating them vigorously.
Satis, who had been watching in silence, pulled a canteen of water out of thin air, and handed it to him.
[*Gulp* *Gulp*… Sorry.] (Seto)
[Take your time to savor the food.] (Satis)
She used spatial magic to store daily necessities, and could take them out whenever she wanted.
That included cosmetics, clothings, and so on.
This was also how they stored the food and water they collected around the cabin, making it easy to transport.
You could call it a higher version of Seto's ability to draw his magic sword out of thin air.
[Phew, I'm full… That ability of yours sure is convenient.] (Seto)
[You also have one similar to mine, don't you?] (Satis)
[My magic sword is the only thing I can store. I tried it with something different once, but it went badly. …And I got one hell of an earful for that.] (Seto)
[What in the world were you even thinking…? That aside, what should we do once we're out of the forest?] (Satis)
He did not really know what to do after leaving the forest.
After all, this was all a first for him.
For the moment, he had a swirling desire to proceed further.
[For now, once we leave the forest… I think I'd like to go to a town.] (Seto)
[A town, you say? In that case, I know just the place. It's far from the Demon King's domain, with no risk of monster attacks, and we'll be free to relax.] (Satis)
[Is there really such a town…?] (Seto)
Their destination was set.
The two of them had been leading lives burdened by duty.
But now, they were starting over, and taking the time to relax.
Somehow, she seemed to be enjoying herself a little more, and her face had regained some of its bigot.
[Say, are you really that eager to go to that town?] (Seto)
[Of course I am. I've had my eyes on it since way back. It's famous for its public baths.] (Satis)
[Baths, huh… Sounds nice. Can we soak in there for long? Or is there a time limit?] (Seto)
[There is no time limit, but you shouldn't soak in there for too long, or you could get dizzy afterwards. Oh, that reminds me. Actually… Their services also include mixed baths. Being a boy, I bet you would love to go in one of those, am I right? Well, not that you would be allowed to, since they're age-restricted. Fufu!] (Satis)
["Mixed baths"? What's that? You mean I'm too young to use them?] (Seto)
[…What? So you don't know about them? How boring.] (Satis)
Satis, who said those words with no malice but still with a teasing tone, looked more radiant than ever before.
Seeing it as a good sign, Seto smiled back at her, and they both pressed on.
[By the way, Seto, do you have money on you?] (Seto)
[Eh? We need money?] (Seto)
[*Sigh* Just as I thought. You do seem like you don't have any.] (Satis)
[Sorry.] (Seto)
[It's fine. If we're talking about human currency, then I've got some of it on me. …Today, we're going to take a soak and find an inn where we can cut loose!] (Satis)
He very much agreed with Satis' suggestion.
It was not often that he got a chance to rest.
The thought of it brought a rush of emotions to Seto's heart.
[…Are you "having fun", Seto?] (Satis)
[Eh? …Ahh, I see now. So that's how it feels… to have fun. I never thought I could ever have fun in my everyday life.] (Seto)
[Fufufu! Come on, let's go.] (Satis)
She extended her hand, and Seto grabbed it.
He and Satis were now walking together into a world that he would never have been able to experience as a boy soldier.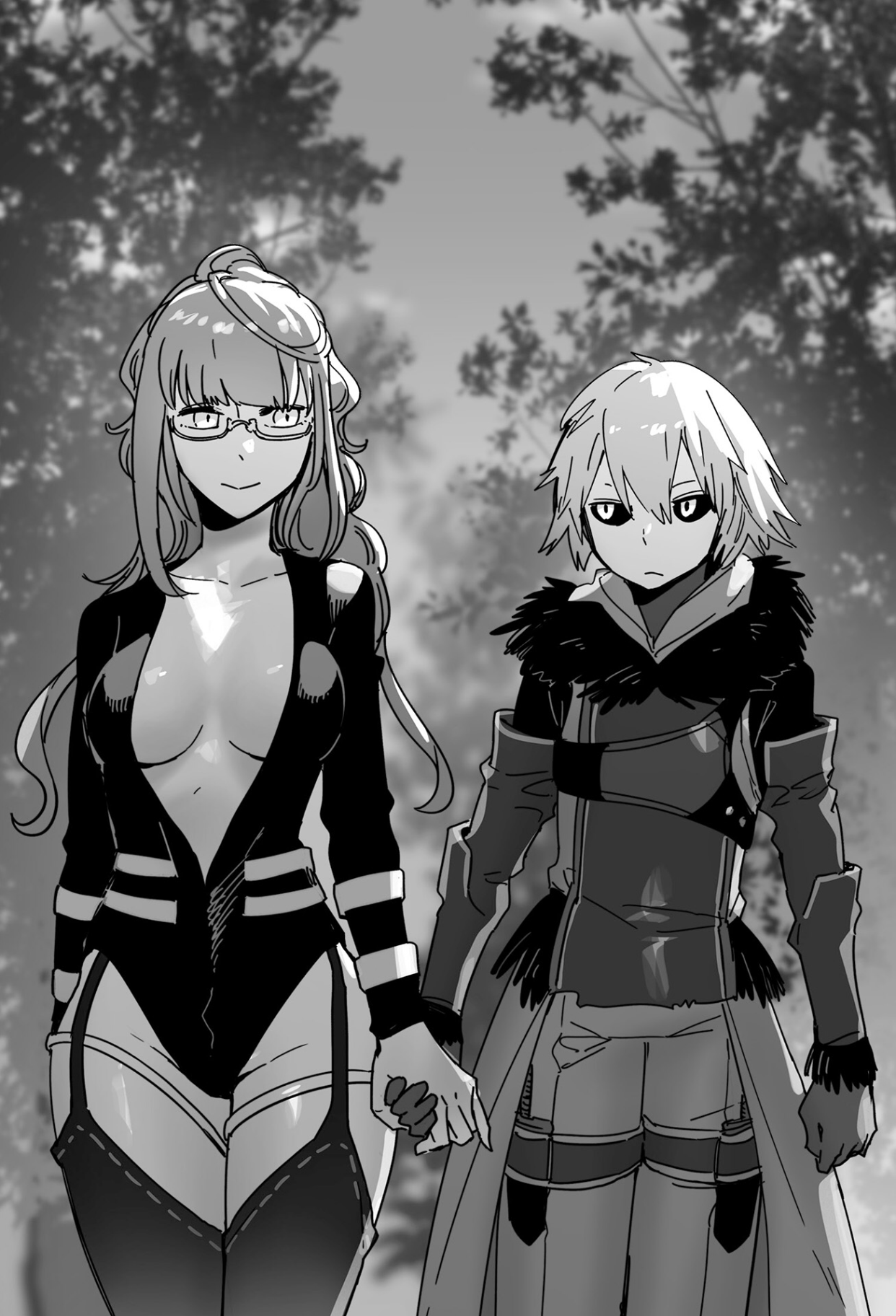 ---
Support "A Former Child Soldier Who Uses a Magic Sword Wants to Live with an Older Sister of a Former Enemy Executive"
---
Comments for chapter "Chapter 6"
MANGA DISCUSSION
Support Fan's Translations
Your donations will go towards site costs and management.
Note: Individual translators usually have their own ko-fi buttons.