Housekeeper of the Hundred Blossom Palace - Chapter 130
Court courtesans were women working as entertainers in the palace.
They were similar to the geisha in Yui Mei's previous world who entertained guys by singing and dancing and even accepted male customers for the night.
And just like geisha, the people who become courtesans were criminals or women who were sold as collaterals for debt.
However, the difference between a harlot and a courtesan was that the latter also included those proficient in the performing arts.
Even the singers, master musicians and actresses were referred to as courtesans.
People like Yui Mei thought it was such a crude way of classifying people because of this point.
And while commoner courtesans mainly worked in bedchambers, court courtesans were not employed for such purposes, and their job was purely to liven up banquets with their singing, dancing and performances with musical instruments.
'Well, the Inner Palace can be considered as the emperor and the crown prince's bedroom, after all.'
There was no way the empress would allow that.
Women enter the Inner Palace as court courtesans either because they became criminals after their families lost in the war, or when they were sent as gifts from the lords.
Court courtesans didn't serve and work in the same way as court ladies and maids, but they didn't differ from the other women living in the Inner Palace in that they could also become concubines if the emperor fancied them.
They had a slightly different status than the court ladies and the maids.
And for some reason, one such court courtesan was currently here, at the trash burning site.
She was probably around 25 to 30 years old.
She wasn't here to burn trash; she was just sitting in the corner of the fence, staring blankly into space while surrounded by trash.
'What is she doing?'
Yui Mei was bothered about her, but she had to burn the fallen leaves she was carrying first.
"Oopsie."
She lowered the basket she was carrying behind her back then turned it over the burnt spot and covered that place with the dry leaves. She promptly set it on fire using the flint in the burning site, and her preps were done.
She waited until all the leaves were burned. The leaves were very dry, so she just had to poke and stir them with a stick and they turned to ashes soon enough.
She placed the sweet potatoes among the ashes from the freshly burnt leaves. All she had to do now was to wait for the heat from the ashes to warm the sweet potatoes down to its core.
'Hum, hum, hum~ ♪'
Time was also of essence in the pursuit of deliciousness, in order to make tasty food.
Yui Mei could brave the cold wind blowing on her, all for the sake of baked sweet potatoes.
.She couldn't help but drool when the sweet smell of sweet potatoes wafted from the midst of the ashes.
"So fragrant."
Suddenly, the courtesan that had already become part of the scenery in Yui Mei's eyes mumbled.
'It's almost done, so even if you say that, I won't give you any!'
It wasn't because of gluttony, but because the coldness made her stomach rumble.
No, apparently, she also said that summer was hot so it made her hungry.
She was in her growth period, so she was hungry all year round.
Yui Mei took a peek at the court courtesan, and she was taken aback. The woman was still staring blankly at space while huddled in the corner, and she didn't look like she wanted the sweet potatoes.
Did she simply express her thoughts about the fragrant smell?
The woman didn't open her mouth again, so Yui Mei turned her attention towards the freshly baked sweet potatoes.
"Oh goody, it's perfectly done!" ♪
She used the stick to grope around the ashes, and discovered that they were nicely done.
Yui Mei pushed the ashes away, then she picked the freshly baked potato with a cloth, while saying "hot, hot". She was about to sink her teeth in, when —
"…"
Yui Mei was bothered about the courtesan who had melted into the scenery.
'What on earth happened, and why is she here?'
She was all alone in this solitary place that people didn't frequent, and she didn't even do anything but just stare into space. Her current plight couldn't help but attract the gazes of those around her.
Yui Mei couldn't concentrate on the tasty sweet potato while someone was being all gloomy beside her. 
And so, Yui Mei approached that court courtesan.
"Ahm, would you like to have some?"
She offered one-third of the baked sweet potato to her.
Yui Mei didn't divide the sweet potato in half because of a simple reason. She felt that she was justified even if she took the bigger portion, since she was also the one who prepared and baked it.
In short, gluttony won.
"…"
The woman met Yui Mei's eyes for the first time.
She had that forlorn, pitiful eyes that could make you feel gloomy.
"…she got quite a pair of bothersome eyes."
Yui Mei's brows shot up slightly. The girl stretched her thin arm and touched the cloth wrapping the baked potato with her hand that was barely peeking out of her sleeve.
"… warm."
A hoarse voice spilled that out of her mouth.
"It's because it's freshly baked."
Yui Mei replied, as if it was natural.
–––
T/N: Geisha and Court Courtesans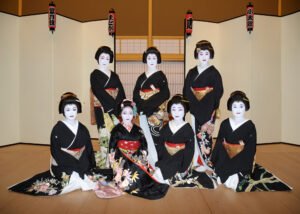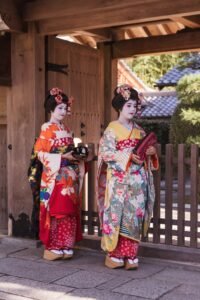 Geisha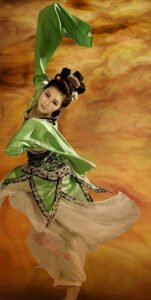 Courtesan
---
Hi everyone, Hanazakura here, thanks for reading, I'm grateful to you guys! Hope you enjoyed this chapter. Housekeeper of the Hundred Blossom Palace schedule of release is every Mon, Wed and Fri. 
Please feel free to join us at our discord channel for release updates and more! Hope to see you there! We also have our Novel Updates page, if you enjoy what you are reading, feel free to leave a star rating and review, we appreciate it. I'll be releasing an extra chapter for every 25 ratings we receive, as my token of appreciation.
I also finally launched my patreon! If you enjoyed the chapters and feel like you want to read more, please feel free to drop by. ;D Currently, you can get 5 advance chapters. This is not mandatory, but I'll be forever grateful for your support! 😀
My Ko-Fi page is also up! Please do check it out if you would like to support me as I strive to provide high quality, manually translated chapters. Extra chapters will be released when Ko-fi goal is met! Thank you very much (deep bow)! I'll continue doing my best!
---
Support "Housekeeper of the Hundred Blossom Palace"
---
Comments for chapter "Chapter 130"
MANGA DISCUSSION
Support Fan's Translations
Your donations will go towards site costs and management.
Note: Individual translators usually have their own ko-fi buttons.