Housekeeper of the Hundred Blossom Palace - Chapter 52
Li Yong poured hot water into a lidded bowl called gaiwan in lieu of a teapot, warming it up.
He then transferred it into a chakai, something that looked like a ceramic milk pitcher, then he carefully poured it into a small teacup to warm it before throwing the hot water away.
After warming all the bowls, he put the tea leaves into the gaiwan, placed the lid back on, and steamed it. When the tea leaves had been infused to a certain degree, he tilted the gaiwan, pouring the tea into chakai while using the lid as strainer. Afterward, he divided the tea into the teacups.
"Drink it."
Li Yong handed a teacup to Yui Mei, so she obediently took it.
'Whoa, what a clear, golden tea!'
How surprising that this guy could produce such a beautiful tea.
She slowly sipped it, and the sweet, refreshing aroma filled her mouth.
It was very delicious, and her tea could never compare with it.
He could flawlessly arrange hair, and he could brew tea perfectly – how great was this guy?
No, the one who was great in hair arrangement was his twin brother Libin.
But was it normal for an Imperial Guard to brew such a delicious tea?
Yui Mei's thoughts were racing because of the talented guy in front of her.
"Try to brew it just like how I did it."
Li Yong ordered.
Wasn't this tea enough already – it didn't seem like she could say that.
"Ahm…"
The crown prince was beaming as he watched over Yui Mei when she took the tea set.
It was like the smile of a doting mom watching over her kindergartener, who was trying to do chores.
'No, no, I can do this better than a preschooler, of course!'
Yui Mei shook herself, then she recalled Li Yong's steps as she brewed the tea.
The resulting tea was a bit cloudy compared to the one Li Yong brewed.
She tried drinking it, but the taste was also somewhat lacking.
She was perplexed as to why it was different, so Li Yong tried to drink it, too.
"…It wasn't steamed enough, but it's passable."
Li Yong subtly acknowledged it.
After sampling was done, it's time to serve it to the crown prince.
She asked whether it would be better to serve Li Yong's tea, but the crown prince refused, so there's nothing she could do.
Yui Mei's heart pounded while watching the crown prince place the teapot to his lips.
"Yeah, I could feel Yui Mei's earnest efforts in this tea."
The crown prince smiled after drinking a mouthful.
In short, the taste was so-so.
Seemed like she had to improve in this aspect as the crown prince's attendant.
Yui Mei imagined the path to delicious tea, and she felt a bit down-hearted.
"Here, Yui Mei, have some taosu. The chief cook of my palace made it."
The crown prince offered a bundle of cookie-like, appetizing baked sweets.
"…Is it really alright?"
"Of course, I had them wrapped for this journey, after all."
The crown prince took a piece and placed it in Yui Mei's palm when she asked that.
Since it was especially given to her, Yui Mei didn't hold back and bit the taosu.
It crumbled in her mouth right away, and the fragrant taste spread through her mouth.
It was made more delicious by the walnuts inside.
"Fuwaa.."
Yui Mei's expression loosened up because of the deliciousness of taosu.
"…How simple."
"Isn't it fine, she's adorable."
Li Yong and the crown prince were saying something, but Yui Mei was already lost in the taste of the sweets.
After all the snacks were finished, break time was over and the carriage started to move again.
They would probably lodge somewhere before reaching their destination.
"May I ask what will be the lodging arrangements for tonight?"
The crown prince answered Yui Mei's question right away.
"We'll be staying in the inn for one night on the way."
"…Yes?"
It was impossible not to be surprised.
Weren't the imperial family supposed to stay in mansions exclusive for their use, or else in houses of the vassal lords of that particular land during their journey?
'Is it really fine staying in an inn?'
However, it was not Yui Mei's place to object to the crown prince's schedule since she was just a mere court lady.
The carriage continued running towards the city where they planned to stay.
By the way, Yui Mei was informed that they would stay the night after they already departed, so she didn't manage to pack anything.
However, all she needed was a comb, a handkerchief, and a yukata if she was to take a bath.
'Oh, I shouldn't forget the underwear, too!'
By the way, women's undergarments were called , something like the undershirts worn under the kimono.
Underneath was bare, no panties, basically.
Because Yui Mei retained her memories in Japan, she couldn't accept that situation no matter what, so she had been sewing her own since long ago.
They were string bikinis because there were no rubbers.
It was regrettable that she didn't manage to bring those underwear.
'What should I do.'
She brought some pocket money just in case, and she also had a sewing kit in her sash for emergencies.
So she planned to go out after the crown prince entered the inn to go shopping, and then sew those panties inside the inn afterward.
Yui Mei was preoccupied with these thoughts, when –
"Ahh, yeah. I'll stop by the shops when we reach the city, so you should buy your personal things there."
The crown prince offered.
–––––––
T/L Thoughts: Faultless, flawless guy indeed. Lol at the 'doting mom' crown prince, who could sometimes do mind reading. 😀
Here's how Li Yong poured the tea..ctto all photos…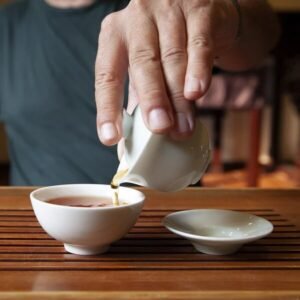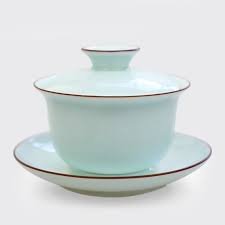 ---
Hi everyone, Hanazakura here, thanks for reading, I'm grateful to you guys! Hope you enjoyed this chapter. Housekeeper of the Hundred Blossom Palace schedule of release is every Mon, Wed and Fri. 
Please feel free to join us at our discord channel for release updates and more! Hope to see you there! We also have our Novel Updates page, if you enjoy what you are reading, feel free to leave a star rating and review, we appreciate it. I'll be releasing an extra chapter for every 25 ratings we receive, as my token of appreciation.
I also finally launched my patreon! If you enjoyed the chapters and feel like you want to read more, please feel free to drop by. ;D Currently, you can get 5 advance chapters. This is not mandatory, but I'll be forever grateful for your support! 😀
My Ko-Fi page is also up! Please do check it out if you would like to support me as I strive to provide high quality, manually translated chapters. Extra chapters will be released when Ko-fi goal is met! Thank you very much (deep bow)! I'll continue doing my best!
---
Support "Housekeeper of the Hundred Blossom Palace"
---
Comments for chapter "Chapter 52"
MANGA DISCUSSION
Support Fan's Translations
Your donations will go towards site costs and management.
Note: Individual translators usually have their own ko-fi buttons.