Housekeeper of the Hundred Blossom Palace - Chapter 81
And so, it was decided that Yui Mei would visit the guy Li Min mentioned.
"It should be around here."
Yui Mei was currently walking at a narrow alley while looking around her.
"We won't stay here for long. Public order doesn't seem to be that good in here."
Li Yong followed behind her with a grim face.
They were at the border of the slums, home to the good but poor people.
Although they felt doubtful, they finally reached a remarkably dilapidated house.
"Is it really here?"
"There's the signboard that Lord Li Min mentioned, see. Isn't it here, then?"
Yui Mei looked above the slanted door while replying to Li Yong. There was a wooden signboard, and 'Hu's Workshop' was written on it.
The craftsman was named Hu Tian according to Li Min.
"Hello? Is anyone home?"
Yui Mei knocked on the door. The door leaned further due to the impact, and she hurriedly tried to right it again.
"… Hey, no matter how many times you return, I already told you I don't have money."
A man's voice resounded from inside the house.
He probably thought Yui Mei and Li Yong were here to collect debts.
"Lord Li Min recommended this place, so I came here."
"Li Min said what?"
The sagging door opened when Yui Mei called out.
A shabby middle-aged guy with messy hair stood there.
"Are you Mr. Hu?"
"Yeah, I'm Hu. What did Li Min say?"
He stared suspiciously at Yui Mei and Li Yong while scratching his hair.
He had dropped the honorifics when he talked about Li MIn, so they were probably close to each other.
Yui Mei tried to peek at the interior of the house. She saw several things all jumbled up behind Hu.
She didn't know how to use almost all of the stuff in there.
According to Li Min, this Hu guy had studied under a famous crafter as an apprentice.
He would always add a lot of things that were uncalled for without managing to fulfill what was ordered, so he had been fired.
Despite that, he didn't learn from that experience, and he continued to tinker with and create a lot of strange things.
Li Min said that he was an interesting guy, and he supported him so that he won't go broke.
But this guy would invest all his money in making weird stuff, so he ended up destitute.
'Wait, that sounds like he has the characteristics of being an inventor?'
She knew someone similar among her acquaintances in her previous life.
These kinds of people would often be too absorbed in whatever they were enthusiastically doing, forgetting everyone and everything around them. They require a person who would care for their daily necessities.
Yui Mei's gaze wandered around the room while thinking those things, when a certain object suddenly caught her eye among the jumbled things.
It had a huge wheel, and there were two smaller wheels standing side-by-side  behind it, with various parts attached.
It was made entirely from wood.
'Is that a bicycle?'
Indeed, the design was a little crooked, but it did look like a bicycle.
No, it must have been a tricycle, to be precise.
"Excuse me, is that thing working?"
Hu had a puzzled look when Yui Mei pointed to it.
"That one? Ah, it's currently in the prototype stage, but it will move properly…wait a sec, girl, do you know what that is?'
"Yes, that's a vehicle, right?"
"Vehicle? Where on earth would a person ride on that thing?"
Li Yong butted in when Yui Mei answered.
"You can ride over the wheel."
Hu pointed to it after he said that. There was a wooden box that had been placed simply on top of the bigger wheel.
It wasn't a chair, and it looked painful to sit on.
"I thought that there were no vehicles that people could ride independently, without being pulled by another person, a cow or a horse. Unfortunately, i can't find anyone who can ride it, including me. So yeah, it's a defective product."
'A defective product? That's outrageous!'
Yui Mei's eyes were shining, and she knew that.
She already found the solution to her problem.
She wanted to request another product, but she never expected that she would encounter a pseudo-bicycle.
"Yes! I want to ride that!"
She raised her hand energetically as she exclaimed, while Li Yong and Hu were both dumbfounded.
T/N: I think it must've looked something like this, minus the handles 😀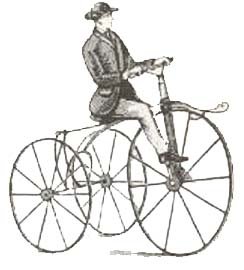 Taken from History of the Bicycle: A timeline, Brown University. ctto.
https://www.brown.edu/Departments/Joukowsky_Institute/courses/13things/7083.html
---
Hi everyone, Hanazakura here, thanks for reading, I'm grateful to you guys! Hope you enjoyed this chapter. Housekeeper of the Hundred Blossom Palace schedule of release is every Mon, Wed and Fri. 
Please feel free to join us at our discord channel for release updates and more! Hope to see you there! We also have our Novel Updates page, if you enjoy what you are reading, feel free to leave a star rating and review, we appreciate it. I'll be releasing an extra chapter for every 25 ratings we receive, as my token of appreciation.
I also finally launched my patreon! If you enjoyed the chapters and feel like you want to read more, please feel free to drop by. ;D Currently, you can get 5 advance chapters. This is not mandatory, but I'll be forever grateful for your support! 😀
My Ko-Fi page is also up! Please do check it out if you would like to support me as I strive to provide high quality, manually translated chapters. Extra chapters will be released when Ko-fi goal is met! Thank you very much (deep bow)! I'll continue doing my best!
---
Support "Housekeeper of the Hundred Blossom Palace"
---
Comments for chapter "Chapter 81"
MANGA DISCUSSION
Support Fan's Translations
Your donations will go towards site costs and management.
Note: Individual translators usually have their own ko-fi buttons.