I'm Not Even an Otome Game Mob Character - Chapter 6
In a study that should have been occupied only by the sound of ink slipping from a fountain pen, a voice echoed out of place.
"And lately, the way her smile takes up her whole face when she comes to see me before I leave has made her even more adorable. Her shy and reserved behavior at the beginning was also adorable though…"
The Lord of the house, Duke Gerald Von Ernst himself was destroying the original silence of the study. A voice came down to remonstrate Gerald as he tried to continue blabbering about his beloved Daughter indefinitely.
"Gerald-sama, please move your hands, not your mouth."
"I'm moving my hands too."
Indeed, his eyes were on his fingers, and his right hand was letting ink slide. Pea-green eyes showed disgust towards him, skillfully babbling about his family even as he wrote replies to letters.
"Then you would be even faster if you were silent."
"No, if I don't let out my overflowing love for my family I'll die. Do you want to kill me Heinz?"
The butler Heinz was stumped at his earnest protest. He wasn't sure if he should be amazed or scold him.
"Most of all, since you tell me not to speak outside of the house, I hold myself back at the workplace you know."
"When it comes to your family you have no limits."
"Of course I don't. My love for my family never runs out after all."
"Exactly."
Heins remonstrated his master, putting stops to everything he says.
Even if his master was competent enough to be able to work to an extent while talking, those around him might not be. He mustn't obstruct the people at his office from doing their work.
"Please be a little more conscious about your position and how others perceive you, Gerald-sama."
Though he is famed as a devoted husband, the number of women in high society who woo him for his sweet looks and behavior haven't decreased even after marriage. At the workplace, he always practices discretion with a sweet smile and quiet judgement. He also has two magical affinities, so those around him have taken to calling him the Nobleman of Ice.
But it was troubling because that ice that showed no gaps melted into fawning in front of his family. Even if he would stop keeping up his appearances, his well-groomed face would not be harmed, but other things would break down.
"If I just have Via and my daughters, the people around me can…"
"Is that fine? The other day, Lydia-sama showed quite a bit of reverence for your attitude at work."
Is it fine to disillusion her? When Heins threatened him with his voice, his posture which was good as it was straightened. heins sighed internally after being able to fix his thinking. If he didn't periodically resuscitate him like this, it wouldn't be unlikely for the Duke to leave his position, which anyone would be jealous for, because of his family.
As he ran his fountain pen, Gerald smiled slightly. Heinz thought it might have been about his Daughter again, but he was wrong.
"I have a truly good Junior."
"…I'm a butler now."
My position is already different, Heinz remonstrated. At school, he was his junior by a year, and because of that bond Heinz came to work for the Ernst family. That was exactly why neither him nor his master could keep up their past relationship and neglect their work. Heins preferred not to bring their collusion into work.
Gerald seemed happy as he listened to the rebuke that came down from beside him. The Duke is second only to royalty, so someone who admonishes him without fear is crucial. He has grown tired of hearing flattery since he was small.
"Heins, you're strict."
He's been like that since old times.
"Gerald-sama is too uninhibited."
He probably remembers that reply from their school days. His face was unreadable because his expression didn't change, but Gerald laughed at the familiar exchange. It was certainly incomprehensible to Heins.
Suddenly, a knock was heard from the door. When the two looked at it, a lovely and dignified voice like that of a chick echoed.
"It's Lydia. Father, may I come in?"
When the voice stopped Heins moved to the door and opened it. The small girl beyond the opened door held something in her hands and took a step into the study after being encouraged by Heins.
"My, just when I thought an angel had descended, it was my Lydia."
"Father, your flattery is going too far…"
Heins knew that he was saying it seriously, but as a butler he reserved himself in silence. Rather than that, he felt as if the small Daughter chiding him instead of getting embarrassed was a problem.
"I say nothing but the truth. What's the matter for you to have come all the way to the study?"
"I've heard that today was Father's break, so I thought to invite you to see Flora together… am I intruding?"
Seeing her Father holding a fountain pen on a study desk, Lydia frowned guiltily. Gerald stood with a smile as if to clear that sadness.
"That's a wonderful idea. I would certainly like to go with my Princess. And I've just finished writing my letters, so I don't mind at all."
When Heins glanced at the study table, the envelopes had already been sealed with wax. when did he-? He was internally shocked at his work that was like a magic trick. He felt an abnormality in the ability he wielded for his family.
As Heins was in shock, Gerald naturally took his beloved Daughter's hand and left the study. He likely means to entrust the arrangements of the letters to the Butler since he is excellent.
"Sorry for taking time off our holiday."
As they headed to the Matriarch's room, Gerald sorrily apologized to Lydia. He wanted to spend the whole day with his family. Even though it was urgent, to have less time to do so was nothing but disappointing for him. He was already busy, yet he still couldn't spend time with his small Daughter when she wanted to be pampered the most.
"Not at all, I'm happy to have seen Father working even a little bit."
When his beloved Daughter looked up to him with respect, he unconsciously clenched his free hand.
At that instant, he was glad that he did his best at work. Let's keep it up, he decided while shaking with joy inside. With a joy like this, he had nothing to gain even if the King praised him.
I wonder if Dennis felt the same way.
The look of reverence towards a father reminded him of the Gardening Apprentice Boy when they had first met. To think that he was looked at like this everyday, he was extremely jealous. Thinking about he and his beloved Daughter being in that position, Gerald envied their exclusive gardener.
Since they were even similar in age, if given a chance he'd like to exchange stories about their children over drinks or something.
"Come to think of it, is that for Flora? Isn't it a bit early?"
On the hand not linked to him, Lydia was holding a thick binding that seemed to be a book. Wondering if that was a fairytale his beloved Daughter was holding, he asked.
"No… it is not. Afterwards, um, I will show you."
"Okay. I'm looking forward to it."
His lovely Daughter got a little flustered and avoided the reference to the thing in her hand. Gerald did not pursue it any further.
Once they arrived in front of the Wife's room, Heins, who had been going before them, opened the door. He didn't show any sign that he was out of breath, and even his expression was like water. Although he had been matching his walking speed with his small Daughter, Gerald completely thought that this man showed no weaknesses at work.
"Hi, Via. You're beautiful as a goddess as always. How's our treasure?"
"Mother, may we join you?"
"Ara, Gerald and Dia. For you two to come together, Flora will be happy too."
The Lady laughed with a fufu as she sat down on the sofa holding a baby. Gerald praised her shadowless beauty that couldn't have belonged to a mother of two.
Gerald and Lydia also sat on the wide sofa. Lydia ended up right between her two parents.
"Octavia-sama, shall I bring something warm?"
Understanding that Gerald-sama prioritized women and family, and that Lydia also prioritized her little Sister ever since she had been born, he first asked the Duchess, Octavia.
"Yes. Bring the dingler milk tea."
"Certainly."
In consideration of the cold air that came after a few days of consecutive rain close to summer, Heins had the maid prepare black tea.
As the tea was being prepared, the two peeked into Octavia's arms to find peach-colored eyes like that of the mother staring into theirs. They were reflected in those pupils. She raised her voice in noises that didn't form words like auau and raised her very small hands. Lydia unconsciously put her finger near those hands, and she was gripped by fingers smaller than her own. Lydia's expression came apart at the strength in those fingers.
"Cute, Flora."
The warmth in the parents' eyes increased at the sisters' intimacy. Gerald's smile filled his whole face as he wondered if the gardening apprentice had made a flower bloom.
"Sorry for being late."
"Ara, you had work anyway did you not?"
"I was just replying to letters."
Gerald apologized as he touched her creaseless platinum blonde hair. Octavia pretended to be miffed, inviting her Husband's bitter smile. Having had no intention of blaming him, she stopped acting mad once she saw her Husband's guilt, saying that she understood. And she laughed.
She knew the business of her Husband and how important his job was. Yet he still made as much time as he could for them, his family.
"The Head of Three Ministries is certainly popular."
I'll get jealous. Hearing that joke, the Duke makes another wry smile.
"I'm not happy to be popular at work. I don't want to be popular with anyone but you after all."
"It will be burdensome if you're any more popular with me than this, won't it?"
"There is no such thing. Love always has room to grow."
The Daughters were trapped in between parents whose conversation turned from appreciating their work to lovers' talk. The maids at the door and the reserved Heins were deeply concerned about whether such a scene would be good for the childrens' education.
"I have heard that Father is amazing for being made the Head of Three Ministries at his youth."
"I was just promoted because of my dual affinity."
Gerald responded to his Daughter's reverence with humility. Indeed, he was a rare holder of a dual affinity. But his quantity of magic power was also above normal, and that was considered one of his geniuses qualities. He is appraised for his skill on the top of the command chain.
The three departments of Magic ・ Medicine ・ Chemicals needed coordination for healing and instruction, so he was placed above all of them as their head. It was an important position that supported the country. The burden would be heavy for those who desired power, and not even the Duke could be complacent about it.
Gerald sat at that seat with composure at the ripe age of 24. His work silenced malicious gossip, that it was because he was the Duke or because he held a dual affinity. To aid in that, Heins only told Lydia the truth.
"That's not true! Father is amazing!"
"Thank you, Dia."
Though she probably didn't understand hard topics like politics yet, she said that her Father was an amazing person with no doubt, and pure eyes that reminded one of a Nigella plant. Love boiled helplessly at her eyes that had the color of his, and Gerald held his belove Daughter tight.
Having her words truly accepted and being embraced for them, Lydia smiled happily herself.
"The rain has stopped. Shall we walk in the garden together?"
"Via, are you physically well?"
"Goodness. Even you are treating me like a patient. It's unhealthier to stay in the mansion for three months."
"I know a spot that is good for seeing Hydrangeas."
(TN: Pic related are Hydrangeas, they're native to Japan)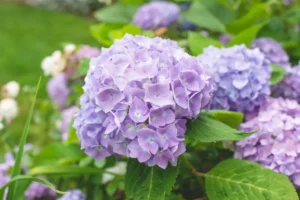 Gerald showed care at Octavia's proposal since he did not know how long it would take for a woman to recover her strength after giving birth. Lydia was keen to lead them into the garden. Octavia laughed softly at their different reactions.
"Ara, how wonderful. Dia, you've become quite knowledgeable about the garden."
"Ah… um, I've been taking walks recently…"
Lydia lost her energy at her Mother's comment and became a mess. Knowing the main cause, Gerald was rather curious.
"Oh? Have you not told Via about Isaac yet?"
"Father!"
Gerald didn't understand why she was so flustered. He thought that she had already told his wife about him a long time ago. She talks to him about her time with him in great detail.
"Now that you say… I've heard from rumors that my cute Dia has been seen with a Gardening Apprentice Boy…"
Lydia was shocked and fearful at her Mother's words.
"I haven't heard about it from Dia's mouth at all. I was lonely…"
"Eh…"
Octavia sadly put her hand on her cheek. Having thought that she would be mad, Lydia was surprised at her unexpected reaction and received a shock at having made her Mother sad.
"Mother, that's not it! Um… I thought Mother might dis, like, it…"
Lydia hung her head in dejection and anxiety, not noticing peach-colored eyes looking at her kindly from above.
"Why?"
"I, thought that you would not want to see me with Za… the likes of a commoner…"
(TN: She used the same word I translated as dewing in the last chapter, したない, a mispronunciation of doing. Sadly it doesn't translate here. Sad…)
The Duke's Wife, her beautiful Mother was Lydia's pride and longing. She was scared to think that she would be scorned by such a Mother for not being able to distinguish between social status. So she was avoiding the topic of the Gardening Apprentice Boy in particular.
"is that child Dia's precious friend?"
Lydia nodded although hesitant. She wasn't ashamed of him. If she wasn't, she mustn't lie about that, she thought.
"I see… if he is Lydia's friend, I would like to meet him myself at all costs."
Octavia looked with a fond smile upon her Daughter's face, raised in surprise.
Lydia understood the meaning of her Mother's smile and smiled with happiness and relief.
"If Zac acts rudely to Mother, I will scold him without fail."
"Ara, you're close enough to call him by a nickname."
"Ah…!? No!!"
"Should I be jealous of Isaac?"
"For you to be jealous, he must be a good child."
"Even for me, he is a small friend after all."
"Um, that's not it, Mother!"
The parents smiled warmly at their flustered, beloved Daughter. Octavia had noticed the cause of her change, and Gerald himself looked after it as a good thing.
Lydia felt a bashfulness that she didn't quite understand and grew flustered. Her little Sister extended her hands to her from their Mother's arms, saying auau. Having her fingers gripped by those hands, she calmed down somewhat.
After some friendly chatting, Lydia remembered what she had been forgetting as they were about to go on a walk.
"…Father."
Lydia tightly held the thick book and hesitated on what she was about to say.
"What is it?"
Gerald waited for her words with a smile and without hurry.
"Um… I, if I could talk with Father a bit more, I thought… then Za… Isaac said, what about exchanging diaries… but I understand that Father is busy."
When Gerald took the book offered by trembling hands and opened it, the contents were pure white.
Lydia seemed to want to hear about her Father's work and to talk about the happenings in her days with her Mother in the same way. But since time would not permit, she concluded that it was selfish and gave up. Then she accidentally said that to the Gardening Apprentice, to which he simply replied that they could exchange diaries. Girls like that, right? He also said reasons that she didn't quite understand, but she thought that it made more sense than exchanging letters within the family.
"It will also be practice for writing… um… is it no good…?"
"…!!?"
After seeing his beloved Daughter add an excuse with reddened cheeks and look up at him with upturned eyes even while embarrassed to ask this favor, Gerald's knees failed him and he fell to the floor. Trying to endure the emotions boiling up inside, his body shook.
"Father!? Is your health well!?"
"On the contrary, it's too well. Dia."
"…God, I thank You for sending this angel in front of me."
Lydia was worried about her Father who offered up a prayer from the floor. In contrast, Octavia smiled and calmed down her Daughter without even being surprised.
"Then I will keep this."
Just as he thought that he would never let the diary in his hands go, his Butler took it. Gerald raised his head and resisted.
"That belongs to Dia and me."
"You cannot always be holding it. I will give it to Gerald-sama when your hands are free."
"That's right. Father is busy, so can we entrust it to you, Heins?"
"Certainly, Lydia-sama."
Gerald was aghast at his Butler taking his belonging. Without noticing that, Lydia entrusted it to Heins and became relieved.
"Come now, let us walk."
"Yes. Let's go Father. I will lead the way."
Feeling the radiance of his dear Daughter who extended her hand to him, Gerald took her hand and stood up. Her smile alone made him feel as if his sorrow was being washed away.
"Yeah. Shall we go?"
His beloved Daughter held his hand, and his younger Daughter was looking at him with pure eyes in his smiling Wife's arms.
Gerald chewed on the happiness of passing his quiet holiday like this.
After that, the Duke embraced and lifted up the Gardening Apprentice just as he was helping with the Hydrangeas. He was spun around harmfully until the Butler came to stop him.
Comments for chapter "Chapter 6"
MANGA DISCUSSION
Support Fan's Translations
Your donations will go towards site costs and management.
Note: Individual translators usually have their own ko-fi buttons.