I'm Not Even an Otome Game Mob Character - Chapter 9
TN: Hey, sorry I didn't release yesterday. I took a break. I'll try to inform you guys in advance and to limit my breaks to once per week next time. By the way, this is a long chapter, but we're getting closer to where the manga left off so I'm excited.
After breakfast, I finished the routine my Master gave me. The pipsqueaks had finished bathing in the well and were coming to me.
"Ah, it's Zac."
"You came back?"
(TN: The word here is apparently a derogatory word for a woman who came back to her parents after getting divorced)
"Let's play."
"I'm just on vacation."
I dodged the pipsqueaks' charge at me and put my handtowel on my shoulders after I wiped my body with it.
Why have these kids memorized a word with less-than-polite nuances? Though I'm not exactly polite myself. They say it so happily so they don't have any malice. They must not understand the meaning.
"Don't come here, you guys are wet."
"It's fine."
"Don't avoid us-"
"Don't tell me you were playing outside even when it was raining recently."
I warned them to learn from that time last year when they played make-believe on waterfall training during heavy rain and got scolded by their mothers. I'm a child myself so I know what they'd do.
"How did you know!?"
"Idiot, he's waiting for us to say it."
"You guys."
I caught two of them, so I pinched their cheeks to a degree that wouldn't hurt. The pipsqueaks exaggerated their pain in their protest. This exchange in itself is like playing with them.
"Zac, what were you doing?"
Another pipsqueak pulled my sleeve and asked me.
"Nn? Muscle training."
"Eh, but you're skinny."
"I'll get them from here on out."
One of the kids whose cheeks I stretched pointed that out, so I did it again but stronger. I knew from my previous world that it was hard to get muscles before your second growth spurt, but it was in a man's heart to want them.
"Why?"
"Why what?"
"Why are you suddenly training yourself?"
It's suspicious, one of the pipsqueaks implicitly said with his upturned eyes.
"Is it that strange? Maria."
"I smell a woman."
Maria, you… that's not a four-year old's line. I was speechless at her words that couldn't have come from a toddler. No matter how much time passes, women are women. I wonder if that applies to toddlers as well.
"Bullseye."
"No…"
"Bullseye-"
"Zac, how obscene-"
Tagging along with Maria who took my silence as a yes, the other pipsqueaks started to make noise. How should I bring this under control?
"So what?"
I thought that denying it would only exacerbate the problem, so when I replied like that, they suddenly shut up, sure enough. As they were speechless, the pipsqueaks exchanged glances.
"Even you guys want to protect your moms and sisters right?"
I put my hands on two of the boys' heads and asked them. Then they looked at each other and nodded.
"So it's alright to get stronger for a girl."
"I'm gonna get stronger for my Mom."
"I'm gonna beat the hell out of my sister's boyfriend."
Johan was alright, but Paul's big Sister won't be able to get a boyfriend for now…
(TN: Johan is pronounced Yohan)
The pipsqueaks raised their hands and made their declarations, but I couldn't encourage them right away. I feel like I've said something unnecessary.
"Then to get stronger, let's play knights for today."
"Eh, but then the princess will have nothing to do?"
Johan went and started to look for a branch to use as a sword in a sword fight, and Maria was miffed at not having anything to do. The three-year old Paul wasn't sure about which side to support. He glanced back and forth between the two.
"It's fine, isn't it? Right, Princess?"
Maria was lively. I could understand that she didn't like being assigned to be the princess, but playing with the boys like this would have been dangerous. I patted her head with a plop and encouraged them to compromise.
"…Got it. I'll watch so Johan doesn't get carried away."
With her face a little red as if she were pouting, Maria reluctantly agreed. Paul's face brightened up since he wanted to play at sword fighting, and he smiled at me, calling me great.
"Thanks. Sometimes that guy forgets to hold back."
"He doesn't act like an adult. Is he really older than me?"
A five-year old wouldn't act like an adult, would he. I experienced girls being older mentally than boys.
"Then,"
Marya stared up at me so I tilted my head.
"I'll only pretend to be deceived just this once."
"What are you talking about??"
Though I asked, she turned her head away with a huff. Her braided, light brown hair was swayed with her head.
Right at that time, Johan came back with a suitable branch in his hand. Paul wasn't able to stop himself from dashing towards him. They were both full of energy. Playing make believe at knights was like playing make believe at superheroes in my previous world. They're probably happy that they could be heroes. The setting was that the knights were having a duel for the hand of the princess, so there was no villain. I didn't think there was a need to fight over it.
"Be careful to not get hurt-"
"What, Zac's not coming?"
Johan thought without a doubt that I was going to play, so he seemed upset.
"My Mom gave me an errand."
After hearing the reason, Johan unwillingly forgave me, telling me to play next time. I exchanged goodbyes with them and returned to my home.
At a glance, the plaster houses downtown all looked the same. But each house had individual features. Some of them had billboards for their businesses while others had shrubs planted, so it was easy for the locals to tell them apart. Houses that had something to do with sewing were colored with curtains, so they were brighter than one would expect.
My house had potted plum blossoms on either side of the door, so I recognized it instantly.
"I'm home. What should I buy?"
"Welcome home. Dry your hair first."
When I opened the front door, Mom came with a new towel and wiped my hair. The thing I was holding was already wet so it wasn't usable.
"You have some guts, trying to leave this wet."
"It's sunny so I thought I'd dry."
I replied to her exasperated voice, and Mom smiled like there was nothing that could be done about it. Rainy season is already over, so I thought that it was alright since we have good weather now.
"Really, you're just as sloppy about yourself as your father."
"Natalie."
(TN: Pronounced Na-ta-ri-e)
When she talked about him, Dad showed his face like a shadow. He just called her name, but Mom guessed what he meant and turned her face towards him while drying my head.
"You can't. You promised not to do it on holidays right? And there's furniture that doesn't fit anymore so I'd like you to fix them."
"Okay…"
Mom forbade Dad to work with a wide smile on her face. To prepare a clear distinction for this rule, as expected of my Mother. Dad nodded and went back into the house dejectedly.
If you let him do gardening work as much as he likes, Dad would always be doing it because he's a single-minded person. So Mom has him rest for two days for every four or five days of work. I hear that there was a time he worked for too long and collapsed before I was born.
While she was wiping my hair I asked her what I should buy and repeated it to myself so I'd remember. When she lightly combed me with a brush, I asked.
"Can I buy a lot of flour and eggs?"
"Why?"
"I want to make cookies and give them to Ojou."
"Ojou-sama? You mean the Duke's?"
I nodded and explained how they called me to a tea party and fed me sweets. I didn't know why she did, but I also mentioned that I wanted to apologize to Ojou since she wasn't able to eat well after giving her cookies to me.
It might be rude to apologize with an inferior version of the same thing, but for now I want to show how sorry I am.
"What kind of child is Ojou?"
"Her emotions keep changing, visibly. She's cute."
"You really are your Father's son."
Mom finished combing and laughed with some astoundment as she put her hand on my head. I didn't know what part of me was being compared to Dad, so I tilted my head.
"Do you know why I married your Father?"
I didn't so I honestly shook my head. What is this all of a sudden?
"That person doesn't talk much, but he says things like pretty or cute so normally."
I've also heard about that whenever I went to buy shrubs so I nodded. He's a gardener so my Dad says those things naturally. That's why it's also become normal for me.
"Then he hit the mark."
"Hmmm, so that's how it is?"
Next thing I knew, I heard the start of my parents' romance. Hearing my Parent talk so lovingly about her Husband somehow made me uncomfortable, so I stopped her gently.
"That's how it is. So you should also take care, Zac."
"Of what??"
So why on earth is she warning me?
"Don't accidentally say things that can be misunderstood, is what I mean."
"It's okay. Because I only say what I think."
I had resolved to live honestly after reflecting on my previous life. Her worries were unfounded. I even know the importance of the things drilled into me by my Mom, like greetings, thanks, and apologies. I answered, brimming with self-confidence, and my Mother gave a bitter smile as if I didn't understand.
"Okay, it's finished now. Take care."
"I'm off."
The sun was strong so my Mom put a newsboy cap on my head and saw me off. I went to the business district which the marketplace was in with an empty cloth bag and a purse.
Arventroad's main street continued to the southern border. Near the royal capital, there were many high-class stores geared towards nobles, and the street could also be used for ceremonies like triumphant returns, so it was really wide. Near that was the central plaza of the royal capital, which was connected to a street with marketplaces meant for commoners. It was moderately wide and it had set divisions for different shops, such as those for food items, daily necessities, smithies and jewelry shops. They were different wherever you went, and so was the clientele. It was an interesting place.
Nobles wouldn't know this anyway, but the route from this lively marketplace to the water fountain was renowned as the royal capital sightseeing route for commoners. The nobles' street and the commoners' street seemed to be next to each other because it was convenient for retailing.
I was asked to buy food items, so of course I went to the marketplace's food area to buy what I needed. I was used to seeing the same stores so I bought what I always bought, which was good because it was easy.
"Eggs come last so after that…"
While looking inside my bag, I went over the shopping list in my head so I wouldn't forget anything.
"Ah, potato."
What I bought was practically going be the ingredients for tonight's dinner, so it's easier to remember it as a menu. Tonight we'll probably have a stew or a gratin. I'd like a gratin.
I remembered what I forgot and raised my head when I noticed something strange. There was a place people were avoiding in the crowded marketplace. From a distance, something was shining.
I wondered what it was and headed there, avoiding adults. No one was shouting so it probably wasn't a fight. If it was some vagrant then someone should have called the soldiers. I can't think of anything people would avoid aside from those.
I passed through a wave of adults taller than I was and arrived at my curiosity. I took a breath with a puhah and looked at what was shining.
When I looked directly it was too bright so I automatically closed my eyes.
For whatever reason there was a noble boy there.
The brightness probably came from his porcelain-like, unreasonably white skin and his honey-colored eyes, but the refraction from his blond, completely-unwrinkled hair was also dangerous. What was it called? A ring of light like an angel's halo was also right there.
Excavating ancient ruins to find gold might feel similar to this. So there was a blond hair more vibrant than the Duke's? Rather than blond, 『gold』 seemed to describe it better.
For now, I knew why everyone kept their distance. If a noble child was seen standing out in a street for commoners, even if someone called out to him kindly, people might think they're trying to kidnap him.
But this guy is amazing.
Even though bystanders have been glancing at him for a while now, he hasn't been paying them any mind. He's used to being seen. I've never met one in my previous world, but maybe celebrities felt this way. He was looking around, but that was probably because he didn't know this place.
"Are you, lost?"
I found him so there was no helping it. I called out to the Golden Boy. The boy who seemed a little younger than me faced here and muttered curiously.
"L, ost?"
"Did you get lost on the street, is what I'm asking."
After staring vacantly, he seemed to understand what I was saying and smiled, seeming a little embarrassed.
"I wanted to come here so I came here, but… yes, I don't know how to go back, so I am lost."
His blond hair reflected the sunlight, and I closed my eyes again.
"What's wrong?"
"You're so bright that I don't really wanna look at you."
It's painful for the eyes. What, his golden hair deals physical damage? This good weather is a disaster. Won't it rain right now?
"I am sorry for that."
After I turned my face away, he spoke to me with a guilty voice after a short while, as if he was surprised. Don't speak with a singing voice opera. Is this a child celebrity?
"Sorry. I'm not good with golden hair since it's so magnificent. You don't need to apologize."
Rather than gold I'd prefer silver, silver that's more quiet than normal silver. It looks cool. But that's just my preference. The Golden Boy didn't do anything wrong.
"This is a bit better. Alright, let's go."
I put my newsboy cap on his head, took his hand and started walking.
"Eh, where…"
"We'll probably find someone who knows you if we go to the main street. Did you not make any arrangements to meet up somewhere?"
"Ah… if I'm correct, they said to meet at the water fountain if anything happens."
"So, this way."
The boy followed me with his hand in mine, not seeming to understand what was happening. In order to make sure he doesn't get lost with all these adults around, there's no choice but to hold hands. I didn't want his golden hair to stand out, so the adults looking at the boy decreased. It looked like they got confused.
"How did you know I was a noble?"
"If you look that splendid and wear such clothes with such high-quality fabric, it's obvious."
I was amazed that the boy seemed to think that it wasn't obvious. Seemed like he was awfully sheltered.
"But I picked my most simple clothes…"
The Golden Boy was frankly dejected. The way he speaks isn't childish, but his heart seemed to befit his age. He's probably disappointed that his secret expedition failed.
"For starters you should wear a wig. Chestnut-colored or black."
When I pointed out that his hair color was rare for commoners, the boy seemed to understand. Like Ojou, he couldn't hide the way he carried himself or the way he spoke, but that would be a little better.
"Okay, I shall be careful next time."
He nodded so honestly that I started to worry.
"You wanna come again… call me when you do. I'll lend you my clothes."
"Really?"
No matter how good a child's manners are, maybe he could deceive others at first glance if he wore simple clothes. The boy was happy for a second at my proposal, but his expression clouded immediately.
"But, I don't have a way to contact commoners…"
"I'm Isaac. My Father is Dennis Baumgartner, a famous gardener even among nobles, so you could send a letter or something, saying it's for work."
Other noble houses call for him every once in a while, but Dad always refuses.
"The Duke's…"
The Golden Boy seemed to know of him too. Seeing proof of my Dad's work being highly regarded, I felt pride deep inside.
"Isaac, kun. You're smart."
No one had ever said that to me before. I was surprised and looked at the boy. He wore a dazzlingly beautiful smile. I closed my eyes from the light.
"You're too bright. Don't look here."
"…It's my first time meeting someone like you, Isaac. It's rather refreshing."
"I think you should be angry."
The boy pointed a smile at me that made me want to close my eyes again. I acted rude and retorted. What a strange, pretty boy. I should be getting reprimanded harshly right now.
"My Father taught me to look at things from various perspectives. You'll be able to take the right stance just because you looked at what's right and what's wrong, he said. So I came here to see the commoner lifestyle."
"You're surrounded by adults aren't you?"
The boy who kept acting as if he wasn't a child was similar to Ojou on our first meeting. The direction was different, but they were both conscious of how much they could become like the adults around them. Why are noble kids never childish?
His honey eyes widened at my comment. That expression was more childish.
"How do you know?"
"You speak too wisely. Make friends and play more."
"Friends…"
The boy pondered my words, amazed. Then he squeezed my hand back.
"…Isaac, will you be my friend?"
"Eh? I don't want to. You're shiny and the way you act and speak creep me out."
Someone with those looks who has the brain of an adult just makes me uncomfortable. A few seconds after I honestly refused, I heard explosive laughter.
"Ahahaha, to think that I would be rejected for who I am to this extent…"
"You're a weird guy-"
"I don't want to hear that from you…"
笑いが止まないまま言い返される。お嬢にもこないだ変だと言われた。普通にしてるだけなのに解せん。
He replied without stopping his laugh. Ojou has also told me I was weird the other day. Even though I'm just doing what I've always done. I don't get it.
"…Aah, I haven't given my name yet. I'm Leo."
"Ah, really? Leo, I'm almost angry…"
"Isaac?"
I suddenly stopped, and Leo tilted his head.
My eyes were stolen by something by the road. We entered the side road. It was one of the doors lined up in the commoners' residential area. I went in front of that door to check if I wasn't seeing things. Leo didn't understand, but he followed me with our hands together so I wouldn't lose sight of him.
"I knew it…"
"Hydrangeas?"
Leo saw the plant I was laying my hand on and tilted his head.
"What's with that plant?"
"It's rare."
I answered directly. Right now, what was before my eyes was a white Hydrangea. It's my first time seeing it white.
In this country, Hydrangeas don't change their colors from the nature of the soil but from the attributes of the place. That's why bitter orange from the earth attribute or blue from the water attribute was normal. But in noble houses, they sometimes get painted over with the dweller's magical power. It seemed that there were also nobles who had the hobby of raising expensive magic stones in order to change them to the color they wanted.
If I recall, an old gardener spoke to me about how he used magic or drugs to do selective breeding so that his shrubs would change into herbs. It seemed that they could be used to medically examine one's suited attribute or to investigate the distribution of spirits in an area. So that it would be easier to carry, it looked like it was preferable to breed them into shrubs like Primula. That old gardener was good at selective breeding, so he might have gotten it after a few years.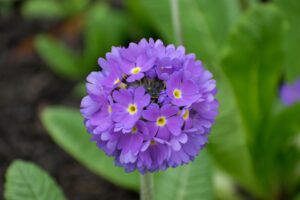 (Primula)
For now, I explained to Leo how rare this was while he was tagging along.
"I understand that it's rare, but what attribute makes it white?"
"Probably…"
"Um, do you have any business with our house?"
The door to the house with a white Hydrangea flower opened, and a little girl who looked to be the same age as Ojou timidly pushed her head out. She had round eyes and hair like the setting sun that reached her shoulders, curled inwards.
I heard Leo swallow a breath beside me. Indeed, she's a cute child who looks like a Reeves Spirea, but you look really good yourself, so why are you surprised? Does it feel different if it's someone else?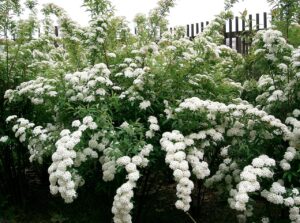 (Reeves Spirea)
"Aah, sorry. I'm a gardening apprentice, and this is a rare Hydrangea.
We unconsciously came to look at it. I explained our circumstances and apologized to the suspicious girl.
"Rare…?"
I told the girl why I said it seemed rare since she didn't seem to understand.
"Could it be that it blooms white every year?"
The girl nodded. If it bloomed in the same color every year, she wouldn't know it was rare.
"Is someone looking after this Hydrangea?"
I met her eyes so she wouldn't get scared and asked. She answered with some timidity, as if I had rebuked her or something.
"…M, Me."
Perhaps because I kept asking questions, it looked like she misunderstood. She looked back at me with scared eyes, as if to ask if she had done something bad. It felt as if I had bullied a small animal like a rabbit, and it made me feel really guilty.
"I see. I just wanted to know how you raised it since I haven't seen a white Hydrangea before. It bloomed beautifully. Amazing."
I smiled and patted her head to try and calm her down. After a little while the girl understood that she was being praised, and her cheeks flushed happily.
"I just, watered it…?"
Even though she's being modest about it, when I see how shy she looked it was apparent that she had been taking good care of it.
"That's all? Then it's really amazing."
Since she didn't prune it or anything, there was no deviation in how it grew or its size. Surely she must have adjusted its position carefully so that it wouldn't be completely bathed in sunlight.
"No…"
The girl didn't seem to be as dissatisfied as she'd like us to believe. She smiled happily even while embarrassed.
Come to think of it, I noticed that Leo hadn't said anything. When I looked at him, he was staring at the girl with a blank expression.
"Leo, what's wrong?"
"Ta!? What!?"
When I lightly tapped the back of Leo's head, he seemed surprised as if he wasn't taking in the situation. He didn't resist me. The girl widened her already round eyes in surprise, seeing me suddenly tap Leo.
"What's going on here?"
"No, it's…"
Nothing, Leo was about to say when he looked at the girl tilting her head. Then he looked down. I don't get it.
"Well, whatever. Thanks for showing us such pretty Hydrangeas."
"M, My pleasure."
When I thanked her for the Hydrangeas, the girl bowed with a bounce.
"Let's go, Leo."
"Ah, Aah."
After we suddenly appeared, the girl waved her hand for us and saw us off until she could no longer see us.
As if the hair on the back of his head enticed him, Leo kept turning back as he followed me and curiously asked.
"Was it okay to not tell her about her attribute?"
Seemed like he was wondering why I didn't tell her about how the color changes depending on one's attribute.
"There's no proof. Besides…"
"Besides?"
"That girl probably has a lot of magic power."
When nobody with a lot of magic power is nearby, Hydrangeas become blue or bitter orange. It reacts to magical power like a litmus paper only when the power exceeds a certain quantity.
Leo understood that she was an irregular commoner and gazed in wonder.
"What's her attribute?"
"I've never seen it before, so it could be light or…"
"We've found him!!"
The sudden voice erased my words. We were startled and looked to its direction to find a youth dashing from the direction of the water fountain. It looked like he had arrived at the central plaza while we were talking.
"Matteus!"
Leo called the name of the dashing youth.
"Where on earth… who is he?"
The pale-faced youth tried to raise his voice, but he saw me beside him.
"Aah, he guided me up to this point. Isaac, this is my… Brother."
"I was able to meet with my younger Brother because of you. Thank you. If I can do anything…"
"No, I don't need anything."
Though it was a formality, if they had to thank me here then Leo would be troubled since he wanted to keep his identity a secret. From an outsider's perspective, the fact that they forcefully called themselves brothers meant that this guy was his guard or servant.
I completely refused their offer and said goodbye.
"I'll excuse myself since I have to continue shopping. Bye, Leo."
"See you again, Isaac."
Leo saw me off as he waved energetically. It was a gesture fitting for his age, like the one from the girl we had just said goodbye to did. Do you really want to come again? I smiled, exasperated.
To see me off with a smile after I said that we couldn't get along, he really is a weird guy.
I regained my bearings and returned to my errands.
The next day, after eating my apology cookies, for some reason Ojou got mad and started hitting me.
Sure enough, I guess it didn't suit her taste.
Comments for chapter "Chapter 9"
MANGA DISCUSSION
Support Fan's Translations
Your donations will go towards site costs and management.
Note: Individual translators usually have their own ko-fi buttons.