Third Outer World Story Series: Pumpkin Sorcerer - Chapter 45
Translator: MadHatter Editor: MadHatter
---
"Hmph. So that's what it ended up happening."
"I guess so."
A couple of days after the reconciliation with Tangosack, while conversing with Mizuki near his base, Pumpkin was plowing the field, mixing in soil that had been left over from the channel excavation.
It was conceivable to replenish the nutrients by mixing them in this way with the forest soil since it was essentially abundant in nutrients, but the amount varied depending on the location.
"Well, it would be ideal to be on cordial terms with the humans from the nearby villages, wouldn't it?"
"Yeah. But there's more to the feeling of fulfillment and so on."
He sowed the seeds obtained in Maunpir Village into the field accordingly.
Incidentally, the seeds he received were of a wide variety, including tomatoes, eggplants, and cucumbers… There were no pumpkin seeds for some reason, though.
Well, leaving that aside, a question may be raised.
Was it proper to sow them at such an erratic time?
"And if I spread enough magic to keep it under control…"
"As expected of a fellow plant, you know exactly how much to sow."
The green magic force flowed out of Pumpkin's hand like tiny particles onto the field, where it was moderately absorbed by the seeds that had been sowed.
This was the reason why it was feasible to sow seeds to an appropriate extent, and by infusing magic power like this, various parts will be enhanced based on the life force, leading to the production of superior harvests.
Well, as expected of magic.
The source of this information originated from one of the adventurers who came to Maunpir Village. His parents were farmers, and it was during that time that the traveling sorcerer shared this story with them.
In fact, from the feeling I've got now, the effect seems to be sufficient.
"Even so, how can you manage to do knitting while sowing seeds?"
"Well, this is something that takes time to get accustomed to."
Tangosack asked him to do some agricultural work as his son, so Pumpkin was engaged in farming, but behind the farm work, he was creating baskets out of Wire Vines, which he had collected in the forest.
The Wire Vine, which could grow in a forest by supporting other plants and was strong enough to extend its roots on solid boulders, had a wire-like structure that was both rigid and flexible, and its leaves and vines emitted insect repellent properties.
So, when used as a catalyst for resonance magic, it will activate rather disturbing magic called [Resonance Spell・Wire Vine] that can detect and strike creatures that approach the target after becoming thin like a wire… But that story will remain a mystery for the time being…
As for why a basket was being made, Pumpkin reasoned that as an older brother, it would be a decent gift to present to Tangosack's child.
He had the impression that until he offered anything like this as a gift, he would be unable to show his face to them.
"Looks like it will be a remarkably sturdy cradle."
"Sort ofー"
While farming and knitting, he also occasionally dispatched wild animals by sucking their blood and practicing the basics of magic.
The basic training of this magic not only included increasing the amount of magic, but also the training related to the change of attributes.
At present, there was no way for him to compare the quantity of magic, so it was unknown to him, but Pumpkin was able to smoothly shift the attribute of magic thanks to his exposure to the case involving the pure dark attribute that Ryoko experienced.
In concrete terms, it has become possible to produce red colors, though only slightly, and to produce yellow, blue, and black colors that were close to the primary colors in reasonable quantities.
And so, having developed in that way, it turned out that pure white… in other words, it would be equally difficult to produce light or non-attribute magic as it would be to produce fire-attribute magic, if not so more.
This might sound like an excuse, but lightening or removing colors proved to be more challenging than expected. To give an analogy, it would be like taking out the ingredients from a soup made by mixing various ingredients and putting them back into the original water, or separating pink paint into white and red and extracting the white from the red.
Incidentally, in this analogy, the black… dark attribute would be relatively easy to create since it would be like a stew prepared from ingredients contributed by members of a party[i], and boiling it all together by mixing all three primary colors together.
"Oh, you've finished."
"Well, I didn't do any complicated weaving or such…"
The basket of Wire Vines was left in the base with the vines stretched out.
"And yeah, Pumpkin. Can I interrupt?"
"What is it?"
Mizuki, who has been chatting with him for a while now, changed the atmosphere faintly and started to call out to Pumpkin as if she had something to discuss with him.
"Well, I was wondering if it's time to ask you for that request I mentioned before."
"Oh, that's what you wanted to talk about. So what's this request?"
When he saw Mizuki's earnest face, he thought this was something he should take seriously, so he adjusted his mind.
"Well, I'm not asking you to do it right now, but I figured I should at least share with you what my request is. As you may have noticed, Pumpkin, there is a gigantic tree over there, right?"
Mizuki pointed to the forest.
Uh, I believe there is a sacred place over there with a gigantic tree. Also, there weren't any trees surrounding it, as I recall, which is hardly natural.
"A dragon, albeit one of a lower rank, dwells in that tree. Even though the dragon is presently docile, every year at the end of the rainy season, they go on a rampage, massacring the animals in the forest despite they don't eat them and disturbing the ecosystem. Besides, they inflict considerable damage on the surrounding forest, including Maunpir Village."
"Oh, you mean…?"
He realized what Mizuki intended him to do.
Yes, as soon as you're prepared, join me in slaying the dragon."
Mizuki uttered words of affirmation of his thoughts.
———————-
T/N:
[i] A hot pot in which you don't know what the ingredients are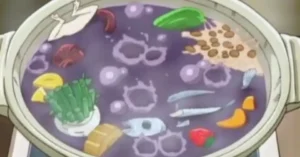 Support Fan's Translations
Your donations will go towards site costs and management.
Note: Individual translators usually have their own ko-fi buttons.