Reincarnated into a Game as the Hero's Friend - Chapter 133
Translator: Nisarah        Editor:Fleeting
♦
When I finished my sentence, everyone fell silent. I guess they were still digesting my words. The first person who opened his mouth was Frenssen, who was arguably the most intelligent person in the room.
"Welner-sama… earlier, what did you just say?"
"I'm planning to attack Triot."
I repeated my words. I crave some coffee or tea now, although I didn't know if coffee beans even exist in this world. Even if they did exist, I had only had instant or canned coffee in my previous life, so I did not know how to brew coffee with coffee beans…
Sir Behnke was the second person who reacted. He turned his head to me. First, he hesitated, then his expression became firm, and he said, "Attacking Triot is impossi…"
"Don't be flustered. I said that I'm going to attack Triot, not capture it," I said while lightly raising my hand to stop Sir Behnke's words.
What I was planning to do was quite complicated, so of course, I planned to explain it to them. Hmm…. from where should I explain it…
Let's first explain the 'attacking Triot' part, so everyone understood what I was planning to do.
"As all of you know, although Triot wasn't as large as the Bain Kingdom, it used to be a proper country. I'm just a viscount who became a governor. I don't have enough human resources, military power, and supplies to capture Triot."
That was why the thought of 'capturing Triot' never even crossed my head. I sorted out my thoughts for a moment, then continued my explanation.
"To put it bluntly, Triot is already destroyed. In addition, officially we will be attacking Triot to capture the criminals, not to capture the country. Therefore, no one will be able to complain."
"Criminals?"
"Yes, officially"
Hearing my words, Sir Gekke let out a bitter smile. As always, he was sharp.
"I see. So, this is the reason you did that almost immediately after you arrived in Anheim."
One of the town's influential people assaulted a refugee woman. The assaulter was killed on the spot, but his cronies were banished to Triot. Then, after some investigation, it turned out some of those cronies had also committed some other crimes, so I and my subordinates went to Triot to capture them for interrogation. On our way to capture them, we ended up clashing with the demon army… That was what I would be putting on the official report.
"In addition, I want to make it clear that our aim is to drag out the demon general and beat him to a pulp."
"Demon general?"
Sir Eickstedt said that with a confused expression. Ah, right, he didn't know about the demon general. I should make some time to let him catch up with the situation later.
"But the terrain has become a problem for that objective. Anheim was originally a town built to protect the border with Triot. A river runs on the south of Anheim."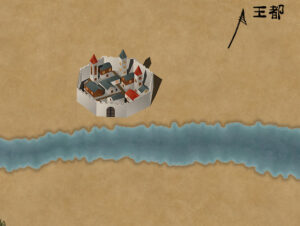 (Illustration by Mitemin. The word on the corner is the capital)
I took out a map and pointed to Anheim, which was located on the north side of the river.
"If our opponents were humans, we could have created a base on our side of the river and attacked our enemy from that base. After all, it would be pretty hard for normal humans to cross this big river. The problem is, our opponents are demons, so creating a base on our side of the river will be useless."
"Useless?" (Behnke)
"Demons have a greater physical ability compared to humans, so crossing the river should be no problem for them. Making a base and attacking them from our side of the river would be able to somewhat hinder them at best. The most problematic thing is the fact that the demons could cross the river and keep attacking us while we humans wouldn't be able to do the same."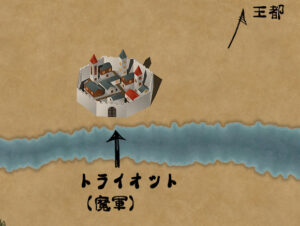 [Illustration by Mitemin. The word on the river is Triot (demon army)]
I answered Sir Behnke's question. It seemed like Sir Behnke wasn't well-versed in war. Frenssen probably also wasn't familiar with an actual war, so I would explain my plan in detail.
Even if our army could somehow cross the river, we would be exhausted, making our chances of winning very slim. On the other hand, if demons were the ones that crossed the river, they would still have more than enough stamina to keep attacking us because of the difference in our physical abilities.
In other words, this river, which was originally supposed to stop Triot's army if they tried to invade the Bain Kingdom, now became a weapon that the demons could use against us.
Even if the knights were miraculously able to cross the river and push back the demons, the demon general could just take a few elites with him and then retreat to hide in the Triot.
"If the demon general escaped to the depth of Triot, our army would have no choice but to wait until the demon general attacked us again, since our army couldn't chase him to the depth of Triot. If that happened, we would be at a great disadvantage because demons could literally pop out anywhere."
"That is certainly true."
Sir Holzdeppe responded to my explanation, while everyone else seemed to be in deep thought.
"That's why I want to lure the demon general and his army deep inside our side of the river. If possible, I want to lure them to the front of the northern town's gate, so it will be easier for the reinforcement from the capital to surround the demon general."
"I understand your explanation so far, but I still don't understand why we need to attack Triot?"
This time, it was Sir Eickstedt who asked me. Oh, Sir Eickstedt seemed to be motivated now.
"I have researched the demons' living habits before. Well, calling it living habits might be strange, but anyway, according to my knowledge, demons don't fear humans."
Even if we create a group of 100 or so people, the demons would still attack us without fear, like what happened in Veritza Fortress. The hero, Mazell, seemed to be an exception to this rule, though.
"In addition, it seems like demons don't leave a specific area. They seem to have a concept of 'territory' like animals. The exception to this rule is when they are led by a commander, like a demon general."
"You are certainly right about that."
Back when I played the game, the types of demons that the player had to fight could change drastically just by crossing a bridge. Back then, it was caused by the game's system. I used the word 'territory' here since I didn't know what else to call it.
If my hypothesis that demons were a substitute for natural disasters in this world was correct, then the demons that often appeared in a certain area were like a substitute for a small earthquake.
It was also possible that the reason why there were not many strong demons around the capital was that the founder of the Bain Kingdom purposely chose a place where there were only weak demons nearby to build the capital, just like how in my previous life people chose a place with a less natural disaster to build a city.
If that was the case, the reason why demons that appeared in the early states were weak was not because they looked down on the hero or anything.
Come to think of it, even the places where the demon king and many powerful demons appeared were often in an area full of mountains. Even without the existence of the demon king, I also wouldn't want to live in a place filled with mazes like mountain roads.
Back to natural disasters… In my previous life, ancient people who had a polytheistic belief often attributed the natural disaster to God. In Japan, for example, there were Wind God and Thunder God who were both personifications of natural disasters. I didn't know how catfish became a personification of earthquakes, though.
(T/N: This is referring to Japanese mythology where the earthquake is said to be caused by a Namazu/Onamazu a literal giant catfish.)
I think demons were a personification of natural disasters who mimicked the surrounding animals' territorial behavior after they gained some intelligence.
The reason why I chose the word 'territory' to explain the demons' behavior was that this world didn't have a concept of 'natural disaster' and because the religion of this world was monotheism, the people of this world also didn't have a concept of 'personification of natural disaster'.
In that sense, perhaps the 'demon king' and 'demon generals' were a personification of a large-scale natural disaster. Well, let's put aside my hypothesis for now and focus on how to defeat Gezarius.
"I'm most afraid of demons attacking our territory with a small number repeatedly, just like what I plan to do to the demons."
A few werewolves alone would be able to wipe out an entire village. If the demons repeatedly sent a small force to attack the Anheim region, the damage the region would suffer would be tremendous. Most likely, demons thought of us as an opponent that they could destroy anytime, which was why they hadn't done that.
However, the most terrifying thing that could happen was demons once again infiltrating the capital. To prevent this, I had given almost all the anti-demon medicine to the capital. There had been no news from the capital about demons once again having infiltrated, so I could only trust His Highness and the people around him to have protected the capital well.
"A leader has to protect his position. This will also apply to the demon general."
"What do you mean?"
"It would be a slap on the demon general's face if his territory was repeatedly invaded by the weak and feeble humans, especially since, for the demons, strength is everything. Demon general will most likely be forced to make a move even if he doesn't want to."
That was how I answered Sir Holzdeppe's question. The impression of the Lizard Magician in Alea village speaking like he was looking down on me, a human, and even trying to strike a deal with me, albeit clumsily, was strong.
That was why I concluded I should be able to draw out the demon general with my plan.
"We will be attacking Triot to piss off the demon general and lure him out."
---
Support and read advance chapters
---
Comments for chapter "Chapter 133"
MANGA DISCUSSION
Support Fan's Translations
Your donations will go towards site costs and management.
Note: Individual translators usually have their own ko-fi buttons.