Reincarnated Princess Wishes To Avoid Death - Chapter 115
Princess Mia is Found Out!
---
Mia woke up to the feeling of being shaken.
"Hmm … Hmm?"
She slowly opened her eyes. Everything seemed hazy. She tried to rub her eyes but found out that her arms doesn't move. It seems that her hands were tied to her back and the rope was tied tightly that it dug into her wrist. She winced a bit.
Unable to rub her eyes, she blinked a few times and looked around. She was in an unfamiliar room. It was quite large but the floor was dusty. It wasn't enjoyable to lie on.
"Where am I?"
"Oh, it looks like she's awake."
She can hear a voice overhead.
Why-I-! That's right, I'm sure someone caught me at that time …
The memory of being attacked in the wagon resurfaced in Mia's mind.
Are these the assassins that were after us?
For a moment, Mia was nervous at the thought, but two boys appeared in front of her.
They are a little older than Mia, 16 or 17 years old. The kind of ordinary boys you see walking around the town.
Maybe not…
Mia thought while relaxing again.
"Ah, young lady, don't you have any money on you? Gold coins or silver coins? From the way you are dressed, you must be the daughter of a merchant. Jewellries and acccessories are fine as well…"
Those words made her remember the time she was caught by the Revolutionary Army on the previous timeline. They made her jump on the spot and to hear the sound of gold coins. Now she was undergoing the same humiliation.
"I don't have any."
Mia said turning her face away.
"Really? Then jump for us."
"Fine, watch me."
Mia jumps on the spot with a triumphant smug look. Of course, there was no sound.
Hah. It's sweet to think that you can fool me with such a trick. Do you really think I will hide important things in places that will make a noise…
"Check the shoes and socks then. Children usually think of hiding it there first."
"What?"
Mia's perfect idea was easily foiled by a kid. To add insult to injury, her plan was called the first place were children hide it. Despite Mia's humiliation, the boy took off Mia's shoes and her socks. Of course, they came up empty as well. After all, the silver coins have already been handed over to Zion.
"Seriously? We came up with nothing."
"Well, if you think about it, nobody will entrust money to kids."
"Humph! That's why I said I had nothing!"
Mia exclaimed in an attempt to save face.
"This kid is cheeky. How about we sell you off to a slaver?…. Ow!"
Two thwacks were heard and the two boys wailed in pain after.
"Well, are you guys having fun making fun of such a little child?"
Before they knew it, a girl, about the same age as the boys, was standing behind them. She let out an exasperated sigh. In her hand was a well-worn shoe that she probably was wearing before it was used for another purpose.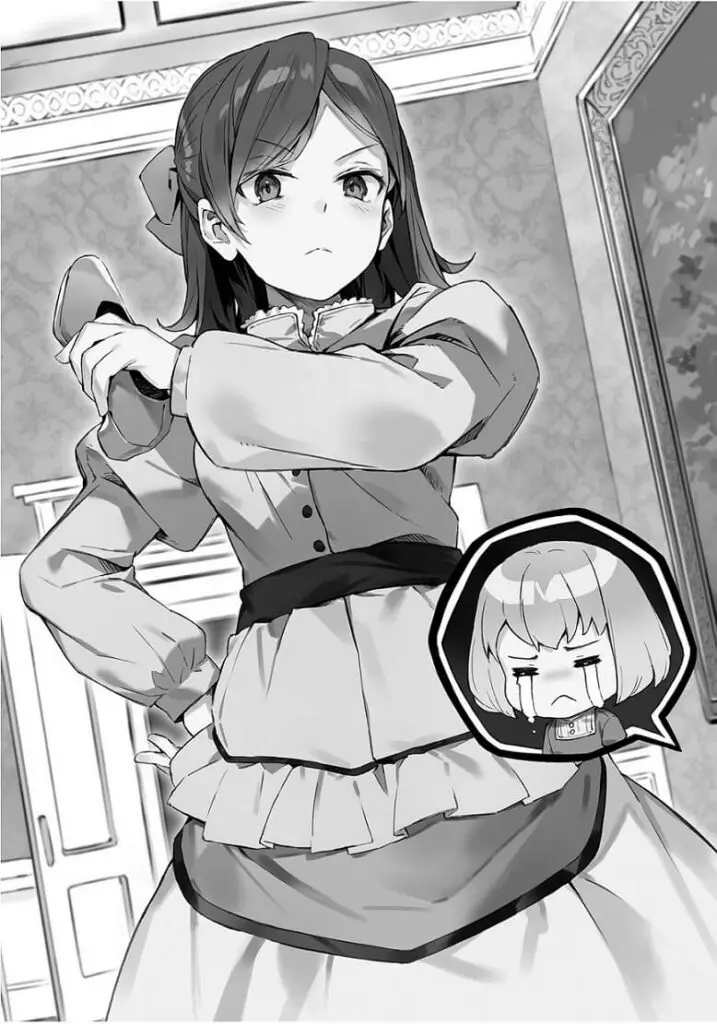 "Lynsha. No, that…, if you threaten them a little, she might cough up some cash."
The boy was in a hurry trying to make excuses, but the girl, Lynsha, smacked them at the head again.
"It's Jem's command to bring that child, right? So get on with it already."
"Get on what?"
"What, are you going to carry her all tied up like a sack of potatoes? There should be a wagon out there we can use, so go get ready. There are preparations we have to make before the big moment, ad we need manpower. Go check on that side of things too."
"I understand, but don't let her go away."
The boys reluctantly left the place.
After seeing them off, Lynsha turned to Mia again.
"So, who are you …?"
"I am…"
Mia instinctively thinks about the question. As expected, even Mia knows that it is bad to talk about her identity. However, when she think about it calmly, wasn't she in enough danger already?
They did say that they were going to sell me off to the slavers…
When she recalled those words, it scared her that her mind started spinning.
What is the correct answer here?
Lynsha sighed when she looked down and Mia thinking hardly.
"Don't you want to say? Well, it's okay … I mean it will be troublesome if you start babbling now."
Then the girl pulled out a knife out of her bosom.
"Don't move"
"… Huh?"
Mia's mind went black. She simply gaped at the sharp point of the knife as it neared, rose, and fell.
Shiiick!
The rope that bound Mia's hands was cut off.
"Eh? Ah … to?"
"Hey, can you stop this revolution?"
Lynsha continues to loot at Mia with a serious face. She holds and closes her hand in a daze.
"If you can stop it, please. Help my brother."
Linsha pleaded again in a desperate tone.
---
Author's note:
Hello, this is Mochizuki.
So it was updated on Friday.
It's a new character. How will she be involved in the story?
I hope to see you again on Tuesday.
—
Translator's Note: Tomorrow will be a Part two of character introduction.
---
Support us and get bonus chapters
---
Comments for chapter "Chapter 115"
MANGA DISCUSSION
Support Fan's Translations
Your donations will go towards site costs and management.
Note: Individual translators usually have their own ko-fi buttons.