Reincarnated Princess Wishes To Avoid Death - Chapter 143
---
Part 1 Epilogue: Tale of Greedy Princess Who Always Placed Herself First
---
An era of prosperity and peace reigned for 300 years on the continent. This glorious era began with the emergence of many heroes who would leave their mark on history.
The wise king Sion Sol Sunkland, who was called the Libra King, and his trusted confidante Keithwood.
Saint Rafina Orca Belluga, who preached the way of salvation to the people and made efforts for peace between nations.
Chloe Forkroad, the head of the Forkroad Company, who established the mutual aid system "Mianet" throughout the continent.
Dion Alaia was active in the battle against demonic cultists and large bandit groups.
Ludwig reformed the structural and governmental affairs of the Tearmoon Empire.
Cyril Rudolvon, a botanical innovator, introduced a cold resistant wheat and many more useful plants. His achievements wouldn't have been possible if it wasn't for his sister Tiona Rudolvon.
In the center of these great people was a moon that shone brighter than them all. Mia Luna Tearmoon, the Empress of the great Tearmoon Empire. Regarded as the great Wisdom of the Empire, she was loved and adored by these heroes. But there were only very few records of her accomplishments.
Conspicuous was her absence in the credits of history. Rarely, if ever, did she take the stage herself. And yet there is a well-known and frequently circulated information among historians. That, time and again, when these heroes face their greatest battles that left their marks on history, Empress Mia would be at their side without fail.
Despite the veil of mystery surrounding her, she was incredibly popular in the Tearmoon Empire. She appeared in numerous tales and myths that were told and retold. One of the most beloved stories of her is the story of the "Rescuing the Prince."
In this story, the princess' beloved prince had incurred the wrath of his father king. Hearing of his beloved's plight, Mia raced to rescue him personally. In a display of passion, she snatched him from his homeland and brought him back to Tearmoon with her.
After that, she officially welcomed the prince to the empire as her husband. It struck a chord with the imperial nobles of the time. They were arguing: "Why do you choose to marry an abandoned prince? Isn't it a complete diplomatic and political waste?"
She and her vassals crushed such argument with all their might. A passionate woman, Princess Mia, did not wield power like a tyrant, rather she was a woman who wielded wisdom and power in order to protect her love. When it comes to her loved ones, her fiery passion knew no bounds.
And although she was a person with lots of love, she only had one loved one. She was a woman who stayed true to her youthful love throughout her life. It also contributed to the popularity and familiarity of the people.
After that, her husband, the former prince, devotedly supported Mia, who became the empress. The empire prospers, and the royal lineage becomes even more prosperous with the couple's eight children…
—
"Eight children… a little too many…"
Mia looked up from an old history book that she had in her hand. She was in the library of St. Noel Academy.
Mia was waiting for Chloe. To pass time while waiting, she was casually leafing through a history book that caught her eye. The book was a biography of the Mia Luna Tearmoon, the Empress of the Tearmoon Empire. Normally, this would be a cause for bewilderment, but Mia was a seasoned veteran of anachronistic books. She didn't even batter an eye. It wasn't her first time encountering a weird book out of time.
"Oh, this is like that (my) diary …"
She thumbed through it as a casual reading which led her to the contents mentioned above.
"Eight children, huh?… Wow, we really did get down into it, huh?… Well, eight children with Abel…"
"Hmm… Mia? What are you doing in a place like this?" (Abel)
"Uhya !?"
Mia suddenly jumped up when she was called out. Abel tilted his head wondering why she suddenly jerked up.
"Ah, ah, what happened Abel? Why are you in a place like this …"
"Just a little research. What are you reading?"
"Well, that… uhmm?"
It then occurred to Mia that she might not want Abel to see what she was reading. But when she glanced down at it, something was different. The passage she was just reading had disappeared!
"It's weird… I'm sure… Just a minute ago…"
As she looked closer at the book to check the passage that disappeared, the book suddenly shimmered with a golden glow. Then something incredible happened. It was like the letters lifted themselves off the pages. They floated upwards like golden strings. Then finally, they melted away and disappeared.
"What was that?"
"Mia?"
Mia shook her head a little and turned back to Abel.
"Sorry, it's nothing."
The disappearance of the contents in the history book seemed to Mia as a proof that the future that had been set was changing again. It was supposed to be already a happy future… but it disappeared again…
Surprisingly, it did not upset Mia. She just shrugged.
"Well, it doesn't matter. I wasn't quite satisfied with that one…"
Because in that future, Abel will not be able to return to his parents' home and will not be able to meet his family. That is not a completely happy future. It wasn't enough.
It is Mia's style to greedily seek happiness. It's Mia's unchanging principle: Mia-first policy.
That's why,
"I won't compromise. I have worked hard to avoid ending again in guillotine. I want a future that will fully satisfy me. I will not settle for anything less."
The future is still uncertain, and it is unknown what Mia's life will be like. The only thing that doesn't change is that Mia's greed. She would never compromise on what she likes when it comes to her own happiness and for the happiness of her loved ones…
This is a story of a slightly selfish princess who was given a second chance of life. She has sown the seeds of hope. What kind of future will they grow into… no one knows it yet.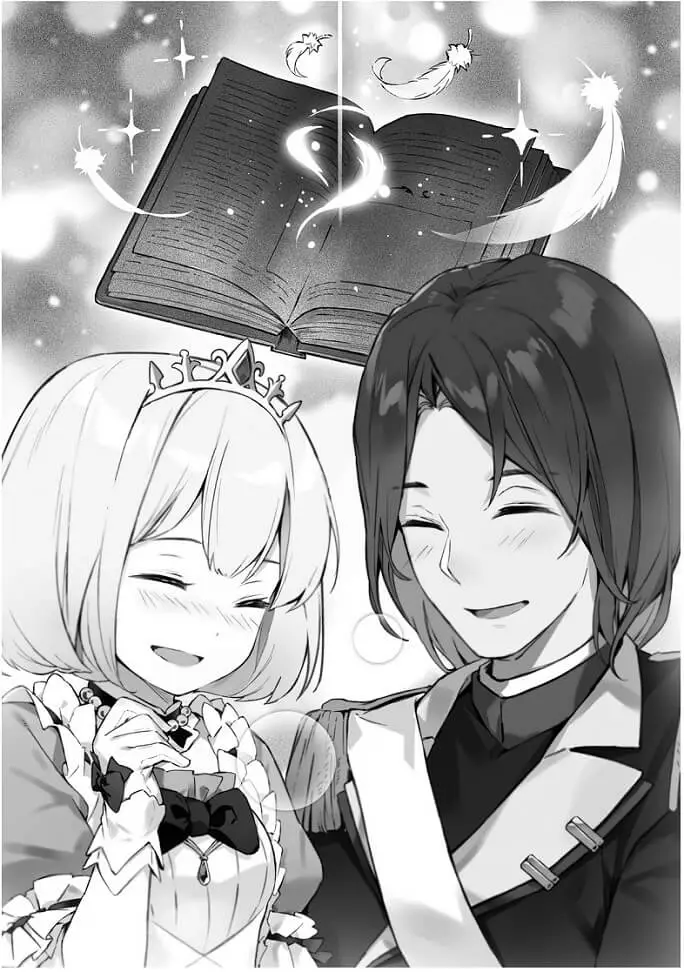 Part 1: The Princess of Guillotine
Fin.
---
—–
—
–
The sun had long set, and darkness ruled the sky. Moonlight shone through the window of an empty library and fell across the surface of a heavy wooden table. On top of the table was a book. It seems that its last reader forgot to return it to its shelf. The culprit of this hideous library violation was, of course, none other than the princess who was reading it earlier.
As the moonlight shone on the book, it suddenly flipped open. There was no wind, but the pages continued to turn steadily. It began to give off a faint golden glow. Luminous lines appeared and began twisting forming into words. They settled on the page, forming new and ominous passages recounting a dreadful history and the dark future it led. But before anyone could witness or read it, the text crumbled again!
One by one, the glowing words unravelled and faded until only one line was left. It was the name of a young girl in whose veins flowed the blood of the Great Wisdom of the Empire. It was the name of the last princess of the Tearmoon Empire, Miabel Luna Tearmoon.
Like the last glimmer of hope at the bottom of Pandora's Box, it glowed and glowed. It glowed as if it was fighting to survive. Then – just like the rest of the texts – it unravelled and faded into the empty night.
Time continued its steady march, and our take enters into a new chapter.
To be continued in Part 2 (Volume 3)
---
Translator's Note:
Mermaid Fish here again! With this, the curtain closes with Mia's blood-soaked diary and the guillotine. We are going to have the POV of a new character in Vol 2. (So Chizuo, don't worry so much. The other characters won't disappear).
And this new character is… Miabel Luna Tearmoon!
I guess it is already obvious where her name came from. So, for those, like me, who were shipping Mia + Abel… we won! Miabel obviously got her name from Mia and Abel.
After this is a little excerpt of Mia's Diary. I will publish it an hour after this one.
Then after that, I will take a quick break. I need to read beforehand the next chapters. So, no updates for the next few days. But I promise to have a bulk release afterwards.
-Mermaid Fish.
---
Support us and get bonus chapters
---
Comments for chapter "Chapter 143"
MANGA DISCUSSION
Support Fan's Translations
Your donations will go towards site costs and management.
Note: Individual translators usually have their own ko-fi buttons.