Reincarnated Princess Wishes To Avoid Death - Chapter 360
Thus, the Old Covenant is Broken
"No… No! Impossible! This is crazy! How can this be the end? This can't be how it ends…"
Barbara snarled with a face full of hate and a voice so harsh that it made Mia's hair stand on end. The angry woman gave her a hard look, then did the same to Lorenz and Citrina.
"Accursed princess… Ha ha… Ha ha ha… I see. So this is the Great Wisdom of the Empire, then. Well done. Your group of princes also seems to be happy. But…"
She slowly smiled in a mean way.
"Princess, things won't always go your way. No, they won't. Because I'm going to cut these miserable Yellowmoon rebels' throats. We'll then see how well your plan works."
The three men behind her moved quickly and surrounded their target in an attempt to stop their opponent from winning. From where they were, Mia and her friends couldn't get to the Yellowmoons in time. Bisset, the butler, was the only one close enough to help.
The air smelled like violence was about to happen. Mia didn't care, though. Why? Because, in all practical ways, the fight was already over.
And… there he is! I swear, it's like he can smell violence or something. Even though I don't want to admit it, I do feel safer when he's around.
Mia's eyes flew over Barbara's head and landed on the person sneaking up on her from behind.
Dion Alaia had the big grin of a boy who had just pulled off a funny joke. A joke in which three men were hit in the face without their boss noticing. Then, as Barbara was still unaware, he stood behind her and put his blade on her shoulder.
As Mia watched, she thought,
Ugh, the way he does that scares the living daylights out of you. Makes you think your head is going to roll off your neck.
Mia was an unwilling veteran of beheadings, including Dion's signature sword-on-shoulder trick. She couldn't help but feel sorry for Barbara, but not enough to stop him. She was happy with just thinking of and praying for him.
"…Huh?"
Barbara couldn't figure out what was going on with the quick changes. She looked at the sword and then at Dion, who was grinning at her.
"You made a pretty bad choice at the end for a group that went out of its way to avoid fighting me. Got too greedy and hurt yourself. If you had stuck to your plan to escape trouble, you would have saved these three guys a lot of trouble."
He shook his head and frowned.
"Got to figure out when to let go."
Barbara looked around quickly. When she saw her goons lying on the ground, dazed, she bared her teeth.
"Idiots! What idiots! Curse you, Alaia. You royal dog."
"Dog, eh? Then I guess they'll have to call me 'Empire's Goodest Boy.'"
He smirked.
"I hope you don't mind if a mutt cuts your throat.
"Mia quickly gave him a sign to stop at that point.
"Please bring her in alive. She might be able to tell us something useful, so I'd like to give her to Miss Rafina."
"As you wish," Dion shrugged and tied Barbara's arms together. "Trust me, you're being too nice to these people. Still, you're the brains here. I just woof."
Someone ran past Mia and toward the Yellowmoons, who were now free.
"Rina!"
When Bel saw that the problem was completely fixed, she ran straight to Citrina and gave her a running hug.
"Rina! Oh, Rina!"
Citrina's eyes were closed as Bel's arms closed around the thin body and squeezed with all their strength. She just looked straight ahead with no emotion on her face, as if she couldn't figure out what had just happened. But then, slowly at first…
"…Bel?"
…She said the name of her friend. Her gray eyes were filled with tears, which soon turned into a shiny river of emotion that ran down her soft face.
"Bel…"
Her lips quivered. Her mouth moved, then shut again. She had a lot of feelings that were trying to get out of her chest, but she couldn't find the words. In the end, her voice was shaking so much that she could only say the name of a close friend.
"Bel…"
Then even that was gone, leaving her with nothing but the sudden, uncontrolled release of raw feeling. She cried her heart out.
"It's okay, Rina… I'm here. And I will always be."
With only the softest touches, Bel gave her friend a pat on the back.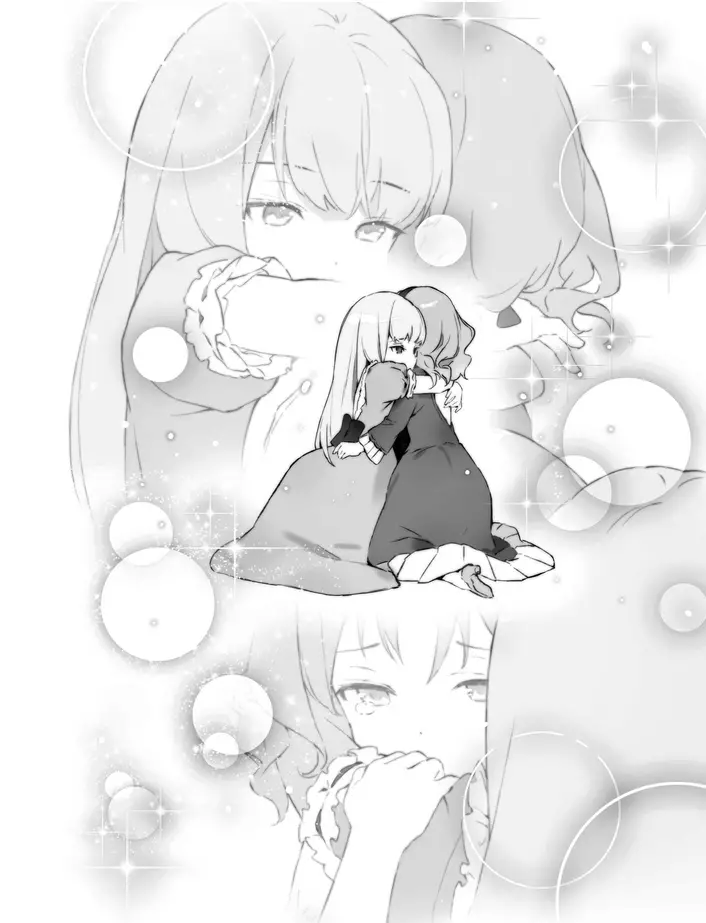 "Does… Does this mean that it's over?"
Lorenz was confused as he watched his daughter cry. His limbs didn't seem to be able to do anything. He was no longer in danger of being killed by enemy blades. He was no longer being held down. Still, he stayed on the ground because the thought of forcing his legs to stand was too hard for his broken mind.
In reality, only the current emperor could break the oath made with the first ruler. Lorenz knew this for sure, and he could only guess that Mia did as well. But she had already said it. And there was something important about that.
Her words were a shield. With them, I can turn down any future requests to kill people. Plus, His Imperial Majesty loves Her Highness very much. Should she ask him to, he might decide to back them.
Even though he knew that, it didn't make him feel any better. The chains around his soul had been there for too long, and their weight was made worse by how long the kingdom had been around. His was an old curse that was put on him before he was born. And that weight, with all of its crushing weight and effects, was no longer there? How about that? Without a single drop of blood being spilled? It didn't see, real. He could only stare in amazement as what was happening in front of him that seemed like a dream.
"You're cursed, Yellowmoons. The Serpents will come for you. One day, our teeth will be in your necks."
Barbara's voice, which was full of disdain, drifted into his ears. Strangely enough, it was the harshness of her words that drove the ghosts of his fears out of his mind, making room for the solid reality to take their place. Then he realized it. At last. At long last.
"Ah, Barbara, the embodiment of a Serpent… Listen carefully, because I can finally say what's on my mind now that I've lived and experienced fear."
The next thing he said, he said to Barbara, but the deep sadness in those words was surely not just for her to hear. Many people probably deserved them. Like the Chaos Serpents that had been bothering his family for generations. Or maybe it was the first ruler who did this to them. Whoever he was talking to, he said the words with energy.
"Eat s***, Chaos Serpents!" he yelled with the look of a man who had just been vindicated in a satisfying way. "Eat a steaming s***, you first emperor!"
It was the shout of victory that Yellowmoons had been holding on for years.
So, the old covenant was broken. Its old chains were cut by the hands of a young princess whose veins ran with the blood of the first emperor.
---
TN Note:
I couldn't resist adding that pic. Now, it's about time to start finishing this arc.
---
Support us and get bonus chapters
---
Comments for chapter "Chapter 360"
MANGA DISCUSSION
Support Fan's Translations
Your donations will go towards site costs and management.
Note: Individual translators usually have their own ko-fi buttons.