Reincarnated Princess Wishes To Avoid Death - Chapter 81
Support us on ko-fi to get bonus chapter for every $6. You can do so
HERE
.
The Princess with a Strong Gaze

—
"That's right, this tree is to blame. It is this tree's fault"
"Your Highness Princess Mia?"
Dion stares at Mia with a suspicious face.
"This cheeky tree dares to catch my leg!"
With a hysterical voice, Mia kicked the tree trunk with a loud thud. It was a slightly barbaric way of kicking, not very princess-like. Immediately, tension runs up on Dion's spine. He felt a wave of bloodthirst that were aimed at Mia.
"Sh**t"
Pulling out his sword while jumping in front of Mia in a swift single motion, he turns to where the sound of faint wind comes from. Then there it was. Four arrows were heading straight towards them.
"As expected of a hunting tribe… their aim is accurate. But that's why…"
Dion swings his sword…
One flash, two flashes, three flashes. It was a splendid sword technique that gives the illusion that the three sword strikes were delivered almost at the same time. Immediately after, three torn arrows fall at his feet.
Speaking of the remaining one …
"………… Eh, uh ……, eh?"
Mia is stunned while blinking. The last one was stuck in the tree just above her little head. Dion, who read the trajectory of the arrow, dared to ignore it. Mia slowly looked at the arrow above her head.
"Huh, huh!"
She screamed on the spot as loud as she can.
At that time, the hairpin she wore on her head fell to the ground.
Dion quickly grabs Mia under his arm, and at the same time cutting off the flying arrows with his sword again.
"Captain!"
Soon, the vice-captain also pulled out his sword, and the two Princess Guards also rushed in …
"We're falling back! Everyone, out of the forest!"
Dion started running, holding Mia in one arm like a sack.
"With all respect Princess, I'm going to kill you for this!"
Dion gave Mia an angry glare.
"Eeeeeek"
Seeing Dion's murderous glare, Mia was more frightened now than when she was targeted by the arrows.
"I told you! I told you not to touch the things in the forest… and by not touching, that includes not kicking!"
With teary eyes and a quivering body, Mia said in a hoarse voice.
"We need to run away!"
"That's what exactly I am doing right now! Even if you don't tell me! I'll take you back to the garrison right away."
"No… further! Go up to the town! In fact, I won't feel safe unless I reach the Viscount's residence."
Dion glanced down at Mia. And Mia met him with a serious gaze. This little princess was shaking all over, but her gaze did not falter. He nodded at her. He also approves of the idea. It is convenient for Dion if this Princess just stays inside the town safe from harm.
"Yes, feel free to head back to the manor with your two guards. I'll send a few of my men to be a part of your escort."
Dion exhaled… At the end of the day, the princess is nothing but a child. In fact, she is a selfish child who only thinks about herself. Maybe he misjudged her before.
"Well, that's not enough!"
Still, Mia keeps staring at Dion's eyes. Dion tilts his head a little and notice that her stare has a kind of power.
"What do you mean?"
"A few men? Do you know who is normally tasked with protecting me? The Princess Guard! The elite of the elite! Do you truly think a few men will be enough to ensure my safety?"
"…What do you really want to say, Princess?"
"The whole army. I want your whole army with all the soldiers to escort me and return to the town."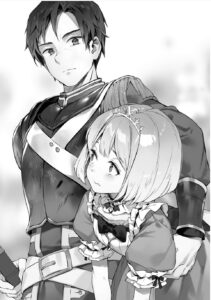 "No, hold on a bit Princess… No matter how much upset you are, that is still too much. Right, captain?"
The opinion of the vice-captain, who usually deserves listening. But Dion never took his eyes off Mia.  In those beautiful eyes, there seems to be a hidden meaning. Dion wondered what the meaning behind her powerful gaze was. Could he be possible be right? Just to make sure…
"But Your Highness, it is not that easy. Moving them takes time. The tents have to be dismantled; supplies have to be transported…"
"Are you saying there is anything more important than my safety?"
Mia continued to stare at Dion. They stared at each other for a while, neither one backing down nor blinking. Eventually, Dion sighs.
Then, use both arms to re-hold Mia. Instead of carrying her in one arm like a stray cat, he now carried her like a true Princess.
"Well, Vice-Captain, you heard the Princess. Once we reach the camp, try to move the horses and soldiers as quickly as possible."
"But? Captain?"
"We have been given an order; it can't be helped. Apparently, Her Royal Highness seems to underestimate our ability. So, to prove that we are a suitable escort of the Princess, we will be moving back to the town in formation."
Then Dion looked at Mia. He noticed that she has closed her eyes in what seems to be assign of relief.
"Please be patient, Your Highness. We will be out of this forest soon."
—
I was totally scared here!
Even when she relaxed in Dion's arms, Mia can feel a cold sweat running down her spine. The plan went better than I expected, but…
Heavenly moons! I did not think that they would really shoot me with arrows!
At the time of that revolutionary war, there was always shouting and warnings before the shootings start. She thought it was the same this time.
Furthermore, it is the reaction of Dion after that. Mia was convinced that if she takes her eyes off first, she will really be killed! Therefore, Mia desperately kept staring at Dion's eyes. Just doing her best not to look away from him, has sapped Mia of all her energy.
I'm so tired that I could die…
Overcome by tiredness, she closes her eyes. Dion seems to be saying something more, but it does not matter. She has done her best, and so her eyes deserve some rest.
---
Support us and get bonus chapters
---
Comments for chapter "Chapter 81"
MANGA DISCUSSION
Support Fan's Translations
Your donations will go towards site costs and management.
Note: Individual translators usually have their own ko-fi buttons.