The Master of the Brave - Chapter 147
The Master of the Brave
Chapter 147. The God of Destruction
"Noale…?"
The name rang a bell to Wynn and Leticia. The sanctuary on the cape where the Sarah Ferrule Cathedral of the Kingdom of Lyon was to be built. At the bottom of the stairs that descended underground, there was an ancient temple sealed in the depths of the ocean. The name of the god of destruction enshrined there was Noale.
"It has been a long time, mortal beings. I am glad to see you are alive and well, though some are different from the faces I saw then." The God of Destruction, in the form of Wynn, smiled faintly. "It seems my intuition was correct, Emperor, I was not wrong when I saw this place as the center of the disturbance. I have been dreaming of seeing you again, mortal, and now I am filled with excitement."
"He-Hey… do I even know you?"
"You don't… you don't know me, do you?"
"So… then how can you say you dreamed of seeing him again?" Locke asked as Noale looked at Wynn and spoke, but the answers were vague.
Noale, the God of Destruction. Wynn and Leticia did indeed fight the God of Destruction. But, to be precise, they fought against a person who was using his power with forbidden magic. The name of the person who used it was Reynard von Hoffman. Mito was killed by Reynard, who was infused with the power of the God of Destruction, and then Reynard possessed his body, The consciousness of the body that became the vessel of the God of Destruction during the fight belonged to Reynard. However, they could not sense the will of the God of Destruction in him.
"My power is myself. I let my consciousness wander in the depths of abyssal darkness, and I watched that battle as if I were dreaming. And in that moment, I was watching. I saw the golden glow that cut through even the deepest darkness. The miraculous light created by the strong bond between you and that girl. It was this glow that awakened my consciousness. You must take responsibility for it." Noale slowly descended the stairs to the throne.
As he approached it step by step, they felt a great crushing pressure.
"I'm sorry. Even restraining my power, still, it seems to be hard for mortals."
"Noale-sama, mister God of Destruction, may I ask you a question?" Wynn looked at Alexei seated on the throne. Apparently, he would allow him to speak at this time. He seemed to be really enjoying the encounter between the God of Destruction and them, and was watching with interest, "You say I must take responsibility. May I ask what do you mean?"
"The responsibility of awakening my consciousness, of course. Originally, my awakening was to occur when this world reached the end of its life. You forced me to change that. So, you must take responsibility for it, don't you think?"
"What do you want from me?"
"I have only one wish: fight me! And show me once again that shining that led to my defeat!"
"That was…!" At Noale's words, Wynn looked at Letty. "That power is Letty's. I'm not the one who possesses it." Wynn was ashamed that it was not his own power that defeated the power of the God of Destruction.
"That's not true. That alone would not be enough to defeat my power. In fact, the girl who gave you that power didn't even come close to defeating me. What have you got to be ashamed of? You are the one who has achieved victory and made me wake up. Your strength is yours. You think the same, don't you, girl blessed by Anastasia and World Tree?"
Noale asked, and Leticia nodded without hesitation.
"That light that was emitted by a supposedly insignificant human being. Even I, who have existed for a long time, know nothing else that can compare to such a beautiful radiance. Fight me and show me again the miraculous light that you showed me at that time."
"But I have no reason to fight against you…"
"If you need a reason to fight, I can give you one." Noale said, looking towards the throne.
"I have asked the Emperor to allow me to spend my time here waiting for you. Watching the turmoil unfold has been a great comfort to me. I must return the favor. And the only way I can repay you, Emperor, is to destroy. Therefore, I will destroy everything that stands in your way. Is that clear?"
"That is enough for me, God of Destruction."
The Emperor nodded, and Noale turned to Wynn and the others with a fearless smile.
"Now, what do we do? From the looks of it, the emperor intends to lead his army against the world. And with my help, his wishes will be easy to achieve. The only way to stop him is to fight me and win, right?
"Letty…"
"Onii-chan."
Wynn and Leticia heard Noale's words, looked at each other and nodded. Apparently, the only way to prevent the war from spreading further was to fight this god of destruction and win. Leticia's body glowed with a golden radiance, and Wynn was also enveloped by the Brave's light.
"Yes… that's what I wanted to see." Noale's mouth twisted in pleasure.
The white light generated by Noale's divine power and Leticia's magical power began to flood the courtroom.
"If Letty and the god Noale really fight here, will the people of Simurgh be all right?"
"You can rest assured. In this room, no matter how much power we use, the buildings and pillars will not break. I assure you, I am one of the oldest gods, the god of destruction."
"That's very considerate of you."
"Otherwise, you wouldn't be able to really fight, or am I wrong? You can be sure that everyone here will be under my protection."
The next thing Cornelia, Locke, Wedge, Lino, Kelvin, the five remaining Royal Guard knights in the room, fainted Neumann and even Jade's corpse knew, they had been moved to the stairs leading to the throne. Noale must have sent them there. In other words, the area from the entrance to the audience chamber to the stairs leading to the throne was a combat field.
"Honestly, that saved our lives."
"Vicecaptain, I thought I was going to die there."
Lino's eyes filled with tears and she shrank in place. Wedge rubbed her hunched little back, to soothe her. But even Wedge's expression was stiff and tense. It seemed that some kind of barrier had been placed at the foot of the stairs, and they could no longer sense the supernatural power moving from inside to where Lino and the others were. In the courtroom, the tension between Wynn, Leticia and Noale increased.
"A battle between the best of gods and men, huh? This is a special seat. We'd make a lot of money if we wanted to do business with something like this." Locke joked, perhaps to ease the tension.
"That's for sure. We're going to get to witness a battle that will rarely be repeated. However, I feel somewhat slighted at not being qualified to participate in such a battle."
"As expected from the vicecaptain… how can you still want to fight after seeing something like that?" Lino muttered in amazement, finally calming down at Kelvin's words.
"Speaking of which, aren't you thirsty? Excuse me, knights of the royal guard, could we have some tea or cold water?"
"Eeeeeeeeeeh!?"
As his men shout in surprise, Kelvin said to one of the knights of the Royal Guard with the same attitude as always.
"Tru-True. It's true that I'm thirsty too from all this tension. I'll get something to drink from my chambers. Your Majesty, I'll get you a drink. Do I have your permission to leave?"
With Alexei's permission, two of the knights of the Royal Guard went out into the corridor leading to the Emperor's quarters behind the throne. There appeared to be another guard post at the end of that hallway. As they left, the stupefied gaze of Cornelia, Locke, Wedge and Lino returned to Kelvin.
"Well, I mean, that's why. His Highness is thirsty, isn't he? The God of Destruction himself has assured us that this place will be safe. Then his life is in no danger for the moment, and we will only tire ourselves out if we remain tense."
"Haa… I really admire your courage, Vicecaptain~."
"Well, it looks like it's about to start. In a way, this battle is more important than the battle against the Demon King, as it will determine the course of humanity. After all, the opponent is the God of Destruction. The world might really be destroyed this time."
"Wynn-kun…"
Crossing her hands over her chest, Cornelia prayed. Beside her, Kelvin moistened his dry lips with his tongue and looked at the God of Destruction, Wynn and Leticia, who stood in front of him.
Now, the opponent is a monster whose existence is nebulous even to the Demon King. So… when the time comes, I may have to fulfill the role given to me by the captain, which is to support those two in my own way…
"Come on, let's fight to the fullest!" Just those words of the God of Destruction were the trigger. A light was born around Noale. One, two, three, the lights that were born began to circle around him, and finally took the shape of a belt. It was a snake of light. The serpent of the apocalypse, the one that was said to swallow everything in the world when it came to an end. A form of power worthy of a god of destruction. In the blink of an eye, the serpent of light multiplied to twelve and gathered above Noale's head as if lifting a sickle, rushing toward Wynn and Leticia like an arrow of lightning.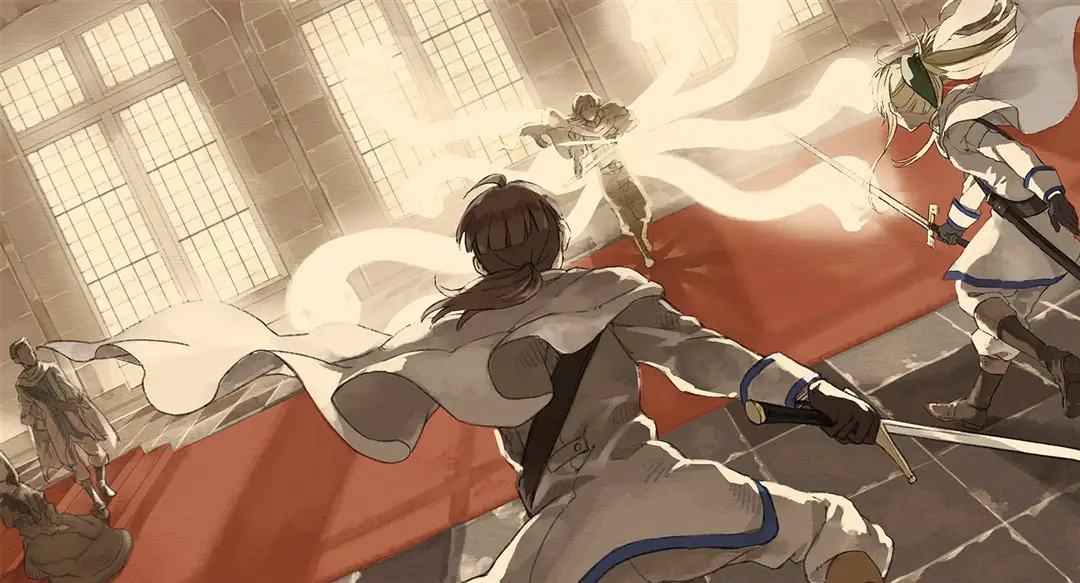 "Give me strength!"
The magic that flowed from Leticia poured into the knight sword, and Wynn intercepted the snakes of light. The snakes approached with their tails of light moving like a real snake. One after another their heads were cut off. He felt no response as he cut them off, unlike the sensation of cutting something living. However, with a bang and a strong momentary glow, the light snakes vanished and melted into thin air.
"How could you cut so many snakes of light? That's why it was worth dreaming of seeing you again." Even though all the light snakes were cut, Noale was not bothered by it. It was probably just a little test. He grinned fiercely, baring his teeth.
"I don't want to see him make that expression, not with Onii-chan's face…"
"…I agree with you…"
Cornelia, who was outside the barrier, matched Leticia's muttering, who had cut off one of the light snakes just like Wynn. A storm of power swept through the courtroom. Thunder rumbled and the air roared. Occasionally, violent lightning flashed near the barrier covering the courtroom.
"I am a conceptual being and, as such, I have no body. Therefore, I am fighting in the form of your body, which seems to be causing some discomfort among the ladies. But if I don't keep my power in the form of a human vessel, I won't be able to compete properly. Forgive me for that."
"So, you're taking it easy, huh?"
As the lightning intensified and the air in the room swirled like a storm, Wynn could hardly believe he had been holding back. The snakes of light reappeared around Noale. Their number had increased to twenty-four. And this time, instead of flying in a straight line, they attacked Wynn and Leticia with irregular movements, bouncing off the ground.
"Holy Spirit Sword!" The sword in Leticia's hand glowed as it closed the gap between her and Noale. The sacred sword that Brave Mavis wielded when she defeated the demon king: the Holy Spirit Sword. Wielding the divine sword given to her by Anastasia, the goddess of creation, she dodged the attacks of the light serpents with her brilliant maneuvers. Leticia cut through the inexhaustible supply of light serpents that burst forth from Noale one after another. Her way of fighting was like a dance. Each time her sword flashed, a snake of light was cut into pieces and the light burst forth, scattering into the air. But no matter how many times Leticia cut the snakes of light with her brilliant swordsmanship, they kept emerging one after another. Noale's divine power was only increasing, and there was no end to it. No, Leticia would eventually be overcome by the difference in physical strength. In that case, she would ignore the light snakes and strike Noale himself.
Wynn left all interception of the light serpents to Leticia, and moved to counterattack. He took advantage of a small gap between the light snakes leaping over the ground and closed in on Noale. But in a moment, Wynn felt a shiver run down his spine and quickly withdrew his sword. A slash from the side. He blocked it with his knight's sword, but could not nullify the force. Wynn's body was thrown slightly. In Noale's hand, a sword of light was born before they knew it. It was a thin sword, but the blow was as if he had been struck with a heavy mallet. Meanwhile, Leticia, who had been intercepting the increasing number of light snakes, saw that Wynn had been thrown, and she herself jumped back to get there in time.
"Kuu!"
And then, she created a ball of light magic power on the tip of the sword. Leticia poured her enormous magic power into the sphere of light to collectively extinguish the increasing number of light snakes. The ball of light that swelled up in the blink of an eye, which had earlier mowed down a huge army of demons and razed an entire mountain. That same magical attack was released towards Noale at the same time as Leticia's animated voice.
"Huh?" As expected, Noale's expression tensed at this. He gathered the light snakes into one. And the snake of light that was born opened its big mouth and…"
"Hey, hey…"
All who were watching were unable to say a word. The snake of light disappeared when it swallowed the ball of light of great magical power that Leticia had thrown.
"How could it nullify that…?"
Even Leticia looked at Noale with an astonished face.
"Letty!"
Leticia, who had been stunned, came back to herself at the sound of Wynn's voice. Wynn glanced at Leticia, then ran off toward Noale. Seeing this, Leticia also realized the opportunity Wynn had found. The snakes of light surrounding Noale were all erased by Leticia's ball of light. This was a good opportunity to attack.
"Close combat, that's what I want!" Noale created swords of light in both hands and intercepted them.
Leticia the Brave, the Divine Sword Princess and the Being closest to God, and Wynn, the Master of the Brave and candidate for Sword Crafter. It was the first simultaneous attack by master and disciple since Leticia defeated the Demon King. At close range, Leticia fired a mass of magical power at Noale. Each shot had the power to shatter huge boulders and pierce the earth. The magic, which would have been fatal to any ordinary creature, was countered by Noale's light sword in his right hand. He used the light sword in his left hand to deal with all of Wynn's slashes that came at him from the side, back and sometimes overhead. Whether they were blocked or not, Wynn and Leticia would violently change position to disorient Noale and attack him. They left no time for him to counterattack. Using each other's body as a blind spot, they unleashed their attacks against Noale. The moment had come when the balance was finally broken. When Noale once again struck a mass of magic power released by Leticia with the sword in his right hand.
"…Muh!?"
The shock he felt when he nullified a ball of light was not at all what he was already used to. And the ball of light did not dissipate, but shone with a particularly strong and dazzling glow, as if it wanted to fill all the shadows in the audience hall. The glow was so intense that it blinded Noale. Noale had to mimic a human to fight Wynn. So, he also relied on his eyes to see, just like a normal person. However, due to the unexpected loss of vision, he was unable to change his senses immediately, creating a momentary gap. It was not an opportunity Wynn was going to miss. A small opportunity created by Leticia. Wynn instantly intervened and thrust his sword into Noale's abdomen. And then… A sharp sound filled the air, and Wynn's sword shattered like a shard of glass.
"It was a pity. If your sword was a little sturdier, it could have gone right through me… It seems the weapon you have wasn't strong enough."
Wynn's sword was shattered and he hastily stepped back.
"The previous attacks were stepping stones to the current attack. That was really brilliant. I enjoyed it. What will be your move now?"
A cold sweat ran down the backs of Wynn and Leticia as Noale watched them in amusement. Wynn, who had lost his weapon, was clutching the dagger Leticia had given him. This dagger proved that Leticia was the bearer of the right to the throne. It had a powerful magical blade that could cut through magic and cut hard objects without damaging the blade. It was very valuable and of much higher quality than mass-produced knight swords, but even with that dagger, would it really serve him well against Noale? Seeing that his beloved knight's sword had been shattered so easily, he was now unable to take advantage of the breaches without care. It was then that something strange happened in the courtroom.
---
If you like what I do, consider support me through Ko-fi.
And If you find some error or something off, please feel free to tell me.
---
Support "The Master of the Brave"
---
Comments for chapter "Chapter 147"
MANGA DISCUSSION
Support Fan's Translations
Your donations will go towards site costs and management.
Note: Individual translators usually have their own ko-fi buttons.