Housekeeper of the Hundred Blossom Palace - Chapter 102
Time flew so quickly, and it was almost the end of the autumn season.
Yui Mei had already returned to the Hundred Blossom Palace from Kai, and she already finished handing the souvenirs and talking about all their adventures.
What awaited her now was her usual day job as the housekeeper in the Inner Palace.
"Hmm, it's so quiet now…"
More leaves were falling recently as the season went by, and they piled up on top of each other on the ground. Yui Mei grumbled as she swept those leaves, looking up every now and then to stare at the clear, blue sky.
The Mid-Autumn Festival was drawing closer. It was celebrated on the eight day of the lunar month and was considered to be the night of the harvest moon in Japan. The border town where Yui Mei lived before celebrated this day by eating yue bing, more commonly known as mooncakes, as part of their tradition.
These mooncakes were frequently sold in Japan too for the Tsukimi, or moon-viewing event, and they were sweets the size of a palm. The ones they made back in the border town were as big as a whole cake, though. The women of the village would make them together, then they would distribute them to each of the households, dividing them among the many people so everyone can enjoy them.
'I never had a share back then, coz nothing's left by the time it's my turn….'
Yui Mei had been living at the very edge of that border town, so by the time it was her turn to get some, all the mooncakes were already gone.
It was unknown whether it was on purpose, or perhaps just a coincidence, or maybe they thought that she's all alone in the house, so she didn't need such a large piece — it was actually difficult to tell what the reason was.
'Well, it's true that it's such a waste if a whole cake is given to someone who is all alone!'
But then, the village never thought of making a smaller cake for such a situation.
Yui Mei had been bitter about it, so she had made her own mooncakes in recent years. Unfortunately, the ingredients she could get her hands on were lacking, so she hadn't been able to make a mooncake she could be satisfied with.
The process of making mooncakes was a deep matter for her.
This year, however, she made a promise to make mooncakes with Mei Na, who also came from a place that ate mooncakes as part of tradition.
The customary food for the Mid-Autumn Festival differed in each region — for example, the others would prepare dumplings — so Yui Mei was also looking forward to sampling them, too.
Yui Mei's considered autumn to have it's own flavor, and it invokes a corresponding appetite in her.
One fine day, Yui Mei was in high spirits since early morning as she went about her job. The reason was simple, it was a fortunate day for her, because she finally 'won' the assignment of cleaning near the chestnut trees in the garden..
'Chestnuts are definitely part of autumn, right!'
Of all the delicacies associated with autumn, Yui Mei loved chestnuts and roasted sweet potatoes the most.
Chestnut trees dotted the garden of the Inner Palace, being planted here and there, and the the great job of cleaning around the chestnut trees included harvesting the ripe chestnuts. They would pick and collect the ripe ones that had fallen to the ground and distribute them among the concubines of the Inner Palace. 
Of course, there was never enough chestnuts to go around every single concubine, given that there were only so many trees planted in the garden, so they would procure some from outside the Inner Palace. 
The chestnuts harvested in the Inner Palace were divided among the concubines according to their status, and were preferred over the ones bought outside. 
It was actually just a trivial matter of eating chestnuts, but the concubines should still be mindful over this.
'Why can't they just enjoy it normally, and happily at that, while saying stuff like "It's so delish!' right?'
By the way, the deformed ones among the harvest were rejected, and the court lady assigned — in this case, it's Yui Mei — were allowed to have them.
Despite the great bargain, it was not a popular job among the court ladies, and that was the reason why it was assigned to Yui Mei, considered as having the lowest rank among them, being the novice that she was.
According to the court ladies who didn't want the job, they consider it to be fraught with danger because of the pain they felt after being stabbed by the prickly shell, as well as when the fruits fell on their head, and yet the reward (the rejects) they could eat was shabby, so it was an unsatisfying job.
Yui Mei wanted to retort that they shouldn't eat the chestnuts for the rest of their life if they're going to grumble about such trivial things. 
Yeah, the fruits might be small, so what? Even if they got the large ones, that didn't mean it was automatically delicious. 
And so, Yui Mei was filled with determination and willingness to go through all that trouble just to eat delicious chestnuts, even if it would mean she would get hurt when a chestnut dropped on her.
'I love chestnut rice, and it also goes well with manju, and oh! They're great with moon cakes, too!'
Yui Mei's desires all piled up the more she thought about it.
And so, she headed towards the garden where the chestnut trees were, with a spring in her step, but —
"Xiao Mei, can I have a moment?"
Aunty Yang called out to her just as she passed the corridor.
––
T/N: Mooncakes!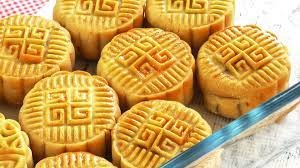 ---
Hi everyone, Hanazakura here, thanks for reading, I'm grateful to you guys! Hope you enjoyed this chapter. Housekeeper of the Hundred Blossom Palace schedule of release is every Mon, Wed and Fri. 
Please feel free to join us at our discord channel for release updates and more! Hope to see you there! We also have our Novel Updates page, if you enjoy what you are reading, feel free to leave a star rating and review, we appreciate it. I'll be releasing an extra chapter for every 25 ratings we receive, as my token of appreciation.
I also finally launched my patreon! If you enjoyed the chapters and feel like you want to read more, please feel free to drop by. ;D Currently, you can get 5 advance chapters. This is not mandatory, but I'll be forever grateful for your support! 😀
My Ko-Fi page is also up! Please do check it out if you would like to support me as I strive to provide high quality, manually translated chapters. Extra chapters will be released when Ko-fi goal is met! Thank you very much (deep bow)! I'll continue doing my best!
---
Support "Housekeeper of the Hundred Blossom Palace"
---
Comments for chapter "Chapter 102"
MANGA DISCUSSION
Support Fan's Translations
Your donations will go towards site costs and management.
Note: Individual translators usually have their own ko-fi buttons.