Housekeeper of the Hundred Blossom Palace - Chapter 103
"Yes? How may I help you?"
Yui Mei had a silly smile pasted on her face as she thought about the chestnuts, but she hastily pulled herself together as she turned around towards Aunty Yang.
'Eh, what might it be? Wait a moment, she won't tell me that I mustn't pocket too many chestnuts, will she? Did she read my mind?'
Inwardly, Yui Mei thought a bucket of cold water had been poured over her, but she didn't display that in her expression as she faced Aunty Yang.
"Xiao Mei, you know a lot about illnesses, right?"
Yang suddenly said.
"Ah, well, I guess so."
Yui Mei felt relieved that it wasn't about her gluttony, and she straightened her back and listened carefully.
"May I know who is sick?"
"Well…An old friend of mine is depressed, and he's clamoring that he'll stop working and whatnot. If we take his job away, he'll become a drunkard, that's for sure."
Yang heaved a deep sight after saying those things.
'Is that person someone very close to her?'
Judging from her tone, they seemed to be intimate, amicable friends.
She had always treated her well, so Yui Mei always  wanted to do something for Yang, too.
"If it's within my power, then do tell me what it is all about."
Yang was relieved when Yui Mei declared those words.
"Ah, that'll be a huge help, then. That person hates doctors, you see, and he doesn't like drinking medicines."
"Ahh, yes, indeed, there are people like that."
Yui Mei nodded her head as Yang grumbled.
The characteristic stated by Yang was commonly seen among people with robust bodies, and people who seldom fall ill.
They loved to criticize the doctors and treated medicines as a suspicious threat in order to mask their abnormal fear towards such things.
"Well, Xiao Mei isn't a doctor, so if you go there under the pretense of being my errand girl, he won't reject you, and you'll be able to talk with him easily enough.."
In other words, she wouldn't be driven away if she went there as a simple court lady. On the other hand, if she said she was a doctor, then that person would never meet her.
That person was a hard-core doctor hater, it seemed.
'And someone with a high status, perhaps?'
Based on Yang's words, that person doesn't seem to be someone they could meet on a whim, and he seemed to have an attendant, too.
"How about it, will you go check on him? I'll reward you."
Yang asked pushily, but Yui Mei just smiled.
"No need for that, I'll go."
"Really, thank goodness! I'll prepare a guide for you."
Yang looked relieved when Yui Mei gave her reply.  
And so, Yui Mei started gathering chestnuts  — doing her cleaning job.
"Great~ harvest, good~ harvest ♪"
Yui Mei swept the leaves underneath the chestnut tree while picking up the nuts that had fallen on the ground and throwing them to the basket she carried on her back.
Falling on the ground was actually proof that the nut was ripe already, and there were some who were still trying their best to cling to the branches. It would be an unfortunate event if a person happened to be right underneath the tree the moment they became ripe, because they would then fall on that person, pricking them with their burrs.
This was exactly why the other court ladies hated this job, but Yui Mei believed in the saying of 'no pain, no gain'.
'Okay, let's see, did we get some big ones?'
She still had to sort the chestnuts after she finished picking them up.
Cracking chestnuts opened was Yui Mei's specialty, and she skillfully stepped on the the burrs, applying some force, then she collected the nut inside.
"Hey Yui Mei, so you're here."
Libin, the crown prince's confidante eunuch, called out to her.
"So you're assigned on chestnut picking duty, huh. It must be hard."
Libin looked at Yui Mei with pity, so she couldn't help but feel annoyed, thinking "What, you too!?"
"What are you talking about! You're being too rude to the chestnuts who are letting us experience something delicious! It seems like everyone hates burrs, but you know, it's there to protect the delicious chestnut, so if you think that way then it's only natural that you're gonna love those thorns!"
"…Is that so, if you're okay with that, then it's fine, I guess."
Libin took a step back away from Yui Mei, who had become all fired as she expressed her love for the chestnuts.
"So, is there anything you need from me?"
Yui Mei was already ready to drive him away after inwardly vowing never to give him a piece should he ask her to divide her harvest with him.
"Yang requested me to be your guide."
Oh, so he didn't come here to talk about the chestnuts.
Yui Mei realized that this guy was the 'guide' that Yang had referred to.
'Then, that means Yang's old friend must be one of the Imperial Guards?'
Actually, she already had a hunch that this guy was leading a double life under the pretense of being the twin brother of Li Yong, who was one of the Imperial Guards, but that must be set aside for now.
"Alright, please wait for a moment, I'm still in the middle of sorting these chestnuts out!"
"Is that so, I'll help you then, it'll be faster that way."
Libin also helped Yui Mei open the chestnuts, and she ended up with a considerable amount of chestnuts for herself after they sorted everything.
Yui Mei grinned broadly as she put away her cleaning tools and the chestnuts, then she followed Libin towards where Yang's friend was.
––
T/N: It feels weird to call Yang by her name without calling her Aunty. 😀 But then, she looked like a gorgeous old lady in the manga too 😀 not sure if I already posted it, but reposting for good measure 😀 Chapter is a bit early, there's a storm in our area so not sure when the power will go out (hope it won't)! Stay safe, everyone!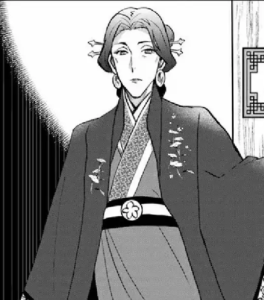 ---
Hi everyone, Hanazakura here, thanks for reading, I'm grateful to you guys! Hope you enjoyed this chapter. Housekeeper of the Hundred Blossom Palace schedule of release is every Mon, Wed and Fri. 
Please feel free to join us at our discord channel for release updates and more! Hope to see you there! We also have our Novel Updates page, if you enjoy what you are reading, feel free to leave a star rating and review, we appreciate it. I'll be releasing an extra chapter for every 25 ratings we receive, as my token of appreciation.
I also finally launched my patreon! If you enjoyed the chapters and feel like you want to read more, please feel free to drop by. ;D Currently, you can get 5 advance chapters. This is not mandatory, but I'll be forever grateful for your support! 😀
My Ko-Fi page is also up! Please do check it out if you would like to support me as I strive to provide high quality, manually translated chapters. Extra chapters will be released when Ko-fi goal is met! Thank you very much (deep bow)! I'll continue doing my best!
---
Support "Housekeeper of the Hundred Blossom Palace"
---
Comments for chapter "Chapter 103"
MANGA DISCUSSION
Support Fan's Translations
Your donations will go towards site costs and management.
Note: Individual translators usually have their own ko-fi buttons.