I'm Not Even an Otome Game Mob Character - Chapter 13
Luxurious horse-drawn carriages entered one after the other on an early afternoon with clear skies. Among them, there was a carriage bordered with black and gold.
The windows were covered with blue and velvet curtains, preventing the people inside from being seen. While most nobles would display their family crests near the door, this carriage had its golden family crest carved in a modest size at the back, under the roof. On the four corners of the roof, figures of spirits of specific attributes that would protect the members of that family were deployed. Even without emphasizing the crest, it was a carriage that showed the house's nobility.
That carriage continued on its way and stopped before a red carpet. The nobles who were already descending from the carriage as if it were natural gathered many gazes.
When the driver opened the carriage door, a blond young man appeared, calm despite gathering the eyes of those around him. His deep and shiny blue coat, his golden hair and his groomed appearance were all visible. A small lady quietly raised her high-pitched voice with blushed cheeks.
The young man didn't show any sign of attention towards the surroundings. He extended his hand towards his back with a smile filled with sweetness.
"Please take my hand, Princess."
"Father… is it not discourteous to say that where the royal Princesses are?"
As she dubiously pointed that out, the young man corrected himself with no sign of guilt.
"Oh my, that's true. Then how is, my angel?"
"Goodness, Father."
As the young man laughed, the small girl who seemed like his daughter giggled and put her hand on her mouth.
Her platinum blonde hair was gently winded and it flowed down to her waist. On the side of the back of her head, some of her hair was weaved in a bun. Her eyes, which, like her Father, were like a Nigella plant, shined even more than the jasper decorating their chests. Her entire dress used a blue paler than her the one on her Father's coat as its underlying tone, though the lace that was used to accent it had the same tone. The deep blue lace on the hems of her skirt contrasted with the white lace in other places, creating a contrast that emphasized the white parts.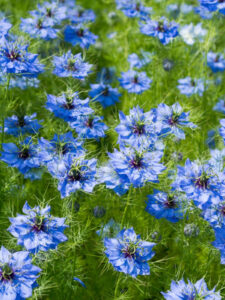 While she was small, her smile that showed in her eyes inspired awe, and she was lovely. Several young boys lost their words.
The surroundings naturally cleared a path for the picturesque father and daughter as they saw them off.
"I'm sorry Dia. You should have had the chance to get accustomed to this in a tea party with Via."
"It can't be helped because Flora was born. And there is no need for Father to apologize. I am truly glad to have a little Sister."
As he was escorting his beloved daughter, Gerald apologized at a volume only they could hear, but she denied his apology at the same volume and gave him a real smile.
Originally, her Mother, Octavia, was to sponsor and participate in a tea party alongside her daughter, Lydia, where she would practice until she made her official debut in high scoiety. But her little Sister, Flora was born, so Octavia was going to reserve herself from parties and the like for a while. So her first party was one she could not refuse, the Prince's birthday party. Even if she had tried to refuse it as a Duke's daughter, the fact that she had nothing keeping her from attending would have backfired. As long as she was one of their subjects, she could not oppose royalty.
He feared that this may have been too harsh for her, but contrary to his expectations, his beloved daughter showed no signs of being horribly nervous. Rather, she even had enough composure to worry about him. He was moved from his daughter's words, and on the other hand he was also a little curious.
"You're not as nervous as I expected."
"I am. I am worried about being impolite towards the members of the royal family. But…"
"But?"
"Father is with me."
It's quite reassuring, his lovely daughter said as she looked up at him. Gerald was struck by an urge to hold her tight. He endured it by clenching his hand that wasn't holding hers and smiling to reassure her.
"Indeed. If you want to go home then say so at any time. Even now."
"I still have not even congratulate His Highness. That would be rude."
"It's okay even if I greet him alone… I don't wanna let him meet you."
Lydia tilted her head at her Father, muttering in disappointment. From what he was saying, he probably meant that he didn't want the first prince to meet her, but why was that?
"Why not?"
Lydia's doubt gushed forth and she asked.
"…I've only ever seen him myself, but from what I've heard he is extremely popular."
Even though he's still small he is already showing wisdom and a heart for the people. If he grows up like this then he would become a wise king, was what all the rumors said.
"I've heard that he has shiny golden hair and eyes as well as a wonderful personality."
"That's true. It's hard to go against him…"
Lydia's eyes shined at how high the Prince was regarded, and her Father, Gerald made a face as if he had swallowed something bitter. It would have been fine if they were just rumors, but information from people he could trust also agreed, so there was a high chance that it was as the rumors said. He probably would not betray the hopes of Lydia who has heard those rumors. That was the main cause for Gerald's concern.
As if to cast off his anxiety, Gerald changed the subject.
"Come to think of it, you didn't wear that when you were trying on your clothes."
With his eyes, he pointed at the flower in bloom on her left hand on the opposite side of her right hand he was holding. On top of her white glove was a baby rose that looked as if it was trapped there at the instant the seam was sown, held in place on a Nigella-colored ribbon. Gerald was curious about that accentuation. It hadn't been there on her final dressing which he was there to see. It was his first time seeing a flower decoration close to a fresh flower. He could faintly feel divine protection on it from a water spirit.
Lydia stiffened for an instant at her Father's question. It was a truly small change, so no one but Gerald who was holding her hand noticed.
"…This is a charm."
"How lovely. Isaac knows what fits you well."
"!?"
Lydia looked at her Father smiling broadly as if he had said something unbelievable. How did he know even though she didn't mention his name?
"Isaac has a water attribute, doesn't he… a magic to trap a flower in time, how wonderful. I'd like him to teach me too."
The workers employed in the Ernst Household were all to report their magical attribute. The head of the house, Gerald, roughly grasped them, and he remembered the attribute of the youngest gardening apprentice well.
It was an interesting way to use magic. To think of using water magic, which was fundamentally used to moisturize things, to dry something. Gerald appreciated the delicate magic, and as a consequence he actually wanted to know how it was done. He'd like to give a bouquet of flowers made by his own magic to his wife.
Lydia's mouth had been shut from her surprise, but as her understanding caught up a new question came to mind.
"Ma, gic…?"
"Oh my. It seems that I've done something tactless."
I've done something inexcusable to him, Gerald muttered to himself. It seemed that Lydia didn't know that it was handmade.
With her eyes opened wide, Lydia looked at the flower on her left wrist. And happiness gradually welled up in her eyes.
"You've made a good friend."
"Yes…"
Lydia nodded honestly, and Gerald felt joy at his beloved daughter's growth. He was truly happy that he came to his house. If she had not met him, then she may have not been able to come this far with that soft expression, would she. She probably wouldn't have matched with her clothes, either.
"Gerald, as I thought you came here too huh."
"Zinvarka. You're with your daughter too?"
When they arrived at the meeting hall, an acquaintance greeted him, and Gerald faced him. As he escorted a young girl in a fresh green dress, someone shorter than him but with a good physique approached. Seeing that, Lydia pinched the hem of her skirt and did a curtsy.
"Dia, this is Zinvarka, vice-captain of the knights."
"I am called Zinvarka von August. Nice to meet you, little lady."
(TN: He says lady in english)
"I am called Lydia von Ernst. My Father has been in your care."
Zinvarka put his hand on his chest and bowed while Lydia grabbed her dress with both hands, lifted it slightly and lowered her head.
"Rather than that, it is me who has been in your Father's care, so please do not mind it. Aah, this is my daughter, Tordelise."
"I am called Tordelise, the eldest daughter of Marquis August. It is an honor to meet you, Lady Lydia of the Ernst Duchy."
With her hair, in the same tone of brown as her Father's swinging, Tordelise returned the courtesy seeming nervous.
"The young Lady is as adorable as a young rabbit. Please don't be that nervous."
"Ye-yes…"
Gerald tried smiling to soothe her, but Tordelise blushed and stiffened even more. Her father, Zinvarka, looked at him with exasperated and half-lidded eyes.
"Hey, don't seduce my daughter with that face…"
"Unthinkable. I will not seduce anyone but my wife."
"Aah, yes, yes. Anyway, telling her not to be nervous with your position and appearance is useless."
As the two fathers exchanged a light-hearted conversation, Lydia called out to the girl she was meeting for the first time.
"Tordelise-sama, it's my first time speaking to someone my age. If it pleases you, I would be happy for us to get along."
"N-never, it would be discourteous of me to be friendly with someone as lovely as you, Lydia-sama."
Lydia smiled and Tordelise shrunk back in fear. The fathers watched over their daughters' exchange while they looked over the assembly hall.
"It looks like there's about as many boys as there are girls."
"Of course. It would be quite filthy if there were only adults."
The meeting place was full of the parents of boys and girls who were at the same age as the first Prince. Some of them had both of their parents alongside, but about half of them only had a single parent like Gerald and Zinvarka. SInce escorting women was fundamentally a man's job, there were many pairs of fathers and daughters.
"Us having Flora is the only reason I haven't brought Via along."
"And I wouldn't be here if Torde hadn't told me that she wanted to see his Highness."
(TN: Manga says Lise, but the raws obviously say Torde[To-ru-de]. On the subject of names, Lydia is actually pronounced Ryu-di-a rather than Li-di-a.)
Zinvarka looked towards their daughters in a grimace. They were talking about the first Prince with sparkling eyes. Other girls around them also had about the same expectations cramped into their eyes.
"…As I thought. He's not coming is he?"
"Marquis Viito huh. It was bad timing for that house… it was probably after they got word."
"Probably."
Muttering with sorrowful expressions, Gerald understood who Zinvark was talking about in an instant, and remembered the person who wasn't in this place.
"His wife is sick so it's not like he can leave her unattended."
"He's kind… let us visit again when we get an opportunity."
"Yeah. Well, since we're already here it would be rude to look sad."
"Indeed. We can't worry Dia."
"…Really, family is your basis for everything."
Gerald agreed to changed this dark topic with a smile, and Zinvarka replied with an exasperated voice. How come he could so briskly move the host down his priority list after coming here as his subject?
When they finished talking, the shrill sound of a wind instrument arrived from a place reserved for the orchestra. With that as the signal, everyone in the hall became silent, faced the double doors on top of a wide staircase and bowed in unison.
The doors gently opened to reveal the King, followed by the First Princess, the Second Princess, and the Second Prince. The King stood at the center while the other three kept themselves behind him. He raised his voice loud enough for it to be heard well. All the people made sure to follow that and express the start of the event. He simply thanked them for being there for the sake of his son and expressed his desire for all of them to enjoy themselves to their hearts' content. He didn't drag his speech on. Quite the opposite, he apologized jokingly for appearing before the leading actor, and everyone laughed.
"Now then, shall we ask the Star for today to appear?"
Saying that, the King retreated to the side of the First Princess as a door opened, revealing a young boy with golden hair and eyes that seemed like honey had melted all over them. When he appeared, cheers and applause boiled over and he accepted them like a gentle breeze, stopping where the King had been standing until a moment ago.
The boy was modelled as if he was an angel that had fallen from a painting, worthy to be enchanted by. The devout likely thought that he was a messenger from the heavens. His dazzling golden hair and clear, white porcelain skin were things for women to be envious of, but since it was him, nobody envied.
The First Prince slowly looked over the place. After seeing that it was all quiet, he deepened his smile and opened his mouth.
"I'm Roy Leonhart von Rozenhein. For gathering in this hot weather for my sake, I thank you. I am still inexperienced, but I would like to work hard for the people and help my Father. From now on, I would like you to lend me your strength as you always have for the sake of this country. Furthermore, I'm very grateful for this opportunity to meet with other young people who will shoulder the future. By all means, let us discuss the future of this country."
After he finished speaking, cheers and applause even more passionate than before gushed forth.
While that was happening, Gerald continued to clap as he whispered in a volume that couldn't be heard by others.
"He's so handsome it's unfair."
"Are you really saying that?"
Zinvarka was the only one to pick up what he said and be flabbergasted beside him. If other people heard they would think that he really meant it despite his appearance.
"Geez, she probably won't tell me I'm the coolest anymore…"
"At least she has something to tell you."
Gerald muttered with a lonely look as he saw his beloved daughter clapping her hands as hard as she could, and Zinvarka replied to him not with encouragement but with his true thoughts. He had never been told anything like that by his daughter. Rather, the beard he had been raising in order to add to his dignity as someone who has been the vice captain since a young age was unpopular with his female relatives.
With the First Prince's declaration, gentle music started to flow from the orchestra. The meeting hall had such a moderate temperature that it was easy to forget that it was the middle of summer outside, even though many people were there. For a buffet sponsored by the royal family, the mood was relatively easygoing. The First Prince walking around himself to give greetings was one of the main reasons. He did not just sit passively on the seat prepared for royalty to give his address, but instead he went around to thank the people who came.
He finished greeting the chief vassals whether or not they had children with them. Then the nearby high-ranking nobles scrambled to speak to him before he could speak to them. They started to introduce their children. Gerald simply stared at him sincerely greeting them properly, one-by-one although with just a few words. He felt that his lovely daughter looking at him in reverence was no laughing matter.
"You are Duke Ernst yes?"
"Yes. It is my honor to make your acquaintance. Congratulations for this occasion, your Highness."
Gerald stopped moving his eyes and politely performed his courtesies as one of his subjects.
"Thank you. Even I have heard of the Duke's excellence. And there is no room to mistake your appearance."
"I am in awe. To think that your Highness in all his beauty would tell me such a thing."
Towards a smile like shining light, Gerald replied with a smile like a flower's fragrance. Towards the fair pair standing together, the women around them sighed sweetly.
"I must also learn from you and my Father by amassing enough power to be able to retire early."
"To put me next to His Majesty, you overestimate me. I have only been entrusted with land from my Father, it is not as if I am retired."
"That's because the Duke has much territory. From how frequently you visit the royal capital, any other choice would have been foolish. It was a wise judgment."
The boy smoothly grasped his circumstances with his thinking, and while Gerald's smile did not falter, he was deeply impressed inside. Indeed, he would at least make a wise king in the future.
"Is this your daughter?"
"Yes. My daughter, Lydia."
"It is my first time meeting you. I am called Lydia von Ernst. I sincerely congratulate you for this occasion."
Unlike the other nobles, the Prince didn't have to ask Gerald to introduce his daughter. This was unavoidable but he at least wanted to stall for as long as possible.
Lydia's expression betrayed nervousness, but without her voice being too shrill or anything, she congratulated him with a firm volume. Gerald felt pride for his daughter whose manners wouldn't bring shame to his household.
The Prince widened his eyes slightly, after which he smiled.
"Just when I thought you to be as fleeting as a fairy, I saw your brave eyes. A truly beautiful girl."
"Such a thing…"
The Prince extended his hand towards Lydia as she blushed. They were about to start the Waltz.
"Will you not share a dance with me, Lady Lydia?"
"…Gladly."
For a second Lydia couldn't believe what was happening to her, but she smiled as gracefully as she could and answered the Prince's invitation.
The people around them gazed at the tiny two with jealousy and various other gazes, and Gerald, while watching his daughter with a smile on the surface for her sake, muttered, one pitch lower than usual.
"Is he really seven?"
"You were like that too."
You were a frightening kid. Zinvarka looked at him with half-lidded eyes, knowing how he was in his early childhood. He couldn't believe that he was seriously saying what he was saying. They, who had once not seen eye-to-eye, had now become friends. You never knew what was going to happen.
Lydia remained ignorant to her Father's words. Even while surprised at the Prince's skill in leading, she matched her breathing so that she wouldn't have to ask him to slow down.
"You're good. I'm glad that I picked you to be my first partner."
"Your first… you say? I truly do not…"
Lydia was surprised at the Prince who smiled happily.
"It's true. I've been learning on my own."
"I have also been practicing on my own."
"Right? I was troubled because nobles don't have many opportunities to mingle while they're young. This time I indulged myself in asking my Father to prepare this place, saying it was my birthday."
"Well, was this party not proposed by Your Highness?"
"It was just me being selfish. I somewhat feel like I've been used, but that's within expectations."
The Prince looked satisfied. Lydia understood the feelings of his subjects to some extent, and she also knew what he meant when he said selfish. She could feel his intelligence well when she spoke to him like this.
But was it her imagination that made her feel as if his tone became a little less formal since they had started dancing? His countenance that wouldn't cower even before adults until just now became less prominent, and instead he felt fitting for his age. He felt a bit familiar.
"Um… your Highness, excuse me, but your speech-"
"Fufu. It's fine, isn't it? The adults can't hear us from here. Lady Lydia, you don't have to call me so formally either."
You can call me by name, the Prince said, smiling as if he was playing a prank. Lydia was bewildered at seeing his boyish side right before her eyes.
"Never, it would be…"
"I'm asking you myself. No one will blame you."
He smiled at her broadly and innocently, and Lydia didn't know what to do. It was rude to call his name so lightly, but she could not oppose the orders of royalty as one of their vassals.
As she was troubled on what to put first, he continued to smile at her brightly with eyes full of expectations.
"…~I understand, Roy-sama."
When Lydia gave in to his gaze at point blank range, Prince Roy's smile became one level brighter.
"I'm glad. I knew picking you was the right choice."
Having him tell her such a thing with his bright looks and wide smile, Lydia's cheeks were dyed red. It would be harder for her not to blush in front of someone who many women among their age yearned for.
"Why, did you invite me?"
Her family status in mind, she was prepared to dance with him once, but she didn't think that he would invite her as the first. It was also natural for Lydia to have her doubts.
"Because you'd actually talk with me."
"I'm sorry…?"
"I've spoken with many children, but we couldn't hold a conversation because they would get charmed or nervous…"
Roy gave a bitter, disappointed smile, and Lydia understood. She understood well how the people who couldn't hold conversations with him felt. Aside from being the same age, whether it be position or anything else he was higher than them. It would be difficult to keep calm while facing him. If she hadn't been able to get enough practice, she would have likely been nervous and uneasy as well.
She made sure that the flower charm on her left wrist was in her field of vision even as they danced, and she smiled at it. It was in no small part thanks to this.
"Just as I was beginning to think that it was useless… Lady Lydia, I met you."
Honey eyes stared at Nigella eyes straight on.
"It's because of you that I didn't give up. Thank you for giving me hope."
"I never did…"
She hung her head from his unwarranted gratitude, and her eyes arrived at a white flower. Didn't she herself know how precious it was to have someone you could talk with? Acting reservedly here would distance them again and disappoint him.
Lydia raised her face and smiled.
"I'm happy as well to be able to talk to Roy-sama."
She conveyed honest words, not as a subject but as someone of the same generation. When she did, Roy showed a smile filled with light.
Until the Waltz ended, they chatted in a volume that no one else could hear. When the composition finished, the two were wrapped in applause. The two had been engrossed in talking. They looked at one another and smiled ever-so-slightly. And then, they bowed to the audience, hand-in-hand.
With that, Roy had finished escorting her as much as Gerald would allow. He returned to the other members of the royal family and his subjects.
"Well then, your Highness. Until next time."
"Yeah, show me your prized garden someday."
After exchanging greetings, Roy returned to greeting the other vassals like Zinvarka.
Thinking back, what happened to her just now was almost too good to be true. Lydia was thrilled. Just now, she danced with a Prince and spoke with him.
Even after bowing, Lydia felt as if she was in a dream. She looked up to her Father.
"Father, did I do anything rude?"
"No? You were a very wonderful Lady."
Her Father praised her with a smile and Lydia smiled with joy and relief.
Even in the carriage on the way home, Lydia felt like she was floating from that dreamlike happening.
"His Highness was even more wonderful than the rumors suggested."
"Yes, he was."
Gerald listened to her talk with a smile. As they spoke together like that, the driver told them that they were about to reach the mansion. That interrupted their present conversation, and Gerald suddenly brought up a new one.
"…Hey, Lydia."
"Yes?"
"Would you like to become His Highness' bride?"
"It would be like a dream."
It was something dreamy that seemed like it came out of a storybook. So Lydia agreed just like that.
"I see. Then I'll tell you. It seemed that they were looking for bridal candidates today."
"But, wasn't today His Highness' birthday party…?"
"Yes. Of course that was the main event. But I don't know if His Highness knows himself that this party was possible because several subordinates of the King had that goal in mind."
No, Roy noticed. He spoke with Lydia, and he attended the party noticing that his subjects had ulterior motives. Not everyone simply wanted to celebrate. It was honestly frustrating for Lydia.
"So Dia will become one of the bridal candidates."
Lydia thought that his Father was acting strange by talking about it as if it were a done deal. There should be no official announcement until the party ends. But her Father had gained enough material to make that judgement.
"There are likely several candidates, but if you wish for it I will support you."
He seemed just a little bit lonely, but he brushed it up with a kind smile.
"Will you tell me when you decide what you want, Dia? If you don't want it we'll refuse."
Small as she was, Lydia knew that subjects couldn't go against the orders of royalty. If it was formally decided, even a Duke would have a hard time going against it.
"Y-yes…"
That was the only thing Lydia could answer.
Their conversation became real to her, and she was only and absolutely surprised. No joy gushed forth or anything. Nothing but pure surprise occupied Lydia's heart.
Comments for chapter "Chapter 13"
MANGA DISCUSSION
Support Fan's Translations
Your donations will go towards site costs and management.
Note: Individual translators usually have their own ko-fi buttons.