I'm Not Even an Otome Game Mob Character - Chapter 14
At the central plaza of the royal capital, the stone pavements made a beautiful circle with the fountain at the center. It was a central location, so many people and carriages passed through.
I sat at that fountain feeling a bit dissatisfied. When I did, my feet didn't reach the ground, so I swayed them back and forth to kill the excessive time on my hands.
After a while, I heard running footsteps and a voice.
"Isaac! You were already here? Sorry for making you wait."
"This idiot!"
I met a boy, dashing towards me with a big smile on his face and slapped his head.
He was confused. He put both of his hands to the spot I slapped him at and hardened his expression. The guy attending to him from behind screamed without sound and went deathly pale. I complained without caring about something like that.
"You, don't send such a confusing letter!"
"But aren't you the one who told me to write a letter to the Baumgartner clan?"
"Did you think I'd come because of that!?"
Leo, who didn't understand why I was angry, had brown hair today. I can look at him straight since he's hiding his most powerful golden hair, but sure enough, I could still feel some brightness from his unreasonably well-sculpted facial features. But I had to look at him if I was going to complain.
As I had told him to, Leo sent a letter to my Dad. Though I wasn't sure if it would reach my Father, there was no problem in that area. Dad took the sealed letter. My face stiffened when I saw what was inside.
I couldn't read it. No, I could read the individual letters, but I couldn't understand the contents at all. The feeling was like when we were told to transcribe Chinese classics into Japanese in my previous world. What did they mean when they asked us to read something we couldn't read?
After a short staring game with the letter, I couldn't even get a clue to understanding it, and so I asked Ojou. Ojou saw the letter, was surprised at the beautiful handwriting, and deciphered it for me. It seemed that he had used words from the poems that she had recently started studying. Even if it was obvious for nobles to know about those poems, there's no way a commoner, majority of which couldn't even read sentences, would.
After learning that I wondered if he was picking a fight. Because of that, when Ojou asked me what the letter was for, I accidentally answered that it was a letter of challenge. Then I corrected myself and said that it was actually a request for my Dad's work.
"Don't overestimate the literacy rate among commoners!"
"…I'm very sorry."
After I said my complaints, Leo seemed to have understood. He apologized to me after staring.
"My world really is still small…"
Even if he was sad, is this guy really thinking of something so troublesome? I lightly poked Leo's forehead so that he would stop looking down.
"I don't really know, but aren't you taking action right now to learn in the future? That's good enough. You could just write letters in an itemized form from now on."
For as long as I've been a commoner, it was my first time seeing a noble who tried to understand how we lived. His thinking is flexible, so I think his world is big enough.
"…I will handle it appropriately."
Leo said something unbecoming of his age and smiled in a way becoming of his age. That was fine, but his smile was so bright that I squinted my eyes. What, did this guy's body produce glowing substances like a firefly squid? I knew I was bad at dealing with him.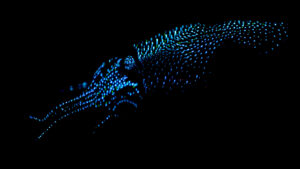 Firefly Squid
I reached my limit looking at him directly, so I turned my eyes to the young man who looked like his bodyguard. Since a while ago he's been pale and flustered, going awa awa. He seemed like a fidgety guy. Leo had probably matched his wig with his hair color to make them look more like siblings.
"You've actually brought a bodyguard. Don't lose him this time."
"Yeah, we'll be fine this time."
Leo nodded and clenched his fist.
"I don't really know, but is it alright for you to only have one bodyguard? Or are the others hiding?"
"No, it's just Matteus. There's just about no one who would accompany me for something like this except him. It's fine. As you can see, he's capable."
I did end up seeing. Though I'm sorry, but because he's been pale since a while ago I ended up seeing him as a timid guy.
"Even I want you to stop you know? But… Leo-sama said that if no one came with him he would go alone."
The guy sighed as if to say that it couldn't be helped. He seemed like he always worked very hard.
"You have it rough."
"That's true. The other time, when I lost sight of him, I was nervous, wondering if it was going to end with just my head…!"
"You exaggerate, Matteus."
"This is still a generous estimate!!"
It seemed that the guy and Leo had quite the difference in their understanding. The guy was probably more correct. Leo's standing seems considerably high.
Ah, it's a bit late for this but was it really alright to just hit him? Could I get charged for lese majesty? Is that why the guy reacted like that? But Leo didn't get mad. He seems like the type of guy to change his attitude if you ask him to.
"Ah, I see. I'm Isaac Baumgartner. I'm looking forward to working with you today."
"I am Matteus. I'm sorry that Leo-sama wrote too much."
"No… I told him to do it, so it's partially my fault."
Matteus-san seemed guilty, and I also lowered my head. To think that a noble would actually apologize. I guess he's used to dealing with adults, so he thought it'd be better to give a straight reply rather than an excuse.
"Anyway, Matteus-san, you look more appropriate for this."
Whatever Matteus-san was wearing probably used the same raw materials as what I was wearing, but the fabric was carefully crafted, and it made for good clothing. People with high living standards like merchants give off this feeling. With this he doesn't feel out of place downtown.
"Before I was a knight I was just a soldier, so simpler clothes make me feel more calm."
"Though you still won't lend them to me."
"I don't want to. Who the hell am I to give Leo-sama my hand-me-downs!?"
Leo got angry. Matteus-san paled and replied right away. From my perspective he must be quite an amazing guy to have become a knight, but when he was with Leo that impression faded. And by that reasoning, who the hell am I to lend him clothes today…
For now, we went to my house so I could lend him clothes. Leo wasn't familiar with the terrain at all so I picked the simplest route, but that made us pass through the market street with many people.
"You guys are supposed to be brothers, so I'd like you to hold hands to avoid getting lost."
Matteus-san's face paled the instant he heard my proposal, and he shook his head.
"I cannot! Something so disrespectful!!"
"Ehh, but holding hands with someone close to my age is a little bit…"
"It's not as if I want to hold hands either, but that reaction hurts…"
Leo was dissatisfied. I apologized saying, even Matteus-san, to be evasive.
Unlike last time, he was wearing a wig, so it would have been somewhat easy to confuse him for others. If he got lost it would be dangerous. I scratched my head and sighed. It can't be helped. Neither of us enjoy holding hands with another man.
"Let's go. Matteus-san, you will follow right?"
"Yes, I'll be okay."
I took Leo's hand and started walking. Matteus-san replied with a bow and followed from behind.
As we walked, I spoke with Matteus-san.
"Ah, I'm just a kid so you don't have to speak polite."
"Understood. Then don't talk politely to me either. You can call me as you like."
"Alright. Then it's big bro Matteus."
(TN: Big bro = Onii-chan. you can imagine Isaac saying matteus onii-chan if you want)
"Then I'll also…"
"Leo-sama, I can't do anything more than this. I will put on an act if there comes an emergency so please excuse me."
"Only Isaac? Unfair."
"Why do you seem jealous?"
Big bro Matteus was amazing for showing this much devotion to a child, and so was Leo for inspiring that much devotion. There was no need to be jealous of me, was there. I didn't know why Leo was pouting.
(TN: My little brother can't be this cute)
As we walked through the market street, Leo looked around, seeming interested while he followed me. I was used to seeing this scenery, but it was only Leo's second time.
"By the way, do you go to church Isaac?"
"Church? Why?"
I tilted my head at Leo's sudden question.
I don't go to church except for Christmas Eve and important ceremonial occasions in family relationships. Why did he make a connection between me, someone who doesn't have that much piety, and church?
"In order to clarify the teachings of the Holy Texts, they teach commoners how to read, don't they? You seem to be able to read so I thought you went there… is that not the case?"
"Really? The church was doing something like that?"
Leo is so well-informed that he even knows about things outside his own daily life. I've never known that the church was substituting for school. If I had known… no, if they were going to teach with Holy Texts, it'd be too stiff for me so I wouldn't go. I'd definitely sleep.
"So how…"
"I work at a good place."
"Aah, is that so. They must be very kind."
Leo accepted me saying that. If I were to disclose that Ojou had been directly teaching me, it might get her into trouble. It was just my selfish wish to learn how to read as I worked. If it was going to cause trouble for her then let's say that I go to church.
"Hey, it's Sonny Zac. This is the perfect place to meet you."
"Uncle gardener."
(TN: Changing old gardener from c9, Hydrangea, to uncle gardener)
I had just dodged a horse-drawn wagon when it stopped, and a middle-aged man I knew poked his head out of it.
"I just got that thing you asked me for so wait."
"Really!?"
I went near the back of the carriage. After dropping from the driver's seat, the gardener took out a small bag. I accepted it happily and said my thanks.
"Thank you. I'll pay you later!"
"You're just like your Dad to do something like that."
"This is something I wanna do."
Ever since I've become an apprentice, Dad has been giving me my wages though they're not much. Since I can save money, I have to buy the things I want with the money I save. Even in my previous life, I didn't have enough money to play around so I started working part-time from high school. Though unlike my previous world there's no work to do but gardening.
"Is that, a seed?"
As he held my hand, Leo looked at my other hand and asked.
"Probably because it's not healthy."
"?"
Leo tilted his head at my mutter that didn't answer his question. I stared at the seedbag in my hand, not noticing that.
Then he looked inside the carriage, only to suddenly see a flower that was rare for this season.
"Hydrangeas…"
"Ah, it's true. Uncle, is this the usual?"
I reacted to the name of the flower and looked towards Leo. There were the flowerpots of blooming, bitter orange hydrangeas at the end of summer. When I asked, the gardening uncle made a difficult face and scratched his head.
"Yeah, it's still not going well."
"It's already amazing to be able to make it bloom outside of rainy season…"
"The request, after all, is to make it smaller and to make it bloom all year round."
"But, making it bloom all year round is impossible isn't it?"
Don't say reckless things with plants. There seem to be magic plants that are influenced by magic power, but flowers that are raised normally are limited by the seasons.
"So I thought to make at least four different varieties for every season, or to give a hydrangea's special characteristics to flowers of other seasons."
"That's Uncle for you. Smart."
He could do that? I didn't know which was easier, but Uncle could probably fulfill that request one of these days. I'll look forward to its completion.
Leo had been staring at the hydrangeas pots as I was talking with Uncle. He asked him.
"My Lord, are these flowers for sale?"
"Nn? No, they're just prototypes I've made to report my progress."
The Department of Pharmaceuticals had gotten the request directly. He was probably on the way home after showing that prototype to them.
(TN: Changed Department of Chemicals to Pharmaceuticals)
Leo looked straight at the Uncle with his honey-colored eyes.
"My Lord, will you not defer this Hydrangea to me? I will pay any price you name."
Uncle was puzzled at Leo's unchildlike words. But from his outfit he seemed to have discerned that he was the son of a family that was rich to some extent. Thank goodness that this happened before he changed clothes. It would've been more suspicious if it was after.
"Boy, this is still in development so I can't sell it."
"I'll place it in my private room. I'll make sure that those in my home will not reveal it. Please."
As if he liked the seasonless Hydrangeas very much, Leo went so far as to bow his head and asked. Because of that, Matteus-san got pale and flustered once again.
Uncle was surprised. He hadn't expected a rich boy to bow his head to him. But insofar as he was a professional, he hesitated at the idea of selling something that wasn't ready to be sold yet.
"But…"
"Uncle, I'll teach him how to raise it so please give it to him."
"Isaac…"
Leo's eyes widened at my help. I don't know why, but Leo seemed to have his own thoughts about that Hydrangea. He'd probably keep his word. If it were Leo, he wouldn't let it dry. He'd raise it carefully.
"I guess it's fine since Zac Sonny is with you."
"I thank you, my Lord."
"Thanks Uncle."
As we rejoiced, Uncle patted our heads with both of his hands.
"Well, raise it finely."
Uncle laughed as if something was funny. We nodded and replied properly. Big Bro Matteus made the arrangements and the negotiations for us to accept it.
"You're reliable despite being young."
While we waited for Big Bro Matteus to handle the negotiations, Leo said to me. He seemed happy. He's probably praising me, but that's no way to speak to someone who could be younger or older than you.
"You talk like an old guy…"
I wasn't happy because of how he said it. And it's bright so don't smile here please.
Leo seemed to have gotten some shock from the word old. He started groaning about how to talk like a young person. If you start to worry about it then maybe you should give up on speaking like your age.
After finishing the proceedings for the purchase, we continued to my house. When we reached the residential area, the amount of people sharply decreased. When the sun is up, the only people outside are just about those who are coming for work, the housewives, the kids and the old people.
There's not enough security with just women and children around, so the soldiers patrol here once everyday. So far as it goes, there are still a few men working in the municipality. Well, the municipality only makes sure that there are some men remaining during the holidays by getting information about the workers' schedules and asking them to adjust. For some reason, Leo asked me about it with keen interest. To enjoy something like this, what a weird guy.
Among the row of houses plastered in white, I opened the door surrounded by potted plum blossoms.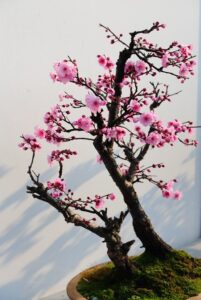 Plum blossoms
"I'm home. Mom, I brought people."
"Zac, welcome home."
"Please forgive the intrusion."
"Excuse me."
"Welcome. I cannot entertain you, but please feel at home."
My Mother cheerfully welcomed Leo and Big Bro Matteus who came in after me. Leo made sure to greet her even as he was perplexed, and Big Bro Matteus bowed his head lightly and sorrily.
"To think that you'd bring your noble friend to a place like this. And I thought that if you'd bring them it would be Ojou."
"There's no way I can bring Ojou. She's cute so it'd be dangerous for her. And this isn't a friend."
"Ara."
Mom laughed at my denial. Leo was having a hard time gauging what kind of reaction he should give when I called him and lead them to my room on the second floor. I pointed to the clothes I had prepared on my bed.
"Put this on. Don't complain even if it feels bad."
"Got it."
"Then I'll be waiting outside the door. Call me."
I said and closed the door to my room. Then I linked my arms behind my head and leaned on the wall, waiting. I don't think he doesn't know how to put them on but this is just in case. I'm glad he didn't say something like, I can't change on my own.
"Hey Isaac."
"What is it?"
He called me over the door and I answered. Maybe he's gonna complain about the size not fitting him. Though I don't think it's too small.
"Aren't you too good of a person?"
"Ha?"
"I mean, even though you don't even know for sure if the names we gave you are our real names, you gave us your full name. What's more, you're taking the trouble to look after me even though I'm not your friend, even taking me to your house. Isn't it reckless?"
What's this guy saying?
"You're not a bad guy if you're telling me this. First of all, I need to make my background clear. Big Bro Matteus was against going here."
If you had some status, then it would only be natural to check the background of whoever you're dealing with. It would be faster to give my full name than a fake one. And if a noble gives his name, and I understand his position, they could think that I'm trying to butter them up. That would be bothersome for me too. Lastly, even if he told me his name, it would probably be long. I wouldn't wanna remember it from the outset.
"In the first place, you were a bother to me by standing out. You made the street more cramped."
"A bother…"
A shiny noble was on the market street, standing out. People looked at him from afar, and that caused congestion in a part of the street. What was wrong with stopping that? I didn't want my groceries to get crushed by the crowd. It wasn't kindness, just a simple loss-profit arithmetic.
"Hahaha, I see, a bother huh…"
Leo's amused laugh carried over the door. Sorry about that, he apologized while laughing. I've been having this thought that Leo's sense of humor was strange.
"You really are a weird guy."
"To say your views without restraint, you are in truth a precious existence. I apologize for how we met."
After changing, Leo opened the door and left the room. I was also curious about the meaning of whatever he just said to me, but I was more curious about something else which shut me up.
Leo tilted his head as I was silent.
"What's wrong? Is something strange?"
"…I was, just thinking about the stratification of our society."
I understood the meaning of what my little Sister said to me in my previous life.
I had an unsophisticated question. I asked my little sister why many protagonists of the otome games she had been playing had small breasts. As if the emperor's wrath descended upon me, she started lecturing me about the stratification of society. I didn't understand even half of what she was saying, but the gist was that if the protagonist's breasts were too big then less players would be able to sympathize with her.
I haven't been paying much attention to appearance until now, but I was forced to perceive the difference when we put on the same clothes. I wonder if this is what they mean when they say that even a white t-shirt and jeans will look stylish on a handsome guy. I don't want to become a handsome guy, but I felt subtly miserable.
"Are you interested in politics as well?"
"No, not at all."
Leo took my words literally, so I just denied him without an explanation. Actually, what kind of kid is interested in politics? In Japan, you might have not even started learning about society at that age.
We returned from the second floor to Big Bro Matteus, sipping on tea on the table while waiting for us. Mom turned her head to us from the kitchen while stirring a pot.
"Good timing. Zac, take out the tableware."
"Got it. Leo, sit there."
Leo sat across Big Bro Matteus. I brought containers from deep within the shelf and carried them over to Mom. Mom put the stew within the pan into the bowls and passed them to me, and I went to get them in order to carry them to the table. Finally, Mom put a salad at the center of the table, and I gave everyone bread.
Seeing all the food set before him, Leo asked curiously.
"This is…?"
"Lunch."
"I know, but…"
"You called me out just before lunch. If I don't eat I'm gonna die."
I'm eating right away, I said, and Mom encouraged me to help myself. Not minding Leo, I gave thanks for the food and started eating first. Big Bro Matteus tilted his head at me as he gave his own thanks and took a spoon. Seeing us, Leo gave thanks and timidly tried the soup.
"…It's good."
"I'm glad it's to your liking."
Mom smiled happily at Leo's mutter. I think it's delicious too, but all my attention is on eating. I'll tell her after I finish eating.
"Will you not eat, Isaac's Mother?"
"I'll eat later with my Husband so it's okay."
So don't mind me and eat, my Mom said. There were four chairs around the dining table. My dad is patrolling the municipality and helping the other guys, so if she ate now then he would have to eat alone when he comes back. She didn't know when Dad would come so the stew could be reheated at any time. Mom had intended to eat with Dad since the beginning.
Mom's words reassured him, and Leo ate. At the beginning, he was eating it in a refined way like a soup. So along the way I told him to really open his mouth and bring the ingredients in. I don't know how it is in Leo's house, but in mine, the ingredients are left large and scattered about. I like feeling what I eat.
After lunch, as I was helping with the dishes, Leo and Matteus brought out some tea. Then a knock was heard.
"Leo, get that."
"Eh, me!?"
"My hands are full right now."
Faster, I asked Leo, who was closer to the door. Even while hesitant, he went to the front door and opened it.
"Yes?"
"Auntie, here's a piece of pie from, Mom…"
"I'm sorry I am not Isaac's Mother. This smells good. I'll give it to her instead. Young Lady, you've done this errand well despite being small."
I could hear the voice Leo was talking to with a smile as I washed the bowls. The voice that said pie is Maria. But why did she stop talking?
I finished rinsing the bowls. The only thing left to do was to wipe them down, so I asked my Mom to do it and headed to the front door.
"Leo, wanna take that home with you? Maria's Mom makes good pie."
"Is that alright?"
"They always make a little extra to give to us so it's fine."
I told him as I accepted the basket with pie in it, to which Leo replied, then I will presume upon your words. At the door, Maria froze and stiffened with her mouth open, red as a lobster. For now, I try to wave my hand in front of her.
"Oooi, Mariaaa?"
After a while she noticed me waving in front of her and focused on me. At that instant, she pulled me in front of her and hid behind me like a shield.
"Zac, wh, who!?"
"Leo."
As she hid behind me, Maria brought her face out a little and peeked at Leo. She asked me so I answered her concisely.
Even as he was a little surprised at Maria, Leo smiled and greeted her.
"So your name is Maria. A lovely name. Nice to meet you."
Ah, Leo's sparkling attack is hitting me directly at this position and it's bad for my eyes. Maria, don't use me as a shield.
The person in question, Maria, looked at Leo with a bright red face and got absorbed in him. I see, so this is what happens if it's a girl.
"…In a sense, you're a bit of a weapon."
"I'm only doing what I usually do."
Leo seemed to know how good he looked. He smiled wryly at my words. It seemed that beautiful people had beautiful people problems. Well, if whoever they talk with is incapacitated then they wouldn't be able to speak. I thought to invite the pipsqueaks to play after this but maybe not.
After being made into a shield, I could no longer move. I gave the basket to Leo for a bit, and he gave it to Mom. After a few beats, as if she had just noticed something, Maria looked between Leo and I. We tilted our heads. Maria stopped her eyes at me and opened her mouth, flustered.
"That's not true, is it, Zac!?"
"What isn't??"
"Uum, er… um."
She squeezed my shirt tightly with both of her hands as her mouth trembled. Then, she hung her head, completely hidden behind my back.
I didn't know what the correct answer would've been, so for now I patted her head with a hand behind my back to soothe her.
"Leo, would you rather play with some pipsqueaks or have me show you around downtown?"
I asked as I pacified Maria. After some thinking Leo answered.
"I'd like to try to play rather than just looking around."
"You heard the man. Maria, will you play with Leo?"
When I asked her, Maria finally raised her head and nodded. I asked her to call the other kids. She nodded again and left.
"What was that…?"
"It means I lost to you, Isaac."
I looked at Maria and tilted my head. Leo laughed, saying, amazing. We weren't competing in anything so why did he say that? I don't have even a single thing in me that can win against Leo, do I? In reality, after this, when we were doing sword play in knight make-believe, it was Leo's overwhelming victory. I was trying quite hard so it was frustrating.
As if Leo had also learned swordsmanship, he moved in forms, without waste in his movements. Paul and Maria merrily said that he was like a real knight, which made Johan upset. When he won, under the direction of the referee, Leo took the back of Maria's hand and kissed it since she was playing the part of princess. She became a boiled octopus again, and seeing that, Johan recklessly challenged him to another match. It was tough.
Afterwards, we played hide-and-seek, but Leo was the only one who wasn't familiar with the place. That put him at a disadvantage, so he hid together with me.
"I'll catch you for sure!"
"I'll endeavour to not get caught."
Johan, who was it, pointed to Leo and declared war. Leo quietly smiled in reply. Leo probably noticed that his quiet reaction made Johan even more angry.
He started counting to 100, and we dispersed to look for our different hiding spots. After going far enough to not see Johan, Leo and I stopped for a second.
"Now then, where shall we hide?"
"We're hiding together and I'm the bigger one, so there won't be many spots to hide in."
Was there no good hiding spot? We scanned our surroundings. The limit was about a 100-meter radius from the plaza with a well in it, mostly the residential area. It was full of white-plastered houses. Even if there were shadows there were few objects to hide behind. All the more since the citizens cleaned the areas around their own homes.
"After Johan starts searching, why don't we follow him and stay where he's already searched?"
"You, why are you so serious…"
Maybe I should have praised him for being smart, but I just thought, go easy when the opponent is younger than you.
"He'll search seriously, so we must meet him seriously. This hide-and-seek, where you must change your strategy depending on the terrain, is interesting."
Leo seemed to be seriously confronting Johan in his own way. Then his honey eyes sparkled with how much he enjoyed hide-and-seek. Well, I guess it's better than if he was bored.
Anyway, we looked around again to find somewhere to hide before Johan finished counting. Leo's face stiffened a little. When I followed his gaze, there were three soldiers on patrol. They'll probably come to us after a while.
Just to be safe, I asked Leo quietly.
"Do you know them?"
"…One. The other two might not know me."
His clothes and the color of his hair were different, so it was also possible for them to not recognize him at first glance. But if there was an acquaintance then we shouldn't be optimistic. When I looked around again, even though there were shadows in between the houses there was nothing big enough for Leo to hide behind even if he was alone.
"Leo, here."
I lead Leo to a shaded gap between houses big enough for kids to cross. I had Leo squat while I knelt and put my hands on the wall. Leo fit in between my arms.
"Don't make noise until they pass by."
After saying that, I used the only darkness magic I could. It's not many but there are darkness spirits in this shadow. I asked them to help us by expanding the membrane of the shadow covering us. It's not as if that membrane would make us blind. It would probably only dilute others' recognition, making it harder to notice us. If we made direct contact or noise then the membrane would be destroyed.
Leo nodded. He seemed to have noticed magic being used. We kept our silence and looked at the street. Before long, the soldiers' voices in conversation approached us.
"Officer, were you able to eat something good?"
"I came as a bodyguard. Of course I couldn't eat anything."
"Eh, is that right? But there was a feast right in front of you, what kind of torture…"
"Since it was a royal party there must've also been some good drink."
"You guys… We're in patrol. Be more focused."
"But isn't this area peaceful?"
"And that frightening guy is here today, right? Nobody would do anything bad on a day like that."
Frightening. Was that my Dad? He was only tall. I don't think his face was that scary. Although he is quiet, so it's not like he doesn't seem stiff. But he also smiles sometimes.
As the soldiers passed by, Leo stiffened. Even I felt his nervousness, and it made me shut my mouth even more forcefully.
After the soldiers' voices and footsteps were completely gone, I dispelled the magic. We both opened our mouths at the same time with a puhaa. It looked like before we knew it, we hadn't just stopped our voices but even our breaths.
"Haa, looks like they're gone."
"Sorry. You saved me."
I murmured, looking at the direction the soldiers disappeared in. Leo apologized. When I turned to his voice, Leo's uselessly well-arranged face was near me. I noticed that we weren't in a very happy position and stood up quickly. I had never used darkness magic before except on myself, so I thought it'd be faster to just cover him.
"So you have the darkness attribute."
"No, it's water."
"But just now…"
Leo made a blank look of wonder at my answer.
"It's not as if the attributes aside from my attribute are completely unusable. You probably have a lot of magic power, so can't you do more?"
"I see… yes. I feel like I can. I'll try it."
Leo understood, thought back to my magic and decided that he could do it. I couldn't do anything but make the shadow membrane thinner. Leo seems like he could do something more advanced, like completely cutting us off.
"I learn a lot when I'm with you, Isaac."
Leo said a serious line while looking somewhat happy.
"What are you saying? We're playing right now."
"That's true."
When I told him to stop associating this with things like studying, Leo smiled even happier.
The result of the game was, Leo hid until the end, and Johan got mad enough to start crying, so I started to pacify him. Johan clung to me and vented his anger by punching me, for some reason, and it hurt. When he gets emotional, Johan's punches are quite hard.
While we were playing it got late. Almost dusk. After sending the pipsqueaks home, Leo changed back to his original clothes and I accompanied him back to the central plaza.
"See you again, Isaac."
Leo carried a paper bag with pie in it as a souvenir and waved to me. He actually looked his age.
"Make it itemized next time."
After I could no longer see Leo and Big Bro Matteus, I turned heel. I started walking not in the direction of my home, but a different one.
"Now then, time to pay Uncle for the seeds."
If I go now, I'll probably make it in time.
TN: Very, very sorry for missing two days. The length of this chapter was part of the reason why I did. On the bright side, we're almost caught up with the manga! The next chapter will also be long…
Comments for chapter "Chapter 14"
MANGA DISCUSSION
Support Fan's Translations
Your donations will go towards site costs and management.
Note: Individual translators usually have their own ko-fi buttons.