Rebirth in a Ruined Nation! The Life of a New Strategist Starting From Now - Chapter 69
Chapter 69 - Let's Start a Fire!
If you enjoyed this novel, please leave a rating and review on Novel Update here and add it to your reading list. I will also appreciate it if you leave your comment on this site. Your comment is my motivation. Thank you!
Let's Start a Fire!
"What I want you to make is a tool to start a fire."
"A tool for making fire? Is it a new type of flint?"
"Not exactly, but well, its use is similar to flint."
As I said this, I drew the structure of the tool on the ground using a branch.
What I wanted was a device called a 'pressure igniter'
It was a tool that was created after the fall of the Rudek Kingdom. Back when I was traveling through the rain on horseback to meet with the 2nd Division Commander, I thought it would be useful to have a tool that could easily start a fire.
"If you prepare a stick that fits perfectly into a tube like this, put something flammable on the end of the stick, and then push it quick all the way into the end of the tube, you can start a fire."
"Why?"
"I read because when the air inside of something gets rapidly compressed, it can become really hot."
"Why is it that when air is compressed, heat is generated? Come to think of it, you do the opposite with canned food. You make air escape out of the container, creating an airtight container thus making the food inside the container last longer. Air…what exactly is air…"
….I felt like Drew's thoughts were going too far. I just wanted to know if she could create the 'pressure igniter' or not.
"So, Drew, can you create it?"
"I can. I've created something similar before. I can even give you the prototype now," Drew answered simply.
"Really?"
"Anyway, Everyone, what are you all doing nothing here!? Let's return to my room, fast!!" Drew said and ran off.
I was worried that Drew's subordinates, Judiano and Hornet were going to be dumbfounded by Drew's actions, so I turned to them and saw that they were both staring at Drew's back with glittering eyes, as if Drew was the coolest person in the entire world. Unexpectedly, HR might have done their job well by assigning the two of them here.
***
"Ah, found it! Here, it's this!"
I was surprised to see what Drew handed me. It was the pressurized ignitor that looked almost perfectly with what I'd envisioned.
"Why did you create this?"
"Why?" Drew tilted her head confusedly.
You created it yourself, so why did you look confused??
"I don't have an exact reason…I guess? I just wanted to try making something like this."
Seriously!?
"Drew, can I shave off the tip of this stick to make a hole?"
"Sure thing. Or rather, I'll do it so give it to me."
Drew took the pressure igniter from me and quickly created the hole.
"Next, um…something easily flammable…" (Roa)
"Here," Hornet quickly brought to us something easily flammable.
"Thank you. Also, I'm going to make a fire, so I want to prepare something that can burn properly, so let's go outside for now." (Roa)
"HUH!!?? I want to see it work right here!"
No, Drew, if we used this here, the whole room might catch fire!
Drew, who reluctantly followed me outside, hurried me to use the pressure igniter.
"It's easy to use. Just attach a flammable material to the stick, insert the stick into the tube, then quickly push it."
I put what I said into practice and I was able to successfully make a spark. I quickly dropped the spark to the wood chips I'd prepared and blew the wood chip. Not long after, the wood chip caught fire.
"This is how you use it…Hm? Is something wrong?" (Roa)
Everyone was quiet, so I turned around and saw a wide variety of expressions staring at me.
Watching with great interest were Drew, Judiano, and Hornets, the three 'technicians'
Diku and Rufa looked at me as if I was some kind of strange creature.
The five of them were clearly amused after seeing an interesting thing.
The military group which were Wickharlt, Frein, Luzel, Lapilia-sama, and Grantz-sama were looking at the fire with a serious expression.
They must be thinking of a way to use the pressure ignitor on the battlefield
The last group who were holding their head or putting their hands on their foreheads were Rays-sama, Nelfia, and Sazabi.
"Roa, you haven't told anyone about this tool yet, have you?" Rays-sama asked with a slightly angry expression on his face.
"Ah, no, I haven't. I just came up with this idea during the recent training mission"
Then, Nelfia asked, "Roa-sama, I think this is another incredible tool. Where did you learn about it?"
"Um…I think it's in some book…."
I couldn't think of any good excuse on the spot, so let's just say I knew it from some book.
"A book…?" Nelfia said, clearly not satisfied with my explanation
"Roa-dono, just how many books have you read?" Sazabi asked.
"I haven't been able to read much lately, but as long as it's books related to war and battles, I think I've read everything that can be read within the palace grounds…?"
I didn't lie. I read books whenever I could. I'd borrow every book that could be borrowed and read them even when everyone else was already asleep. I didn't break that habit until I died, so I continued reading for another 40 years.
"Everything!? Seriously!?" Hornet exclaimed in shock.
Everyone else noticed the unusual atmosphere around Rays-sama and kept their attention on me.
Drew was the only one who looked to be enjoying herself and commented, "You might be able to create a business using your hobby."
"In any case, I will consider producing this thing as well. But this thing will have a slightly larger impact so for now, keep its existence a secret."
Rays-sama ended our 'gathering' with those words.
***
A/N: The pressure ignitor is fire piston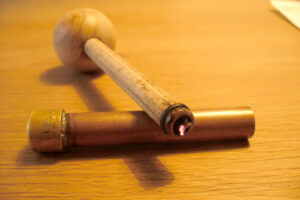 ---
Support "Rebirth in a Ruined Nation! The Life of a New Strategist Starting From Now"
---
Comments for chapter "Chapter 69"
MANGA DISCUSSION
Support Fan's Translations
Your donations will go towards site costs and management.
Note: Individual translators usually have their own ko-fi buttons.