Reincarnated as a Warlord in a Sengoku Era - Chapter 2.1
A Crushing Defeat, and a Letter
Tenbun 23 (1554 A.D) 8th month, Wakasa Province, Nochiseyama Castle, Residence of Takeda Clan
Two years have passed since I was born. Now, I can walk by myself.
"Young master. Is there any problem? You kept having a gloomy face."
My caretaker, Kumagai Denzaemon Naozumi asked me. Denzaemon is a member of the Kumagai clan, one of four vassal clans known as Wakasa Takeda's Four Elder. The Kumagai clan is also Takeda's senior vassals.
Denzaemon is Kumagai clan heir, son of Kumagai Naoyuki. He's at least 15 years older than me. For someone who is almost 20, he's short. He looked kind.
It's not just Denzaemon… his name is too long, so let's just call him Denza… who is short. All people in this era are shorter than the average modern Japanese. It must be the effect of their diet and their everyday life.
I didn't respond to Denza's question and kept staring into space. Denza also didn't say anything and just waited for my word.
I remember father said that Denza is the son of his most trusted vassal.
"It's nothing."
I finally answered with a curt.
I mean, it's not that I can say, 'I wanted to be reincarnated in the Kai Takeda clan, not this Takeda clan!'
Really, why are there many similar names here with the famous vassals of the Kai Takeda clan? There is Naito here. There is also Yamagata. Though It's Yamagata Magosaburou and Yamagata Gennai.
While the famous Yamagata [1] is one of Kai Takeda's Four Heavenly Kings, these two Yamagata are the members of Takeda's Four Elder that I had never even heard of before.
While the famous Kai Takeda clan ruled both Kai and Shinano Province and had an annual harvest of more than 500.000 koku[2], this Wakasa Takeda only ruled small Wakasa Province and had a potential annual harvest of 80.000 koku.
To make the matter worse, unlike the stable Kai Takeda clan, the Wakasa Takeda clan is surrounded by enemies from both the inside and the outside.
The clan managed to control Obama town barely. The actual annual income both my father and grandfather collected is probably only around 30.000 koku, enough to hire 500 soldiers. The clan only managed to control less than half of Wakasa Province.
The Kai Takeda clan managed to unite its whole territory, while the Wakasa Takeda clan didn't even manage to unite the family. sigh…
Not to mention that according to history the clan is going to be chased out of Wakasa by the Asakura clan [3] in 1570.
That means I only have less than 15 years left. I can't waste any time.
Unfortunately, according to this era's method of calculating age [4], I'm only a three-year-old kid. I can't do anything
I kept sighing while Denza tried every way possible to cheer me up. It was then. A horseman covered with arrows that had a horo [5] on his back burst into Nochiseyama Castle.
"I have come bearing news! I have come bearing news!"
Judging from the man's tone, I don't think it will be good news.
Denza's face changed into a serious expression. After I permitted him to leave, he immediately chased that horseman.
I sit on one of the stones in the garden while waiting for Denza. The news that the horseman brought is probably our loss in some war. That prediction is immediately proven by a loud shout coming from the mansion.
"Our ally has been defeated!!"
♦
T/N:
[1]Yamagata Masakage, famous general of Kai Takeda clan. https://en.wikipedia.org/wiki/Yamagata_Masakage↵
[2]A measure of rice and is also used to measure a territory's prosperity. https://www.sumitomo.gr.jp/english/history/s_history/rice/#:~:text=Their%20place%20in%20the%20feudal,in%20Japan%20from%20ancient%20times. ↵
[3]Ruler of Echizen province. Wakasa is right next to Echizen. Asakura is also a famous clan in the Sengoku era. https://sengokujidai.org/characters-and-clans%e3%80%8c%e4%ba%ba%e7%89%a9%e3%83%bb%e6%b0%8f%e3%80%8d/clans/asakura-clan-%ef%bd%a2%e6%9c%9d%e5%80%89%e6%b0%8f%e3%80%8d/↵
[4] The way of counting age where everyone is one year old at birth.↵
[5] The red thing in the back↵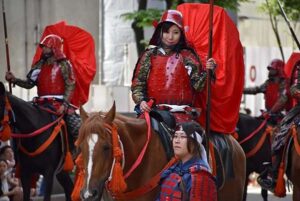 ---
Support Reincarnated as a Warlord in a Sengoku Era
---
Comments for chapter "Chapter 2.1"
MANGA DISCUSSION
Support Fan's Translations
Your donations will go towards site costs and management.
Note: Individual translators usually have their own ko-fi buttons.