Reincarnated as a Warlord in a Sengoku Era - Chapter 6.1
Translator: Nisarah    Editor: Nisarah
Money, Accumulating
Tenbun 24 (1555 A.D) 8th Month, Wakasa Province, Nochiseyama Castle, Residence of Takeda clan.
"I have to truly admire Magoinumaru-sama's discerning eyes!"
Say Genshirou while prostrating in front of me. I'm glad I decided to meet him in my room. If not, I can't imagine the amount of stare I'm going to get.
I hurriedly helped Genshirou to raise his head. I want to avoid things that are going to make me stand out. Well, considering the difference in our status it might not be strange for Genshirou to prostrate before me despite the fact I'm a 4 years old kid. Still, if others were to see it, who knows what will happen to my reputation.
"I don't understand your meaning of my discerning eyes." 
"One month after our meeting in Obama Port, a war really happened. I reckon the war is going to develop into a big war. Because of it, I have made a considerable amount of profit. I am truly grateful, Magoinumaru sama. I reckon the war is going to develop into a big war."
After saying the same things twice Genshirou brought out a box and put it in front of me. The profit he earned must be really big for him to smile this brightly.
I let Denza open the box. The inside of the box are coins totaling 500 kan. Did my investment earn this much money? No, I don't think so.
In the past, I've read that the cost of a ceremony performed for an emperor's death, in other words, the cost of an imperial funeral is about 1000 kan.
It was an amount that even the imperial court struggled to gather, yet Genshirou easily gave me half of it. It's true that the reason 1000 kan is hard for the imperial court to gather is mainly that the people of the imperial court are just too prideful.
If converted to modern Japanese Yen, 500 kan is about 40 million yen [1] and Genshirou gave me this amount of money while smiling. This guy, what is he planning?
Genshirou explained my doubt, saying that this money is an 'advance payment'. Ah, I see. An advance payment for future information of wars I guess. Does he really think a kid like me knows stuff like war?
If it's really an advance payment, I can't accept this money. If I did, I would need to constantly provide information to him. The second I failed to do so, Genshirou would cut me off. I can't let my relationship with Genshirou be that brittle.
"I will return this. I can't accept it all."
I push the box filled with coins back to Genshirou. Ah, this is painful. I feel like I'm going to lose with my greed. No. I can't be tempted by short-term gain. I need to think about the future. Genshirou silently observed my action, then let out a quiet laugh.
"Hehehe. My apologies. Your action is just too different compared to your appearance that it makes me laugh. It makes me wonder if you're truly just a young child, Magoinumaru-sama. If you cannot accept the money, how about you accept this instead?"
Genshirou put a plate full of Mugikogashi [2] In front of me and Denza. I don't know if he prepared the Mugikogashi because he predicted I would refuse the money or if he planned to tame me with sweets after I received the money. 
"I agree. I often feel the same way," says Denza with a mouth full of Mugikogashi.
Rather than me, the Mugikogashi seems to be an effective weapon to tame Denza. With two people saying the same thing I can feel a cold sweat running through my back.
As an actual adult of course I didn't act like a child. I can pretend, but if I did I'm going to waste my time while heading full speed toward destruction. Now then, how should I handle their suspicion?
"Hahaha. That's a good joke, you two. No matter how you see it Aren't I just a young child?"
My nervous laugh resounded in the room. I have no choice but to laugh it off. This is the first time someone suspected I'm different. After all, at the mansion, both Grandfather and Father have no interest in me so they didn't suspect anything.
Rather than saying they both have no interest, it's more correct to say they are too busy doing their own things that they have no time to take interest in me. But Genshirou and Denzaemon are different. They both have dealt with me personally. I guess that's why they noticed. I should have acted more cautiously.
"Well, for me what you really are is not of concern, Magoinumaru-sama. For now, I implore you to accept this money. It's my bet."
Genshirou pushes the box back toward me. Once again, the box containing 500 kan worth of money is sitting right in front of my eyes. What should I do? Is it really fine for me to accept this? In order to answer both questions, I decided to ask Genshirou the meaning of his word.
"What do you mean by bet?"
T/N: 40 million yen! Magoinumaru if you don't want that, how about giving it to me? no string attached of course! :v. Anyway, sorry for the late release, I was a bit busy
[1]about US$300k ↵
[2]A not too sweet fragrant candy made with flour ↵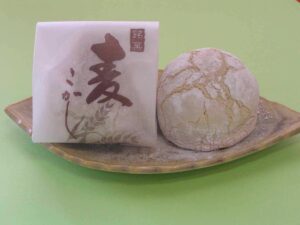 ---
Support Reincarnated as a Warlord in a Sengoku Era
---
Comments for chapter "Chapter 6.1"
MANGA DISCUSSION
Support Fan's Translations
Your donations will go towards site costs and management.
Note: Individual translators usually have their own ko-fi buttons.