Reincarnated as a Warlord in a Sengoku Era - Chapter 6.2
Please join our Discord server to get notifications and chat with our staff. You can do so
HERE
.
Translator: Nisarah   Editor: Nisarah
♦
"What do you mean by bet?"
"It doesn't have any special meaning. I just decided to bet on the young master of the Takeda Clan."
Genshirou silently gazed at me. I let out a relieved breath. I began to understand Genshirou's meaning.
In other words, though Genshirou called it a bet it's more of an investment to me that he did after calculating various possible risks. I'm the heir of the Takeda clan after all so Genshirou must have judged he lost nothing by forming a friendly relationship with me.
In return, Genshirou expected me to give him favorable treatment when I become the lord of Wakasa Province. Though it's still debatable whether I will be the one that becomes the future lord.
The current relationship between Grandfather and Father is like a tanging mess of rope. It's as complicated or possibly more complicated than the relationship between Harunobu and his father, Nobutora [1] of the Kai Takeda clan.
sigh… is the battle between father and son a tradition of the Takeda clan or something? The battle between Grandfather and Father, I will no doubt bear the burn. Once I think about various difficulties in the future, I began to feel it was fine for me to accept this money.
" I will accept it. Then, use this money to buy more rice and sell it at high prices to Mori or Sue."
"Dear me, So you wish to make even more profit? If you keep this up me and other merchants might go bankrupt!"
"After the war between the Mori and Sue ended use the profit from selling rice to buy used weapons and armors from the Mori or Sue at a low price and send it to a person named Numata Kouzukenosuke in Kumakawa. You understand why even without my explanation right?"
Kumakawa is my cover. It's a place where I can silently prepare for the future. I already have 4 warriors and 20 normal soldiers in the Kumakawa. It's more or less my one and only territory.
I want to increase the number of my men 10 times the current amount. It's an absurd task but I feel that even 10 times still isn't enough. The reason I told Genshirou to buy armor and weapon from Mori or Sue clan after the war was because at that time I'm sure Genshirou can buy them for a really cheap price. Even used weapons and armor from soldiers of the Mori and Sue clans are better than nothing. I want Genhirou to buy them all at a cheap price and stock them. Well, he probably will end up buying from the Mori clan that will win the war.
"I understand. As you say armors and weapons will helmets, haramaki [2], armguard, do-maru[3], spears, bows, and tachi [4] will be fine?"
"No need to buy helmets, just buy forehead protectors. Since armguards and do-maru are expensive you also don't need to buy them, just haramaki is enough. For weapons, buy more bows compared to tachi and spears."
"As your wish. Then, I shall send them to Numata Kouzukenosuke in Kumakawa."
From Genshirou's calculation, the number of weapons and armors that can be bought is around 200 pieces. As expected, even if it's a used one, weapons and armors are still expensive. I only need 100 pieces so I told Genshirou to just buy that amount.
Actually, I also want to buy Tanegashima a.k.a the matchlock guns but they need to be used in large amounts to be effective in a war.
Plus this is 1555 where Tanegashima is new weapons that still need to be improved. So it's better to wait a bit.
After all, I can get a higher quality Tanegashima for a cheaper price if I wait a bit. Meanwhile, If I buy Tanegashima now, I get an expensive weapon with quality left to be desired.
There is this famous story about a battle between Hashimoto Ippa, an expert of Tanegashima, with Hayashi Yashichirou, an expert of bows. Their battle ended up in a draw. That's proof of the quality of the current Tanegashima be it in terms of accuracy or its rapid-fire ability.
Tanegashima does have the advantage in terms of the time it takes for soldiers to be able to use it in battle since you need more time to raise archers. But I have plenty of time right now so it's better for me to raise archers.
"I will be counting on you. Is it fine if I also ask you to pass my message to Kouzukenosuke?"
"Of course."
"Then, please tell him to prepare."
"I shall do so. Is that all you need?"
"No, I have one more request. Genshirou, after you buy armors and weapons use the remaining money to buy rice."
Both Genshirou and Kouzukenosuke shoot me questioning looks. Well, that reaction isn't strange. Instead of telling Genshirou to sell rice to the Mori and Sue clan, I told him to buy rice. I mean, the prices of rice in Mori and Sue clans soared during the war. In particular, Denza shows an obviously confused expression. I need to train Denza on how to use the so-called poker face in the future.
"Y…Young master. What do you mean?"
"Calm down, Denza. I will explain it in a simple way that even you can understand. What I want is to buy rice from places that have excess due to their abundant harvest. No, it's fine even if it's not rice. Foxtail millet, barnyard millet, buckwheat, as long as it's a cheap food that can be bought in large quantities I want Genshirou to buy them all and send them to Kumakawa."
The first person that responded 'Ah…I see.' after my explanation isn't Denza but Genshirou. He understood my plan. On the other hand, Denza still looks confused. Genshirou proceeds to gently add to my explanation.
"Magoinumaru-sama wants to buy food commodities from places with excess harvest for a cheap price. As you know, the war between Mori and Sue happened before the harvest season when the prices of corps are the highest. So if we buy corps from other places at a cheap prices and sell them to the Mori or Sue… Dear me! as I expected, Magoinumaru-sama is a prodigy!"
Once again, Genshirou gives me his unreserved praise. Right. I can't be careless around Genshirou or rather I can't be careless around everyone who calls themselves merchants.
There's no way a merchant like Genshirou didn't know this kind of trick. That means Genshirou's prodigy praise is aimed at the fact that I, who is a samurai and a young child, know about the trick, not because I somehow came up with the trick. Anyway, what remained now is how to transport the corps but this is Wakasa where Obama Port existed so the transport can just be done via a water route. If that's the case the best places to buy the corps will be Wakasa's neighbor, Echizen.
Once again, I push the box filled with coins toward Genshirou. With this, the talk about the box had ended and I don't want the talks to spring up again. Is there any way I can smoothly change our conversation? When I was still thinking I heard several footsteps getting closer.
I stand up and opened the sliding door. My mother, Sachi is standing outside the room. She's probably in the late twenties, ah no, maybe around mid-twenties? Just how young my mother is?
Her arrival worked in my favor, I returned to a child's mind and approached Mother with an innocent smile. That's right. I thought of using Mother in order to change the topic of my conversation with Genshirou. Mother's attendant, Yae(I think that's her name?) is also here with Mother.
"Oh my, Magoinumaru. Why are you just standing there?"
"Ah, Mother! A merchant who called himself Genshirou said he wants to give me a sword. How about Mother come inside to see him?"
"Magoinumaru. Don't pull Mother's hand."
"Milady!"
I made Mother and her attendant come inside the room and let Mother sit at the top seat [5]. Denza and Genshirou silently lowered their head.
As Mother is walking, the gold outer robe [6] of her kimono is fluttering. That outer robe must be quite expensive. What a waste of money.
"Denza and…are you the one named Genshirou? Raise your head," said Mother.
It seems like Mother didn't know Genshirou the Kumiya. This is a chance to make Genshirou owe me a favor. In order to stir the conversation in my favor, I talked first.
"Genshirou-dono, you said you want to give me a sword right? What kind of sword it is?"
Using an innocent voice befitting my age, I asked Genshirou. It's fine even if Genshirou didn't actually bring out a sword now, as long I succeeded in changing the topic of my conversation with Genshirou.
Heh. Genshirou, let me judge your ability by what kind of sword you can prepare. If it's a good sword I might introduce you to a potential patron like my mother here.
My plan has one problem. Buying something from Genshirou might put an additional burden on the clan's finance. Ah well, the next clan head is Father, not me so let's just let Father handle it. Work a bit harder, Father!
"In Wakasa there is Munenaga, a sword smith who is the sibling of Muneoshi in Nakajimarai School. There is also Fuyuhiro fo Soshu School. South of Wakasa is Yamashiro Province where blacksmithing has prospered. There are three schools that have existed in Yamashiro Province since ancient times. They are Sanjou School, Awataguchi School, and Rai School. Recently, there are also Nobukuni School and the group of Kurama School. If you trust me, I shall promptly bring you a Meitou [7] Wakizashi [8]"
All of the schools' names are something I've heard in games. It seems like those schools are already famous for producing Meitou from the Sengoku era.
After the long explanation, Genshirou proceeds to lower his head. I childishly poked his head while saying 'Good Work!' and Genshirou replied with 'Not, it is simply what I should do'. Ah… I want to laugh. It's hard to hold it.
Mother's attendant, Yae scolded me with 'Young master, you must not do such a thing'. Like a spoiled child hurt after being scolded, I moved and sit beside Mother. Not only did I sit I also leaned on her side. I smell a sweet scent from Mother.
"Mother, how about you also ask something from Genshirou? You are always beautiful so how about you ask for a new outer robe?"
While slowly and gently stroking my head, Mother said "Hmm… Should I do that". Just don't misunderstand. Both me and Mother had no money so I plan to just let Father fork out some money.
"Genshirou. Are you familiar with my father?"
"Of course, I am."
"In that case I want you to tell my father that Mother wants a new outer robe."
"I shall do so."
After that, I send a signal to Genshirou with my eyes. This is all I can do for him. As for whether Father decided to buy things from Genshirou it all depended on Genshirou's ability. But the verbal request I and Mother made should be a huge help. If it's Genshirou he should be able to handle the rest skillfully.
If I was Genshirou, I will use the Sei-i Taishogun's name to tempt Father. 'the milady is the younger sister of the Sei-i Taishogun, Yoshiteru. Isn't it fair to give her beautiful clothes? Yoshiteru is a renowned sword master so isn't good to give his nephew, your beloved son a sword as well?' or something along that line.
"Denzaemon-dono, Genshirou-dono, please follow me this way."
Mother's attendant, Yae guided both of them to a separate room. It seems like Mother want to talk with me alone so she asked Yae to guide them out.
"Magoinumaru."
"Yes, Mother? Is there something a matter?"
"Please refrain from buying too many things. Currently, your father is in a hard position."
She said while looking at me with a sad expression. It seems like Mother thought she made me suffer.
Right. It seems like it would be better for me to move with the assumption that Father is going to be disinherited. Unfortunately, I don't know other potential heirs of the Wakasa Takeda clan as I don't know the clan's genealogy in detail. It seems like Grandfather's blunder didn't only span in ruling the province but also in the aspect of not properly recording the clan's family's tree in detail.
I also understand what Mother means by Father's hard position. It seems like The current clan head, my grandfather, Takeda Jubushou[9] Nobutoyo thinks that the Ashikaga clan is a wall that prevents him from building an amicable relationship with Miyoshi, and most of our vassals also agreed with that thinking.
Why Grandfather even decided to switch sides is probably because all Ashikaga Yoshiteru, the current shogun did is just shout about 'Defeat the Miyoshi!' while doing nothing and secluded himself in Kutsuki Valley. I heard Yoshiteru will do anything that Miyoshi dislikes. Yoshiteru must also be under an immense amount of pressure from Miyoshi.
"I understand. My apologies, Mother."
For now, let's apologize. This kind of empty apology is something I had done so much to the point I become sick of it when I was still a businessman.
It's painful to think that Mother probably thinks my apology is sincere and that I will change my ways in the future. Mother replied to my apology with 'as long as you understand' and continue to gently stroke my head.
So I still can't live in peace. I continue to think about my future plan while being stroked gently by Mother.
♦
T/N:
[1] Nobutora didn't want Shigen to become the heir. Shigen ended up overthrowing his father and exiled him.↵
[2]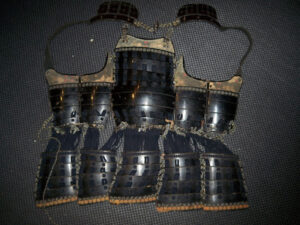 A type of chest guard that open on the back↵
[3]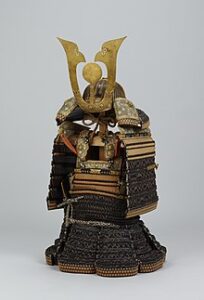 A type of chestguard that opens on the right side. the thing that covered the chest in the above image is do-maru. ↵
[4]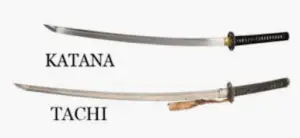 a type of Japanese sword that's longer than a katana.↵
[5]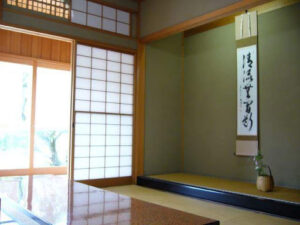 The raised floor where the flower pot is placed in the image is called a top seat. That's where the highest ranked person in a room used to sit back in sengoku Japan. ↵
[6]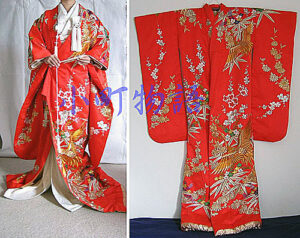 Uchikake a.k.a outer robe, the red thing in the picture above and worn outside the original kimono. ↵
[7] Name for Famous/excellent swords. Think of it as a group of artwork painted by famous artists like Van Gogh, but swords.↵
[8]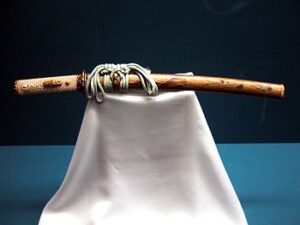 Japanese short sword↵
[9] Another court title. lit. Minister of Rite↵
---
Support Reincarnated as a Warlord in a Sengoku Era
---
Comments for chapter "Chapter 6.2"
MANGA DISCUSSION
Support Fan's Translations
Your donations will go towards site costs and management.
Note: Individual translators usually have their own ko-fi buttons.